Corona Energy is an established independent energy company with over 20 years of experience supplying gas and electricity in the UK. They supply business energy only, servicing around 13,000 customers using over 85,000 meters and 14% of the industrial and commercial market.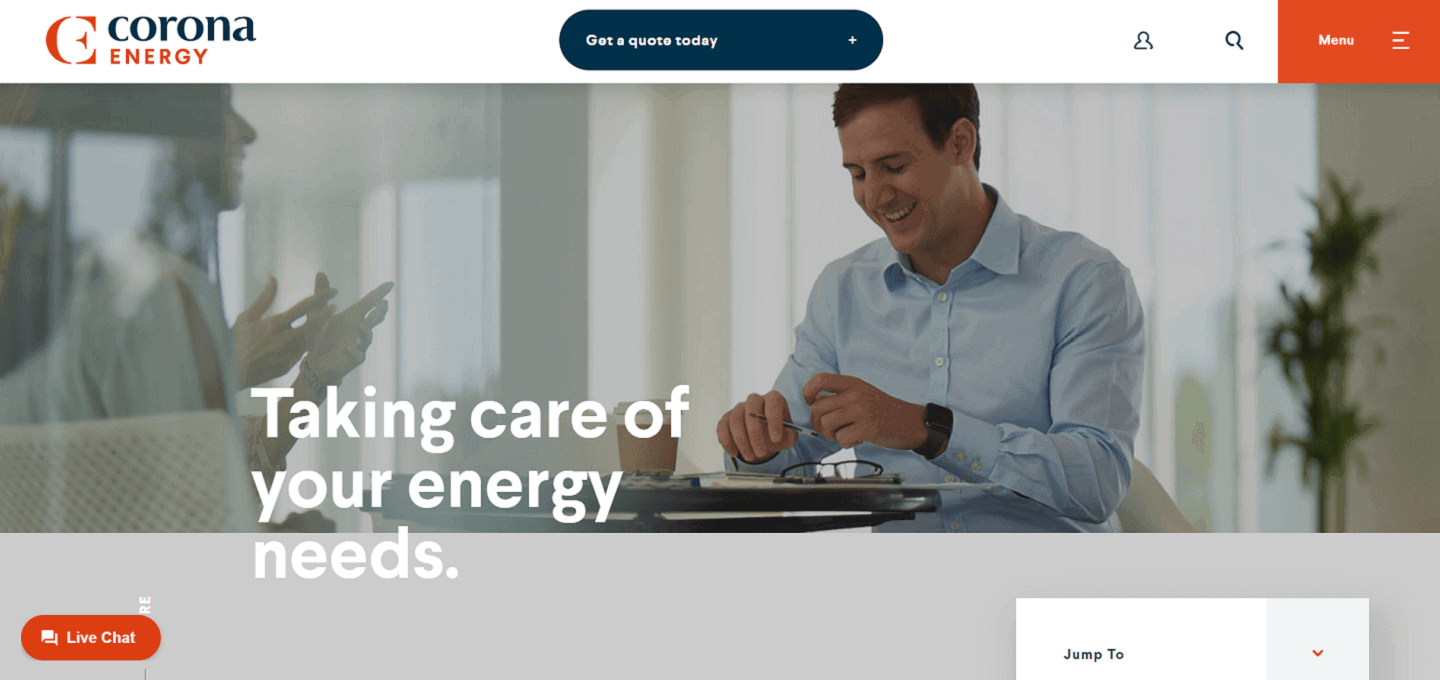 Corona Energy Business Energy
Corona Energy offers business energy which features:
Option to have 100% renewable electricity
The choice to have 100% renewable gas
Online account management
A choice of gas and electricity agreements
Fixed or flexible tariffs
Pass-through or fully fixed non-commodity costs (larger consumers)
Seamless onboarding
Bespoke and matrix pricing
Automated Meter Read units for more accurate billing
Corona Energy Business Energy Eligibility
Corona Energy supplies small businesses that require less than 100,000kWh of electricity and/or under 293,000kWh of gas through to corporates and the public sector that have higher energy demands.
Corona Energy Business Electricity Tariffs
There is no electricity tariff information available.
Corona Energy Business Gas Tariffs
There is no gas tariff information available.
Other Corona Energy Business Energy Products & Services
Corona Energy only provides electricity and gas supply contracts.
Corona Energy Business Energy Reviews
There are only customer reviews available on one of the leading review sites which is Trustpilot. The reviews on Trustpilot have an overall rating of 4.2 with 69% of reviewers scoring them as excellent and 20% scoring them as bad.
Positive comments included helpful and friendly staff, smooth transition, transparent information, supportive in resolving queries and good account management. Negative comments included billing issues, problems resolving queries and communication issues.
Trustpilot – 4.2/5 (based on 756 reviews)
Google Reviews – no reviews
Reviews.co.uk – no reviews
Review Centre – no reviews
Smart Money People – no reviews
How To Switch To Corona Energy Business Energy?
If you want to switch to Corona Energy as a small business you can complete a simple online form to receive a quote and if you are happy with it you can accept the quote and proceed to switch. Alternatively, you can call them on 0800 804 8589.
Pros
Provides both gas and electricity
Offers 100% renewable gas and electricity
Supplies businesses of all sizes
Customer reviews are fairly positive
Cons
There is no tariff information available
Doesn't offer any other related products or services
Website: Corona Energy Business Energy