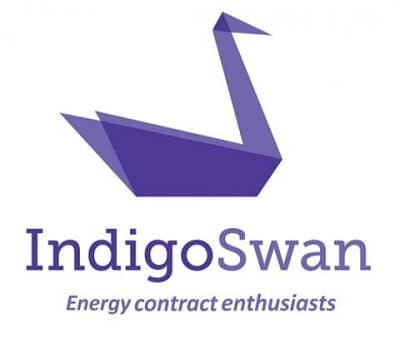 Indigo Swan is an energy consultancy that offers a range of energy management support services and energy brokerage for gas, electricity and water. Below we look at reviews for the company along with the services they offer, how much they cost and other key things you need to know to help you decide which energy broker is right for your business.
Indigo Swan Energy Broker Reviews
There are currently no reviews available for Indigo Swan.
Indigo Swan Energy Broker and Payment Services Plans, Packages & Prices
Indigo Swan energy broker services include:
Negotiate to get you the best tariff options
Monitor the wholesale market and advise on the best time to secure energy rates
Experienced energy broker
Tailored procurement strategy to your business needs
Will search for the right supplier based on more than just price
They will handle all the paperwork and queries
Help you to make a fully informed decision
Offers a free consultation session
There are no charges for using the energy broker service, it is built into the energy pricing or is a fee paid by the energy supplier you are switching to.
Note plans, packages and prices were all accurate at the time of publication (July 2021) but may have changed since then. Please check Indigo Swan's website for the latest information.
Indigo Swan Background
Indigo Swan is an independent energy consultancy that is based in Norwich. They offer a price comparison service that allows businesses to make quick, easy and well-informed decisions about their energy.
They also provide a range of energy consultancy services which includes bill checking, capacity reviews to find savings, energy insights on how you use your energy, support with OJEU, and a price projector that looks at when is best to renew your energy contract. They also offer water price comparison services.
Indigo Swan will start their energy assessment by making sense of energy data and understanding what you use. They will then use this information to search for the most competitive deals and they will check the quotes and negotiate contracts. They will present you with the options and clarify them so you can make a fully informed decision. Once you have selected the contract you want, your Client Guide will take care of the paperwork and communications for you.
Switching With Indigo Swan
If you want to switch energy suppliers with Indigo Swan you can book a free consultation with them or calling 01603 625522.
Additional Business Services From Indigo Swan
Indigo Swan offers a range of other business services which include:
Bureau services
Bill checking
MOP reviews
Capacity reviews
Price projections
Water
Outsourced energy manager
SECR and ESOS support
Indigo Swan Customer Service and Complaints
You can contact Indigo Swan' customer services on 01603 625522.
Indigo Swan Contact
You can get in contact with Indigo Swan by:
Website: https://indigoswan.co.uk/
Indigo Swan Energy Broker Pros/Cons
Pros
Experienced energy broker
Tailored procurement strategy
They will assist you in getting the right supplier not just based on price
They monitor the wholesale market and know when to secure the best rates
Cons
Not clear how many energy suppliers they will seek quotes from
There are no customer reviews