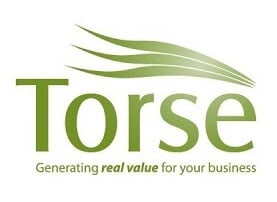 Torse is an independent energy broker and consultancy organisation that offers utility price comparisons for businesses on gas, electricity and water. Below we look at reviews for the company along with the services they offer, how much they cost and other key things you need to know to help you decide which energy broker is right for your business.
Torse Energy Broker Reviews
There are currently no reviews available for Torse.
Torse Energy Broker and Payment Services Plans, Packages & Prices
Torse energy broker services include:
Provides proven tendering process
Assistance in finding the best deal
Ensures your needs are fully met
They will collate and present the options to you
Will get you to complete a Letter of Authority to allow them to speak to your existing energy suppliers
They will confirm your current contract and consumption data with your existing supplier
They will issue a Notice of Termination on your behalf
They will assist with registration and monitor the transfer or renewal process for you
There are no charges for using the energy broker service, it is built into the energy pricing or is a fee paid by the energy supplier you are switching to.
Note plans, packages and prices were all accurate at the time of publication (July 2021) but may have changed since then. Please check Torse's website for the latest information.
Torse Background
Torse was founded in 1994 in Nottingham and claims to be one of the UK's leading independent energy brokers and consultancy organisations. Over the last three decades, they have placed over 100,000 business energy contracts as well as provided their clients with support for wider energy services.
They now also offer water price comparisons as well providing support with smart meters, energy reporting, Carbon Reduction Commitment (CRC) energy scheme, and energy management. Their energy management services include bill validation, account management and environmental assessment.
Torse uses a proven tendering process to search for the best energy deals for their clients and will seek out suppliers that can fully meet their client's needs whilst offering the best value. They base their price comparisons on your energy consumption and they will present the quotes to you and provide recommendations. Once you select the supplier deal, they will assist with registration and monitor the transfer of the supply or contract renewal.
Switching With Torse
You can switch energy suppliers with Torse by contacting them to do a quote based on your energy consumption, from this they will do a tendering process and collate and present the quotes to you. They will make recommendations then support the transfer process when you select a supplier to go with.
Additional Business Services From Torse
Torse offers a range of other business services which include:
Water
CRC support
Smart meters
Energy reporting
Energy management
Bill validation
Account management
Environmental assessment
Torse Customer Service and Complaints
You can contact Torse's customer services on 0115 853 2120.
Torse Contact
You can get in contact with Torse by:
Website: https://www.torse.co.uk/
Torse Energy Broker Pros/Cons
Pros
Established company with proven tendering processes
Assist you in getting the best deal for your needs and not just price alone
Quotes are based on accurate energy consumption data
They will carry out the switch of energy supplier for you
Offers a range of energy support services
Cons
Not clear how many energy suppliers they work with
There are no customer reviews