To differentiate themselves in a growing market, businesses use a variety of printing techniques to showcase their products and services.
Thankfully, standing out from the crowd is no longer a chore, as commercial printing is thriving today. We'll go through the different types of printing methods available, as well as the pros and cons of each.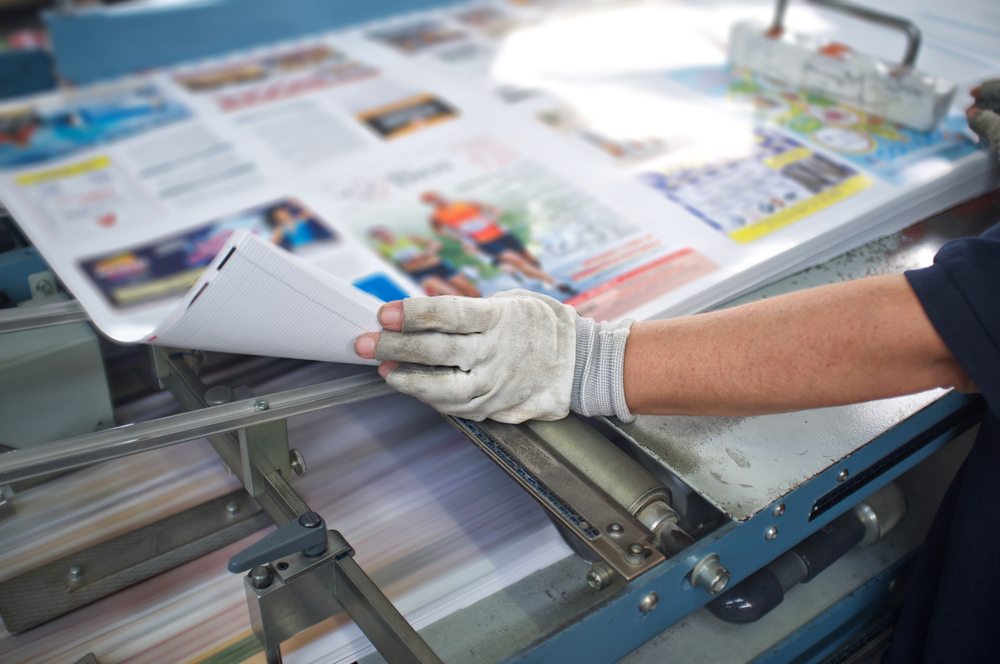 What Is Business Printing?
Commercial print styles cover a wide range of methods aimed at a variety of industries.
From flyers to brochures to business card printing, there are numerous options to choose from, as well as numerous methods comprising everything from Offset Lithography to LED UV, Digital and Large Format.
On top of this, business owners can select from a wide range of templates and finishes, comprising of everything from matte lamination to high gloss. It's extremely important to consider what finish will work with what product. For example, Christmas cards look great with a high gloss finish, whilst business cards often look better on a matte stock.
What Are The Different Types Of Business Printing?
When considering the different types of business print styles, it's important to contemplate several factors.
First things first, what are you looking to create? A high-end business brochure requires an entirely different business printer option to that of cheap business cards or a simple flyer.
Secondly, what finish do you require – matte lamination, uncoated paper, high-shine or something more unique?
Thirdly, do you have a budget in mind for your business cards or business brochures? It's important to establish this in the beginning to avoid spending more than you anticipate. For best results, it's a good idea to request a few quotes from different business suppliers.
Finally, what is your timescale for the job? Most business owners today will have to stick to tight deadlines, especially when ordering the likes of business cards for new employees, or a single business card for a temporary member of staff.
To truly understand which method to choose, you need to understand the ins and outs of the various business print types, learning more about what each one is used for.
Not only does a stunning job look appealing, but it also says a lot about your business to potential customers.
With so much scope to use printed communication in our tech-savvy world, now is the time to embrace it – be this through a new set of swanky business cards for the team or a stylish business brochure.
Offset Lithography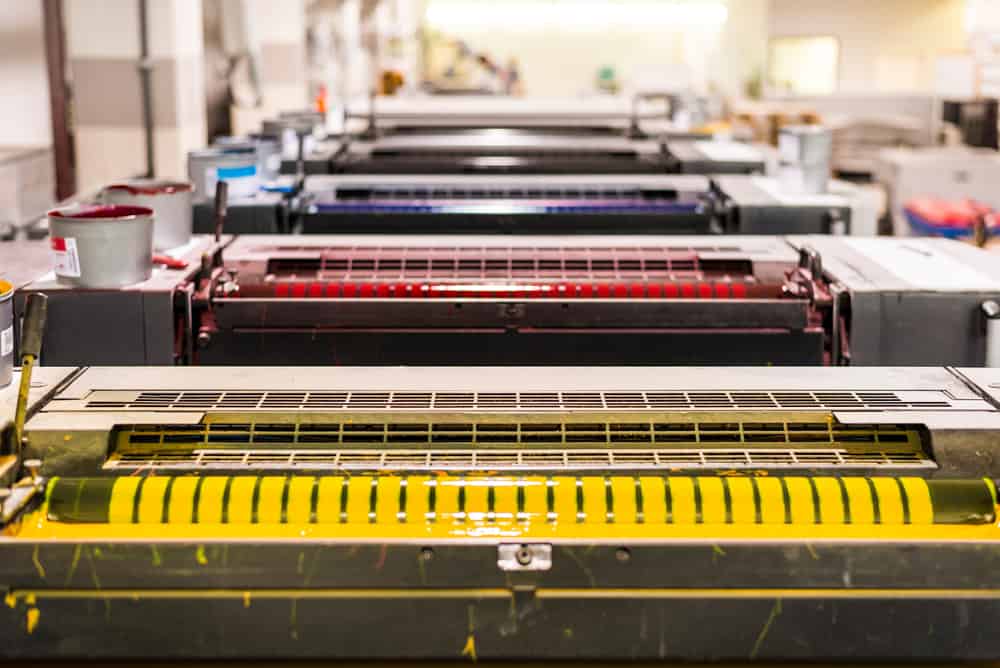 One of the biggest pros of offset lithography is its versatility – it allows for numerous templates, all of which can be transferred to an array of surfaces providing they are flat.
You can also place business artwork on numerous materials such as cardboard, paper and plastics.
This style is suited to mass jobs, as offset lithography machines boast a huge output.
What is Offset Lithography?
Offset Lithography is a tech-savvy method that uses something called a printer plate to create unique content.
This plate houses the image that needs to be printed. Only the image holds the ink, which is then 'offset' from the plate, onto a blanket made out of rubber, before finally being transferred to the printable surface.
What is Offset Lithography most commonly used for?
This method is commonly used to create an extensive scope of business products comprising everything from business posters to books, to newspapers, stationery and business cards.
How does Offset Lithography work?
Offset Lithography surrounds the concept of oil and water separation. When both ink and water are applied to the plate, the oil-based inks attach themselves to the selected images, whilst the water repels any areas of the plate that don't feature an image.
Certain presses opt for a silicone layer, as opposed to a water layer to repel the ink.
How much does Offset Lithography cost?
This method boasts extremely high colour quality, which makes it a great option for business owners looking to order a high quantity of business cards in full hue.
If your business runs often consist of 500 + copies, Offset Lithography is an economical choice and a great alternative to digital.
Both the papers and the inks are cheaper than those of digital presses.
The Pros and Cons of Offset Lithography
Pro: Perfectly suited to consistent large-scale business print runs
Pro: Impressive colour quality
Con: Initial set-up is more complicated than other methods
Con: Not suited to those who wish to regularly proof and edit documents
Digital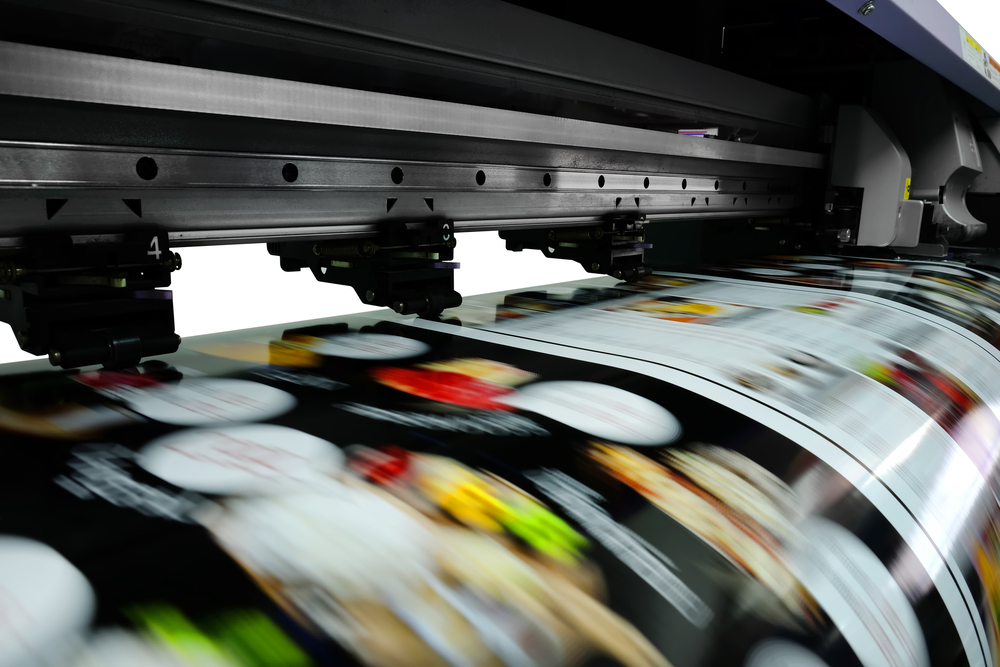 Digital is a great option for business owners wishing to oversee personalised short print runs.
This style invites clients to get creative with their finished product, as it boasts a variety of options, finishes and designs. This could be anything from business cards to business brochures.
What is Digital Printing?
This method is a pocket-friendly method used by businesses across the globe. It keeps customers and clients engaged, whilst minimising postage costs. The majority of companies using this method go through a third-party expert who has access to both full colour and mono print presses and employ a team of experts.
This print technique boasts an extremely quick turnaround, irrespective of the number of prints required. In addition, there are no set-up costs to worry about.
What is Digital Printing most commonly used for?
This print technique is prevalent with business owners wishing to print letters, labels, newsletters, point of sale items, banners, menus, business cards and other customisable business content.
How does Digital Printing work?
Digital styles are different from analogue, traditional print styles, including the likes of offset methods. Why? These machines don't necessitate print plates. To transfer an image onto business marketing materials, they utilise metal plates instead. This method works to transfer the image onto the media substrate directly.
How much does Digital Printing cost?
If creating a lower amount of products, the digital method works out extremely cost-effective for business enterprises, especially in comparison to other printers, however, if you require a bulk job, it can be more expensive than a standard press.
The Pros and Cons of Digital Printing
Pro: No set-up costs
Pro: Environmentally-friendly
Pro: Shorter print runs
Pro: Prints in vivid colours and boasts inline finishing
Pro: Numerous finish options
Pro: Quick turnaround
Con: Longer runs can cost more
Con: Can't print PMS or dark colours
Con: Paper size is smaller (13×19)
Large Format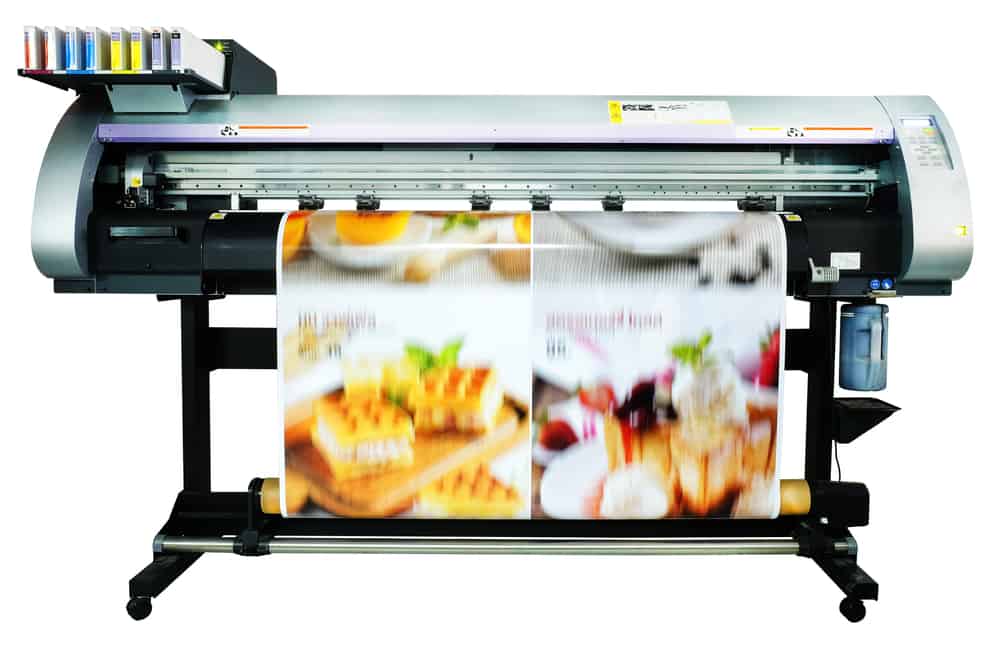 Looking to impress? Large format should be considered a go-to method, especially for business owners looking to print graphics onto a variety of marketing materials. This could be anything from a banner at a workshop or roadshow or signage at a festival or sporting event.
What is Large Format Printing?
Often referred to as the wide-format print method, POS or display print, large format allows business owners to print graphics onto an array of materials in an array of sizes.
This style is the go-to when you can't find a commercial press to assist in jobs necessitating larger dimensions.
With this in mind, this technique requires specialist production equipment. It's an extremely versatile method, which is one of the reasons for its high popularity in the business world.
What is Large Format Printing most commonly used for?
This style is used to create business signage, external vinyl banners, wallpaper, pop-up displays, floor graphics, exhibition graphics, mounting, billboards, laminating, fleet vehicle wraps and more.
This style of advertising is often designed to be showcased in front of large crowds, creating a positive impression of the business and its offerings. The aim? To lure in potential customers, often from a distance, to try a certain product or service. This is popular for business enterprises wishing to advertise at stadiums and sports venues.
How does Large Format Printing work?
The large format method enables business enterprises to print on a bigger scale without compromising on quality or resolution.
In addition, it allows people to add wording and graphics to a variety of shapes, materials and sizes in an impressive, bold way. This is an asset to business owners wishing to advertise at big events or in areas where the signage needs to fill a larger space.
How much does Large Format Printing cost?
It is challenging to predict the exact costs involved in the large format process, mainly because there are so many business options to choose from.
Factors to consider include the materials being printed upon, the graphic size, the substrates, and the required turnaround time – all of these factors can affect the cost of the job at hand. This is why it is important for business enterprises to have budgets, timescales and designs in mind before requesting a quote.
As an idea, the more artwork your business requires printed, the more pricy the job will be. The same goes for the material and your timeline.
Signage for retail tends to cost less than a project surrounding a hoarding graphic for a construction site.
To get a ballpark quote, you'll need to have an idea of the materials, size, and deadline to hand.
The Pros and Cons of Large Format Printing
Pro: On-demand
Pro: Long-lasting
Pro: Perfect high impact medium
Con: Not as versatile as other print methods
Con: Requires specialist machines
Con: Must always use the correct inks
Flexography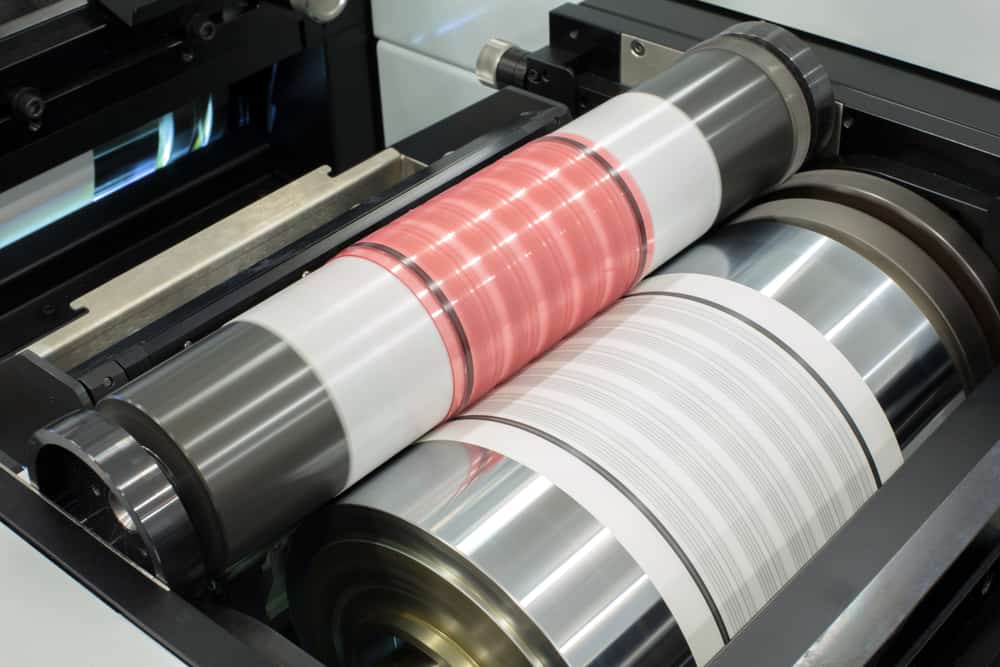 Flexography is a style that uses a highly flexible relief plate. In a nutshell, it is a contemporary letterpress, the only one that has been updated with a super speed rotary system.
Flexography is used by business owners wishing to create an array of marketing materials, including those that require metallic films, plastic, paper and cellophane templates. These materials can look extremely sleek when used to fashion quirky business card designs.
What is Flexographic Printing?
The flexographic process, often nicknamed 'Flexo' is a style that boasts optimal flexibility, efficiency and consistency.
Due to its versatility, the flexo process is often used to fashion everything from labels to the business card printing process and graphics on numerous substrates, comprising of different papers, plastics and cellophane.
Providing you have the correct templates, the options for your business are endless.
What is Flexographic Printing most commonly used for?
Flexo is prevalently used in business for the likes of plastic packaging. To ensure the utmost efficiency, the flexo presses work with large material rolls, which are then cut down to the relevant size on a slitting machine.
How does Flexographic Printing work?
Flexo uses a tech-savvy procedure to fashion an image in relief on sleeves and plates, which are also known as polymer image carriers.
These envelope cylinders and use an anilox roll to transfer from pan to plate.
To activate this process, the business client must first provide the specialists with the dedicated artwork.
Once designed, the artwork must be optimised. This process has to be perfect as once in place, the plates cannot be edited. This is irrespective of whether you are designing business cards or brochures.
How much does Flexographic Printing cost?
This depends on the type of run you're aiming for. The flexographic method can be more costly than the digital method if you require short runs. Why? New plates need to be produced for each new job.
The Pros and Cons of Flexographic Printing
Pro: The presses run at speed, which allows for a quick turnaround
Pro: A wide choice of substrates and materials,
Pro: Low waste in regards to time, materials and resources
Pro: Consistent, high-quality results
Pro: Low costs, high return
Con: Not as advanced as other business methods
Con: Colours can be more muted, which will only work for certain jobs
LED UV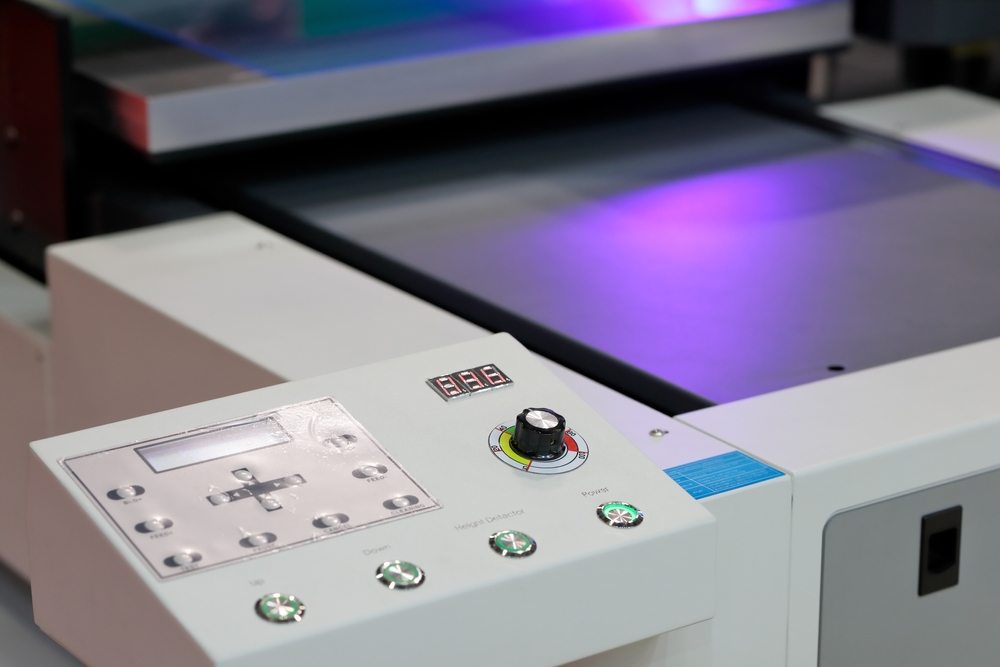 If you're a business looking to achieve a high level of print quality, LED UV technology is the go-to.
This style promises sharp, vivid production, even when graphics are printed on uncoated stock paper. This makes it an ideal option for business card printing, especially for professional individuals who require super slick business cards.
In addition, no anti-set powder spray or sealing is required in this printing process, which means printed content retains its unique characteristics.
One of its biggest selling points, however, especially for busy business owners, is its speedy turnaround. This is all made possible due to the tech-savvy UV curing and drying method.
Another reason to choose LED UV is that it's eco-friendly, which means business owners can reduce their carbon footprint. It uses a great deal less power than that of traditional print-drying tech.
It also features an on/off capability, which can be activated instantly. This lowers standby consumption on a whole, which in turn lessens business owners' CO2 emissions, allowing them to do their bit for the environment.
What is LED UV Printing?
UV is a modern digital print style, which as you'd guess by the name, uses ultra-violet light to dry or cure the inks used.
This avoids smudges and produces clearer, vivid images and wording, whether creating business cards or flyers. It also boasts a luxury feel, best suited to those wishing to create high-end products.
What is LED UV Printing most commonly used for?
The LED UV technique is most renowned for high-end prospectuses, catalogues, handbooks, lookbooks, magazines, newsletters, business cards, posters, brochures, leaflets and more.
How does LED UV Printing work?
LED UV comes in the shape of contemporary technology, which enables the inks to instantly dry. Simply put, this means a very low amount of ink is absorbed by the printed paper.
This professionally printed method boasts all the advantages of the traditional lithographic method, such as exceptional quality and high volumes, just without the risk of marking from wet inks.
How much does LED UV Printing cost?
This depends on whether you're outsourcing the job or investing in a UV flatbed printer for your business. If you invest in an older model, training and after-sales almost become impossible.
This in turn adds additional costs. Second-hand models also tend to be more pricey than the new versions. On top of this, UV inks tend to come in at just under 100 GBP. Try to tally up how much content you need to determine whether or not the costs will pay off.
The Pros and Cons of LED UV Printing
Pro: Extremely versatile
Pro: Prints on a wide range of surfaces
Pro: Eco-friendly
Pro: High quality, vivid print production
Con: Spillages can be tricky to clean up
Con: To fix colours, you'll need to invest in more anilox rolls
Con: Unless cured first, UV inks won't dry.
Con: Initial start-up costs can be higher than other methods
Final Thoughts
If you own a business and necessitate printed documents regularly, irrespective of whether these comprise seasonal Christmas cards, business cards, banners, posters or more, it's important to know which printer technique and which templates to use.
From one that suits your business budget to one that suits your style, researching the various printed methods available is a must!
Whether a brochure or business cards, it is imperative your marketing material leaves a positive impression on your business network and your customers. It's also important to know your target audience and produce your material accordingly, in line with what your clients wish to receive.
For example, a younger audience tends to prefer brighter, bolder business cards featuring the likes of a QR code, whilst an older audience tends to prefer traditional email addresses and numbers.
These decisions could make all the difference to whether you can sell a professional product or business service, and whether you attract the right target market. Before investing in any new business marketing materials, it is a good idea to do your research. Knowing who your customers and target market are will ensure you release the correct content.
FAQs
What is the difference between offset lithography and lithography?
Offset lithography comes in the shape of a lithograph style that is crafted via an offset press. Offset lithography, just like hand lithography, utilises an oil-and-water repulsion method.
The main difference between this and lithography is that the offset press works by transferring inks to a rubber blanket, before directly applying it to paper or another material.
What is the most common form of commercial printing?
Digital is an extremely prevalent method and one that is common in the business world because it allows business owners to print high-quality marketing materials at a lower cost and instantly.
However, this isn't suitable for all business owners and enterprises. It all comes down to the product and service you are selling, what stock you require, your budget and the collateral you wish to invest in – this could be everything from a business card template to a high-end brochure.
Is UV printing the same as digital printing?
UV is a digital print style that embodies ultra-violet light to cure or dry inks during the prints process. When the printer deals out the inks, tech-savvy UV lights cure it in an instance. UV has the benefit of quick realisation when it comes to flexible graphic patterns.
The latter method on the other hand can place an image directly onto various mediums. Files in the shapes of desktop publishing files or PDFs can be sent straight to a printer, and can instantly be placed onto everything from synthetics to photo stock, card stock, canvas and more.
What is the difference between Flexography and Offset printing?
Flexography is used on printed business materials that are non-absorbent and absorbent, such as cardboard, cellophane, foil, fabric, metal and plastic to name a few.
The main difference between offset print jobs and flexography is the former can only print on a flat surface. Flexographic on the other hand can print on an array of substrates, even those with flexible surfaces.
The result is that you will get to create a supply of engaging business material that, when distributed, showcases a positive impression of your company. This could be with a business card, a brochure, or a flyer.