Running any business brings challenges, from supply and logistics to managing energy and business premises costs. Many people don't consider how a company will get rid of any waste generated on its premises.
This article will take you through everything you need to know about commercial waste, regulations, and waste management solutions.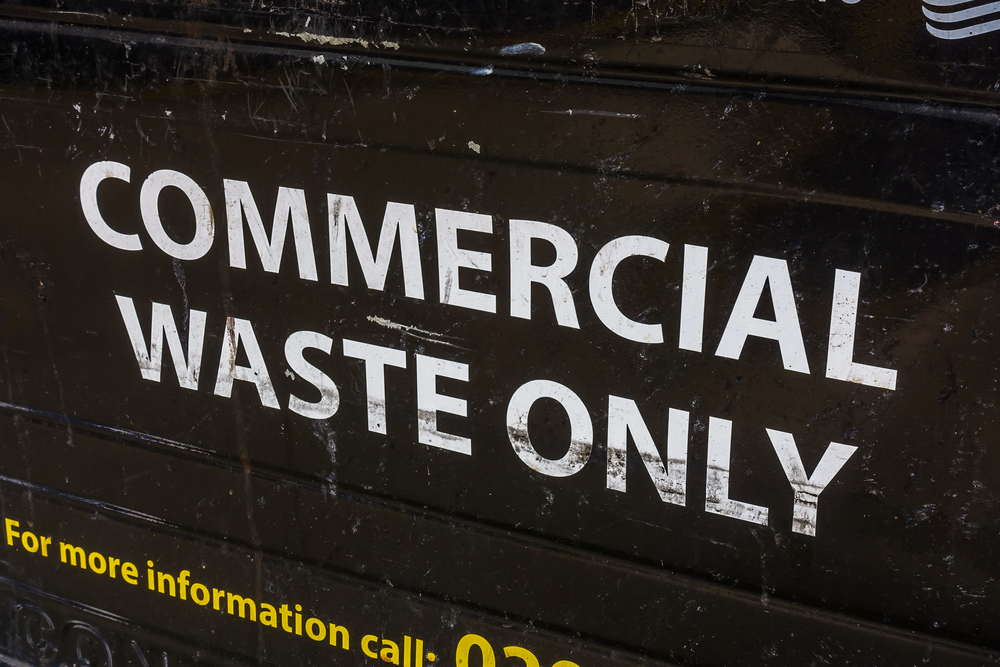 What Is Commercial Waste?
Any waste that is produced on the premises of a business is deemed to be commercial waste. Whether the company is agricultural, a trade site, recreational, educational, industrial, or the waste is due to construction or demolition, the waste generated has to be discarded in a certain way.
Businesses cannot dispose of waste using public or domestic bins. Because of this, finding a reputable and cost-effective waste management service is an integral part of a business's responsibilities.
Why is Commercial Waste Management Important?
Due to the volume and diverse range of materials found in business waste, it is imperative that businesses correctly dispose of it.
Poor waste management can have a detrimental effect on the environment. For example, unreputable waste management services could lead to waste being dumped in landfills without being sorted for recyclable materials or even being fly-tipped.
Mismanaged waste can pollute the environment through water supplies, the ground, and the air.
Minimising waste whenever possible and sorting materials can be a great way to manage commercial waste, reduce your businesses carbon footprint, and save money.
All businesses want their customers and potential customers to have a good opinion of their products, services, and practices. As governments and the public are paying closer attention to the environment and ways to reduce climate change, good waste management is an excellent way of boosting public relations and can even become a selling point.
What Is Regarded As Commercial Waste?
With so many kinds of businesses, it can be confusing trying to determine whether your business waste would be classed as commercial waste.
Construction – Construction can result in waste from packaging used for materials as well as excess or damaged materials.
Demolition – While construction businesses try to minimise waste materials through packaging or planning, demolition will always result in waste material that needs to be disposed of correctly.
Industry – Waste generated by manufacturing and industrial plants in their day to day running is categorised as commercial waste.
Agriculture – While agricultural waste resulting from farming differs from commercial waste and must also be disposed of in a specific way, business waste can also be produced in an agricultural setting. Packaging, bags, sheets, and containers are used regularly, as are machinery, tyres, batteries, and similar waste.
Retail – Retailers produce a considerable amount of business waste through packaging alone.
Healthcare – Healthcare facilities such as GP practices, hospitals, dentists, and even veterinary clinics produce commercial waste through packaging and hazardous waste.
The Main Types Of Commercial Waste
There are many types of commercial waste, some of which you might not have thought twice about because it is so commonplace. It is important to remember that all waste generated on a commercial site is deemed business waste.
Here are some examples of the most common types of commercial waste that may be generated on your site.
General Waste
General waste is the daily waste that you will generate that can't be recycled. Checking packaging to see what can and can't be recycled, especially with plastics, can be a great way of reducing your general waste.
Dry Mixed Recycling
Dry mixed recycling is a blanket term used to describe recyclable materials such as paper, metal cans, plastic, and cardboard. This can be taken by your waste management service provider to be sorted and recycled.
Glass Waste
Sorting glass carefully and separately from other waste not only makes it easier for recycling purposes, but it is also a lot safer. It can reduce the risk of bags being pierced or cut or people being injured by sharp edges.
Hazardous Waste
Any waste that contains items that can potentially have a harmful effect on humans is deemed hazardous and must be appropriately disposed of. This can include biological waste, chemicals, and materials such as asbestos.
Confidential Waste
Confidential waste contains essential company or customer information that needs to be destroyed to not fall into the wrong hands. Most important documents would be shredded to minimise any risk, and the resulting waste should be packaged securely.
Food Waste
Food waste can cause greenhouse gasses when dumped in landfills; that is why it is essential to separate it so it can be properly disposed of. It is estimated that the pollution caused by food waste is similar to 25% of UK cars.
Recycling food waste can create energy via anaerobic digestion and harness the gasses it produces or composting and improve soil quality.
Clinical Waste
Waste from hospitals, clinics, dental practices, and GP practices is known as clinical waste. Any waste that can pose a health risk to humans, such as certain medicines, biological waste, or dressings, bandages, and swabs, may be considered hazardous.
What Is The Waste Duty Of Care Code Of Practice?
The Waste Duty Of Care Code Of Practice guides users on how to separate and safely store waste, who is allowed to transport and deal with waste or recyclable materials, and the documents and records you need to keep to show you are complying.
It covers household, industrial, and business waste management and is in place to safeguard human health and the environment.
To fully comply with the Waste Duty Of Care Code Of Practice, you will need to;
Store waste safely and securely
Maintain regular waste collections
Accurately label your waste
Keep Waste Transfer Note copies for two years
Keep Hazardous Waste Consignment Note copies for three years
Only use waste management companies that are a Registered Waste Carrier
If you move the waste in your own vehicle(s), you must have a waste carrier licence
Comply with permits and licenses for on-site operations
Only use waste management sites with a Waste Management Licence, Environmental Permit, or necessary exemption
Ensure that the Waste Hierarchy has been considered when managing waste and be able to demonstrate this.
What Is A Waste Transfer Note (WTN)?
A Waste Transfer Note is a document that details the transfer of waste from a business to the waste management provider. Whether you are passing the waste on to a commercial waste collection service or collecting waste, you will need to ensure the transaction is covered by the Waste Transfer Notes, which should carry all the pertinent information.
The Correct Way Of Disposing Commercial Waste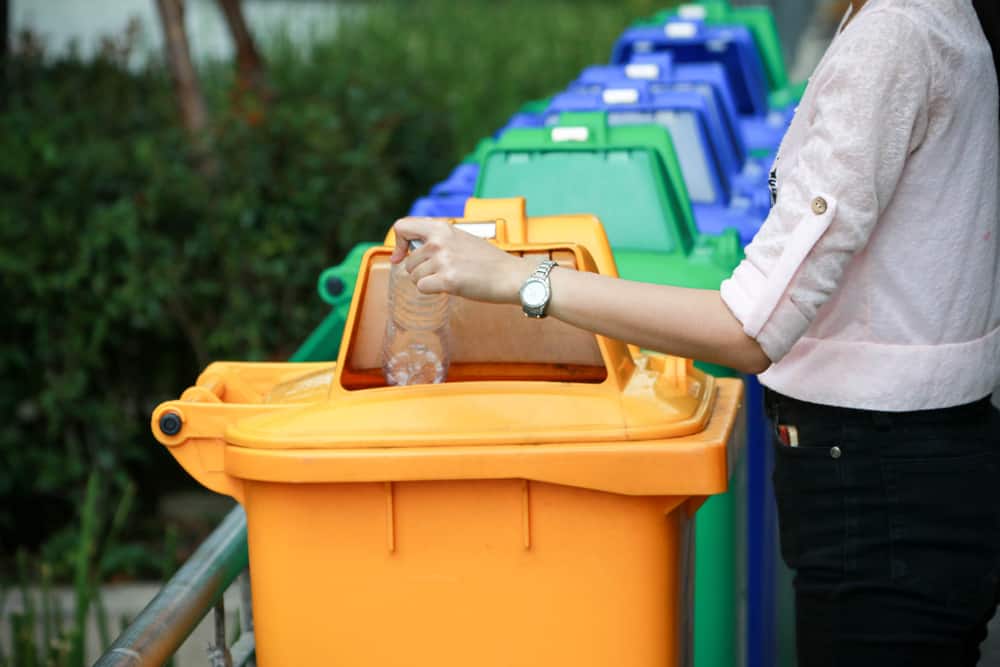 If you have a business, the waste produced will have to be disposed of correctly. Therefore, selecting the right commercial waste collection service for your needs is essential.
After that, the collection of waste and recycling services are essential to your compliance with regulations covering commercial waste. Selecting the correct waste collection and recycling service will help you dispose of waste quickly and efficiently.
Sorting and storing commercial waste
Sorting and storing commercial waste correctly is not only part of the Waste Duty Of Care Code Of Practice, but it also helps with on-site waste management. The proper storage should minimise the space needed to store waste and the risk of pests being attracted to waste.
Sorting and storing commercial waste makes collections quick and easy. This can lead to a better relationship with your waste management provider and a neighbouring business.
Here are the most efficient ways to store business waste.
Bins
Having designated and clearly marked bins for different types of waste makes it easy for employees to manage waste. In addition, wheeled bins make transporting the waste from the property to bin sheds or collection points easy and efficient.
Skips
Skips can be a great solution if a business produces a more significant amount of waste. They are also advisable for construction and demolition work as they can carry a large amount and are robust enough to withstand hard materials.
Waste containers
Waste containers are also available for different kinds of business waste, including food, sharps, and hazardous waste. Having designated containers for these is essential in maintaining high hygiene standards, stopping pests from being attracted to the premises, and minimising the risk of contamination.
Commercial Waste Recycling Options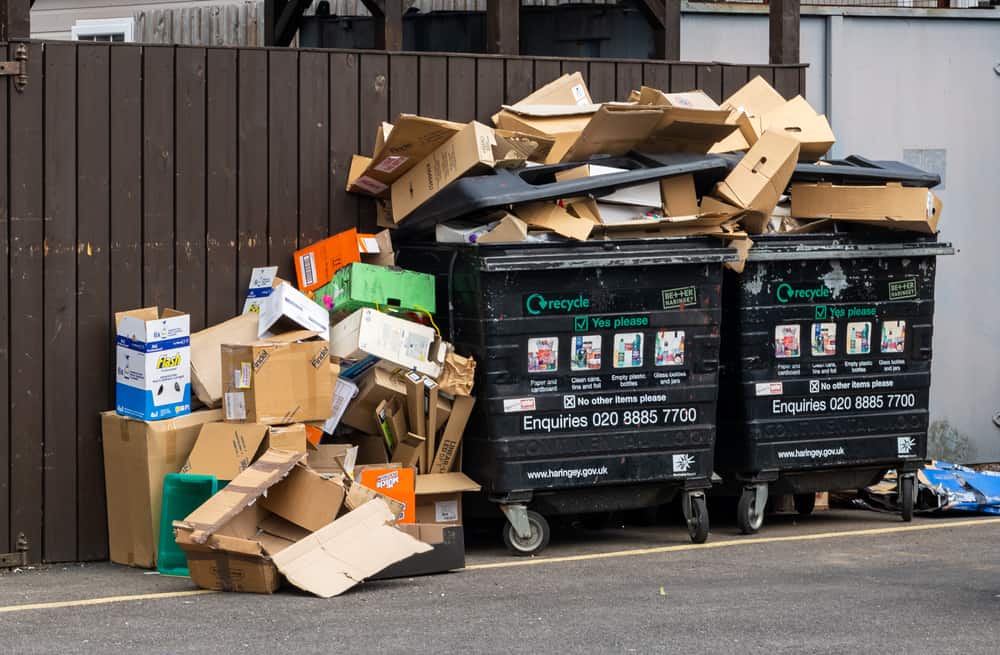 Finding a reliable service for your waste recycling options will ensure your collections take place on the agreed date. It can also help to reduce the risk of waste illegally being dumped in landfill sites or being fly-tipped.
Here are some of the best business waste recycling options available for businesses in the UK to explore.
Veolia
Veolia offer UK companies business waste management solutions, recycling services, and energy and water solutions should you be interested in keeping all your services in one place for convenience.
They provide specialist services for different markets as well as hazardous waste collection, recycling and waste management, demolition collection services, general waste collection, coffee cup recycling, commercial dry mixed recycling, commercial glass collections, and commercial food waste collection.
They also offer the PROcycle service, which handles traditionally hard to recycle materials such as plastic straws, clothing, plastic toys, and sweet wrappers.
Biffa Group
Biffa is a giant in the UK waste management sector, and their long list of services is a good reason why so many people choose them.
They carry our general waste collections as well as dry mixed recycling, food waste, and hazardous waste collections.
There is a range of containers available for customers to utilise, including standard and large wheeled bins, plastic waste bags, front end loader bins, open skips, enclosed skips, large waste bags for mixed electrical waste, bulk carriers, bins for use indoors, mini waste safes, IBC containers, waste drums, fluorescent tube pipes and pallet boxes, and battery boxes.
They are used by over 75,000 SME's in the UK, cover 95% of postcodes and have a 98% service reliability rate.
FCC Environment (UK) Limited
Launched in May of 2012 and located in Northampton, FCC Environment (UK) Limited provides services that include municipal and business waste management and generating green energy from the waste collected.
Over 1.3 million people have their waste collected by FCC Environment (UK) Limited in the UK, with over 6,000 businesses enjoying excellent services too. With operations across Europe, Africa, North America, and South America, it is one of the largest companies in the world with a focus on environmental waste management.
The waste management services of FCC Environment (UK) Limited minimise waste going to landfills, sorting, recycling, and generating green energy from the rest.
Business Waste
Business Waste offers commercial waste management solutions for cardboard, clinical waste, food, general waste, glass, hazardous waste, mixed recycling, construction waste, confidential documents, and plastic, sanitary, and paper waste.
They supply free wheeled bins to businesses and claim to offer the best UK prices for waste management.
Suez Environnement UK
Suez has been active since 1988 and manages over 30,000 businesses commercial waste. Their high levels of customer service make it quick and easy to set up collections, and they aim to transform waste into renewable energy and reduce landfill waste.
CheaperWaste
CheaperWaste offer business waste disposal of cardboard, mixed recycling, general waste, glass, hazardous materials, clinical waste, and confidential commercial waste.
With a transparent pricing model and fast delivery of bins after set-up, this option is ideal for people looking for a quick solution without any hidden surprises.
Ribbex
Ribbex offers full UK coverage and free business waste audits and builds long-lasting relationships with customers thanks to its helpful customer service team.
Their collection and disposal of hazardous and non-hazardous commercial waste have helped businesses for over 30 years.
Commercial Waste From Home Based Businesses Explained
Many businesses operate from homes across the UK, and in recent years this number has grown. Any waste generated from this activity in your home is still considered business waste and needs to be disposed of correctly.
If a commercial waste management service collects waste, waste transfer notes will need to be completed. If you are transferring waste yourself, you must register as a waste carrier. To find out how to apply for this and for further information on managing commercial waste generated from your home, click here.
How The Waste Disposal Process Works
The waste hierarchy explains how you should manage your waste to help minimise waste and efficiently dispose of any that is generated.
The first step in this is prevention or reduction. Working on ways to reduce or prevent waste to help streamline your business and speaking to suppliers about reduced packaging and using less hazardous materials are just some of the ways to do this.
Re-using items will significantly reduce waste. For example, this might mean doing away with disposable cups for water machines and encouraging staff to use water bottles that can be washed and re-used or repairing, cleaning, and refurbishing whenever possible.
Inevitably, business waste will be produced. Taking the time to sort and store this waste properly will make recycling much more manageable and significantly reduce any waste that would need to be disposed of in a landfill.
Some waste can also be used to generate energy. Discussing your commercial waste needs or carrying out an audit can help identify options for the types of waste you generate. Your waste management service will be able to provide solutions after this.
Finally, if you have followed the previous options, in that case, you should have minimised any waste that would have to be disposed of in a landfill or an incinerator that does not convert that energy to create power. Waste management services and businesses are working together to find the best ways to reduce or completely eradicate landfill waste.
What Is A Waste Audit?
A waste audit looks at businesses' waste streams to determine what commercial waste services are necessary on a case-by-case basis.
Why do you need to conduct a waste audit?
A waste audit will help you and your waste management service understand the services you need by analysing your waste streams and compiling the necessary data. This information will help create a suitable waste management solution that includes sorting, storage, and disposal.
Your waste management service should supply containers and arrange collections for different materials for recycling and disposal.
A thorough waste audit will also help reduce the bills you have to pay, as it will create an efficient waste management service tailored to your needs.
How Much Does Commercial Waste Disposal Cost?
The best way to understand the costs of commercial waste disposal is by exploring waste management providers for the kinds of services you think you will need. Prices will vary by provider, but this should give you a general idea.
Many providers offer a free audit, which will help you get a more exact price. Prices will differ depending on the provider, services needed, the size or type of bin you need to hire, and how often collections are required.
How To Choose A Commercial Waste Disposal Provider
Choosing the best waste management provider for you will be dependent on your needs. Taking the time to look through different providers to see other services they provide and the areas they service will help you narrow down your search.
You will need to ensure that your waste carrier is registered to dispose of waste in order to comply with all the relevant laws and regulations set out by the Environment Agency and your local council.
The Penalties For Non-Compliance With Commercial Waste Laws
Depending on how severe the breach is, non-compliance can result in a fine or even a prison sentence. Fines can go as high as £50,000, and prison sentences of up to five years can be issued, so it is essential that you understand and comply with all business waste laws.
Final Thoughts
Waste management is much more than just getting rid of your rubbish. With heavy penalties enforced for people who do not comply with laws and regulations, it needs to be understood and carried out meticulously.
As well as avoiding potential penalties, an efficient waste management solution will help you reduce costs and become more environmentally friendly. As well as the inherent moral obligation, this is also great PR for any business.
With so many waste management service providers available, it is possible to get a commercial waste collection service tailored to suit your needs if you do a bit of research.
FAQs
Can I dispose of commercial waste myself?
As long as you comply with the regulations and complete waste transfer notes, register as a waste carrier if you are transferring anything in your own vehicle, and only use officially registered waste disposal solutions, you should be able to carry out some of your own business waste disposals.
Where are commercial waste disposal sites located?
You will be able to check with your local council for registered waste disposal sites close to you should you decide to dispose of your own waste.
What is a commercial bin?
In order to safely and securely store your commercial waste, commercial bins are needed. They are available to rent from your waste management service and come in a variety of styles and sizes to suit your needs.
Different waste streams will require different commercial bins, and it will help to make sorting easier for recyclable goods.
This will ensure that collections are as efficient as possible and help the team that comes out to collect your waste remove it quickly. In addition, quick and efficient removal of waste helps with your relationship with your service provider and with neighbouring businesses or domestic residencies.
Who is the largest commercial waste management company in the UK?
With almost 200 UK locations and offering their services to nearly 100,000 businesses, Biffa is one of the largest waste management companies in the UK. With contracts with businesses in hospitality, retail, construction, and much more, their diverse range of services makes them ideal for any size of business.