Salesforce was established in 1999 in a San Francisco apartment and has since grown to become a global company that serves over 150,000 businesses. Salesforce specialises in CRM software that caters for a wide variety of business needs and is suitable for small to large businesses and integrates marketing, sales and commerce on a single platform.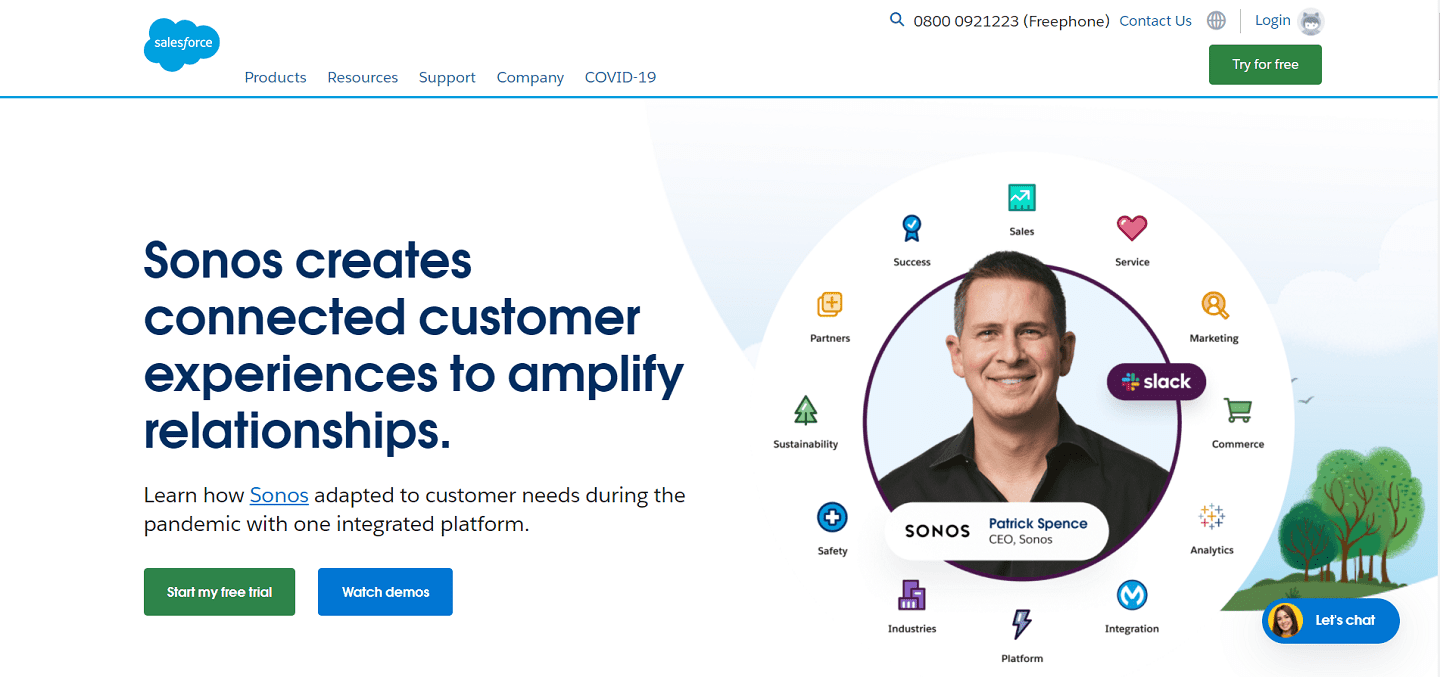 Salesforce CRM Software Options
Salesforce offers tailored CRM software solutions that cater for the following industries:
Financial services including banking and insurance
Healthcare and life sciences
Public sector
Communications and media
Manufacturing
Consumer goods
Retail
They offer a range of products that incorporates Slack (a business communication software tool that helps with collaboration) and are based on specific needs which include:
Customer 360 – is a complete package bringing together sales, service, marketing, commerce, IT and analytics with digital workflows to manage your customer relationships.
Sales Cloud – combines contract management, opportunity management, sales forecasting, process automation, mobile CRM and revenue intelligence.
Service Cloud – provides automated processes and intelligent workflows, smart call centre management and productivity tools and cross channel support.
Marketing Cloud – assists with planning and insights, and helps manage email marketing, digital marketing, B2B demand generation, marketing analytics and digital advertising.
Commerce Cloud – enables collaboration, unifies the customer journey, connect shopping experiences, run personalised campaigns and boost conversions.
Small business – offers sales, service and marketing to help reduce admin work and automate processes.
Salesforce CRM Software Card Rates
Small Business pricing:
Sales – up to 10 users from £20 per month per user
Service – up to 10 users from £20 per month per user
Marketing – contact for a quote
Sales Cloud and Service Cloud pricing:
Essentials – Small businesses up to 10 users from £20 per month per user
Professional – £60 per month per user
Enterprise – £120 per month per user
Unlimited – £240 per month per user
Marketing Cloud pricing:
Pardot B2B Marketing Automation – from £1,000 per month for up to 10,000 contacts
Email, Mobile and Web Marketing – from £320 per month
Social Studio – from £800 per month
Datarama – from £2,400 per month
Google Marketing Platform – from £10,000 per month
Commerce Cloud pricing is only available by requesting a quote.
Salesforce CRM Software Reviews
There are reviews for Salesforce on two of the leading customer review sites of which one only has two reviews. The largest number of reviews is on Trustpilot, and these reviews are largely negative with 79% of reviewers scoring them as bad.
Comments on reviews include oversold the benefits or missold the plan, hidden extra costs, lack of support, technical issues using the system, costly to develop into the system needed and often consultants are required to assist.
Trustpilot – 1.4/5 (based on 251 reviews)
Reviews.co.uk – 5.0/5 (based on 2 reviews)
Review Centre – no reviews
Smart Money People – no reviews
How To Purchase For A Salesforce CRM Software?
You can try Salesforce's CRM software for 30-days for free before purchasing the software to see if it meets your needs. You can start a free trial by signing up on their website. To purchase Salesforce CRM software or if you have any questions you can contact them on 0800 092 1223.
Pros
Offers tailored software that caters for a variety of needs
Provides a range of product and pricing options
Well-known and established provider
Cons
Poorly rated in customer reviews
Reviewers claim the software is hard to deploy and technical issues are hard to overcome without employing consultants
Website: Salesforce CRM Software
Comparisons