Successful businesses put their customers at the heart of everything they do. When a business strives to communicate openly with customers, personalise services, and offer timely and relevant promotions, those same customers start to show brand loyalty and help promote the business for you.
In the past, these efforts were made by departments and teams working independently and sharing information through legacy technology. Although adequate, this mode of operations was not as streamlined or sufficient as the platforms are today – such as the popular CRM system.
Featured CRMs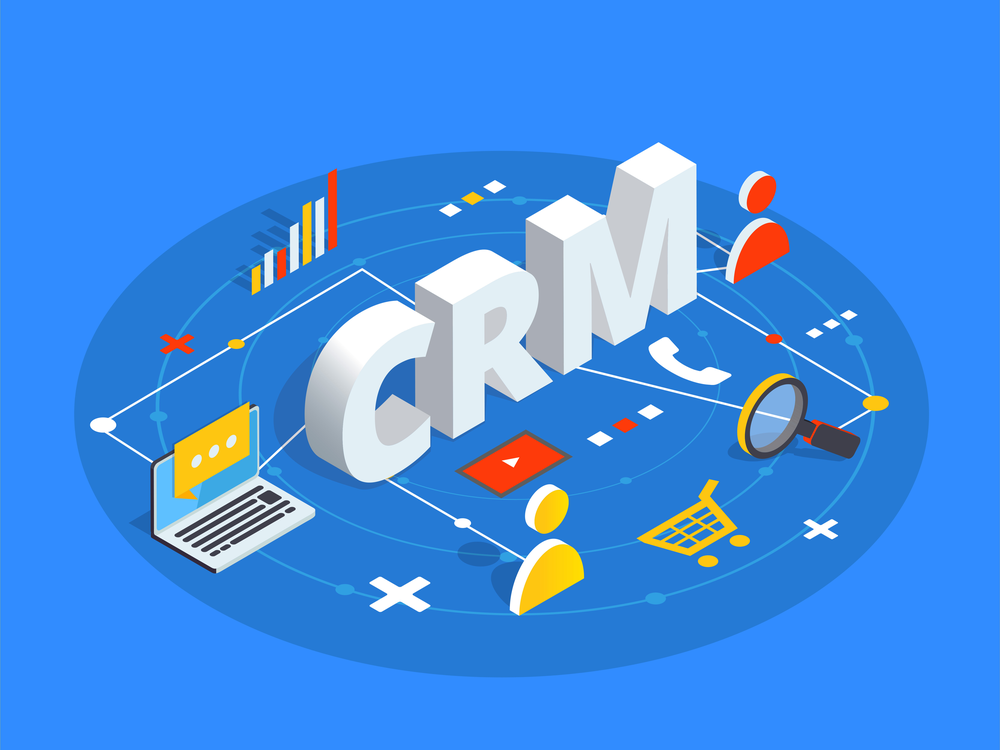 What Is A CRM System
CRM stands for Customer Relationship Management and refers to a software solution that helps businesses to streamline their systems and interact with their customers. CRM systems are available in different forms; there are Operations CRMs, Analytical CRMs, and Collaborative CRMs.
An operational CRM is used internally to organise and streamline the business. It supports the sales and marketing department by collecting and storing data on customers and leads; it might also help to integrate the sales and marketing departments for greater efficiency. Analytical CRMs are different.
The core function of Analytical CRMs is to collect data on customer interactions and to increase customer satisfaction and retention rates; it does this by gathering data on buying behaviour. Collaborative CRMs are about integrating departments within a company, such as sales and marketing.
What Does CRM Software Do?
These days there are countless apps available for business processes, things like spreadsheets, chat facilities, systems integration, payment systems, e-mail systems, accounting systems and more. Instead of managing these apps independently, a CRM lets you manage them from a single platform.
Whether you run a large business or a startup, your customer data is crucial to your ongoing relationship with them and the overall success of the business, and with a CRM, you can create an accessible database of files that can be used creatively by the business to boost customer satisfaction.
Not only that, CRM software allows you to track customer behaviour with your company and respond appropriately. For instance, if a customer has previously expressed some interest in a product and you have a promotion pending, that's a great time to promote the product to the individual.
How Does A CRM Platform Work
CRM platforms can be installed, but these days they are available on the cloud in the form of Software as a Service (SaaS). SaaS platforms can be installed in your business by signing up for the CRM solution on the website, which allows you to start using the apps and services of the CRM right away.
Once you have a CRM installed, you can start to benefit from its services. Typically, CRMs use a range of touchpoints to gather customer information and store it on the database. These touchpoints include things like Contact Forms, Search Engines, E-mails, Phone Calls, Social Media, and much more.
Different CRM solutions have different core functionalities. For instance, Operations CRMs are concerned with the nuts and bolts of business operations, while Analytical CRMs are about gathering customer data and using it effectively. In most cases, a CRM will have some functionality in all areas.
Why Is A CRM System Important For Businesses?
Customer loyalty and retention has always been an important part of business success, and customer relationship management software has made it more efficient over time. In recent times, the capabilities of CRMs have increased in line with technological advances and the proliferation of apps.
Without a CRM management platform supporting your business, customers will receive an experience that falls below modern expectations. They won't receive timely e-mails and newsletters offering relevant products and promotions, and there will be far less personalisation from the business.
A CRM system not only helps your business to optimise customer relationship management and provide the right services to the right people, but it also raises the standard of customer service that customers expect nowadays. All of this adds up to better retention of customers and more revenue.
What Is A CRM Strategy?
A business won't get very far without customers, which is why it's important to put them at the heart of everything you do. In many ways, customer satisfaction and retention rates are a true indication of the success of your business. That's why many businesses set out to develop an effective CRM strategy.
A CRM strategy is a plan to increase revenues and reduce costs by improving the quality of customer relationships. The best place to start with a CRM strategy is by installing some CRM software with diverse capabilities. When you have some suitable software in place, you can start to develop a strategy.
The first thing you will do is identify your customer touchpoints; these will be Contact Forms, Phone Calls, In-Person Communication, E-mail Interactions, and lots more. Touchpoints are your chance to interact with customers and gather data. Start your CRM strategy by identifying your company goals.
How do you develop a CRM Strategy?
The world of commerce has evolved over the years from a simple transactional model to one in which customers are front and centre of everything. In a world where brands are constantly competing for market share, it's vital that customers continue to align with your product instead of the competition.
Developing a CRM strategy starts by creating a future vision for the company and identifying the goals of the business. Can your business benefit from increased customer satisfaction, higher productivity, or better efficiency? Then, break these broad goals down into actionable tasks to drive the business.
Once you have identified your goals, there are various ways you can start to build your CRM strategy. Most of these involve working with your customer base in some way. An excellent place to start is with the customer persona and customer journey; often, different customer personas have unique journeys.
When Is The Right Time To Invest In CRM Software?
If you wish to improve the productivity of your business by using the latest technology, it's time to think about investing in CRM. But that's not the only reason for signing up for the most suitable customer relationship management system; you might also wish to improve your customer services.
In short, there's never a bad time to invest in a customer relationship management system; even if your business is going well, a CRM system can accelerate the business and increase profits further. The good news is that there are many customer relationship management CRM systems to choose from.
That said, there are some clear signs that your business might benefit from a customer relationship management CRM system. Your customer service might need to improve, or you find it hard to access client information. If this is the case, your sales team might need more integration using CRM systems.
How Do I Choose An Ideal CRM System?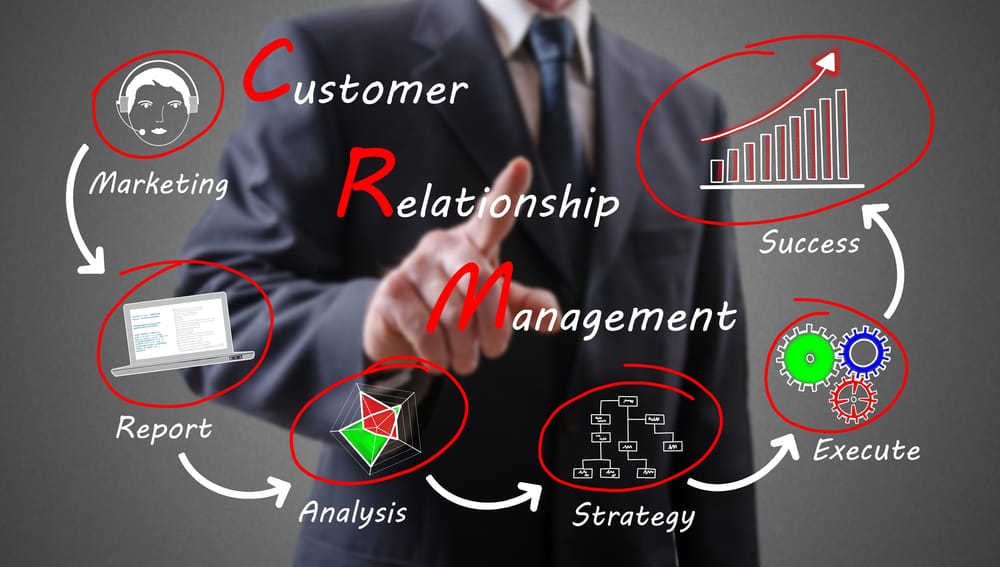 If you know that your business could benefit from a CRM system, that's a great start, but where do you go from there. The fact is there are numerous CRM systems on the marketplace that have their strengths and weaknesses, you want to choose the one that suits you best, but that isn't an easy task.
In a way, you have to work backwards. If you choose customer relationship management tools from off the shelf without analysing the needs of your business, the chances are that you won't get the most out of it; it's better if you think about your vision and goals so you can choose more focused software.
In some cases, businesses will want to increase customer retention rates because this is more valuable than departmental integration (the business might already have excellent internal communications). Understanding this makes it easier to choose a CRM system that is more ideal for the business.
What makes a great CRM platform?
Once you've decided that a CRM system is the platform you need to take your business forward, you need to know the characteristics of a good CRM system; after all, there's little point in investing time and money installing a CRM system that lacks quality, integration, functionality, or ease of use.
The qualities of a good CRM system can be situated into five categories; these are, integration, useability, adaptability, customer satisfaction and ease of reporting.
Firstly, integration is important because you don't want to have to adapt your business too much to accommodate the latest CRM system.
Ease of use is also a high priority and usually a key component of an excellent CRM system, because your employee needs to know how the CRM system operates, or else it is of little use. Usability is similar in this respect. A good CRM system should also provide customer satisfaction and analytics.
What Are The Key Features Of CRM Systems
E-mail Integration – The vast majority of CRM systems have e-mail integration that helps to connect the sales team to the marketing team, but e-mail is also a key component of customer relationship management. The e-mail features of a CRM system offers businesses a range of tools to engage customers through e-mail more easily and to target the right clients with the right information.
Document Management – CRM systems have evolved considerably since the early days in the 1980s; however, the core functionality and purpose of a CRM system remains the same, to collect and store customer data for the sales team. Not surprisingly, this is a feature you will find on even the most basic CRM platforms, so expect a database that allows you to collect and store customer data centrally.
Quotes Management – Some businesses provide services that require quotes, such as companies in the insurance industry, financial industry, or the housing market. Although a basic quotes and proposals feature is not crucial for every business, it comes in handy. The majority of CRM platforms offer this feature to help the sales team send accurate quotes to clients with greater efficiency and minimal fuss.
Workflow Automation – One of the primary functions of CRM platforms is to increase the productivity of the business, which is achieved by automating repetitive tasks. Instead of the sales team creating regular tickets and setting follow-up reminders, these tasks can be automated, allowing members of the contact management team to direct their attention to other matters, helping grow the business.
Reporting Analytics – Analytics is a prerequisite for all businesses in the digital age because it creates more efficiency, productivity, and customer experience. Analytics can be used in two ways, internally and externally. Internally they can be used to monitor job roles and gain productivity insights; externally, they can be used by the contact management team to target relevant customers.
Forecasting – CRM software collects and organises company and customer data, so why not make the most of it by using the systems analytical tools to forecast future sales figures based on previous trends. Forecasting is a powerful way to make your data work for you, and luckily it's one of the core features of most CRM platforms. Use data-driven insights to increase business productivity with CRM.
What Are The Benefits Of CRM Systems
Better Knowledge of Customers – These days, acquiring customers isn't easy, which makes retaining customers even more crucial. The more information you have on your customers, the easier your contact management team can communicate with them constructively and positively. CRM software is the perfect means to achieve this because it specialises in data storage and CRM strategy.
Better Customer Segmentation – Every business is different and has unique customer profiles. Even if you exist in a common marketplace, chances are your business has customer segments with unique attributes. Using the stored data, the CRM software can create accurate profiles that give your business a better chance of meeting your customer's needs and expectations; this is a core feature of CRM.
Better Customer Retention – Everyone wants to be acknowledged, and your customers are no different; it's not enough to onboard new customers and expect them to stick around without any effort from the contact management team – you have to reach out once in a while. CRM platforms give you reminders about customers and can notify you about appointments so you always deliver on promises.
Better Customer Service – A cloud-based CRM system is an excellent customer service toolkit. Using extensive customer data and forecasting, the cloud-based CRM system can identify buying trends and anticipate future behaviour. This allows businesses to formulate customer service plans and sales strategies ahead of time, which makes customers feel more connected to the business and respected.
Better Customer Communication – If you don't return customer queries promptly, you will start to lose their respect, and it will begin to damage your brand's reputation. Nowadays, prompt customer service responses are the norm, partly because the majority of sales and marketing teams use forms of CRM software. A CRM can help your business automate customer responses improving relations.
What Are The Types Of CRM Systems?
On-Premise CRM
When it comes to storing your customer data on a CRM service, you have several options; one of them is to store the data on the cloud, allowing a third party to organise the server; the alternative is to use an on-premise CRM which puts all of your customer and company data onto an on-premise server.
The Pros and Cons of On-Premise CRM Systems
There are several advantages to having your server located on-premise; firstly, it means that all maintenance can be carried out quickly and inexpensively, it also means your server will not be affected by the influence of other company's data. Salesforce and WorkWise use on-premise CRMs.
Although on-premise servers are useful, they have some disadvantages; for one thing, hardware is required – as is licensed software – so the upfront costs are higher. Higher upfront costs also mean there is a slower return on investments. Furthermore, these servers might require more maintenance.
Cloud-based CRM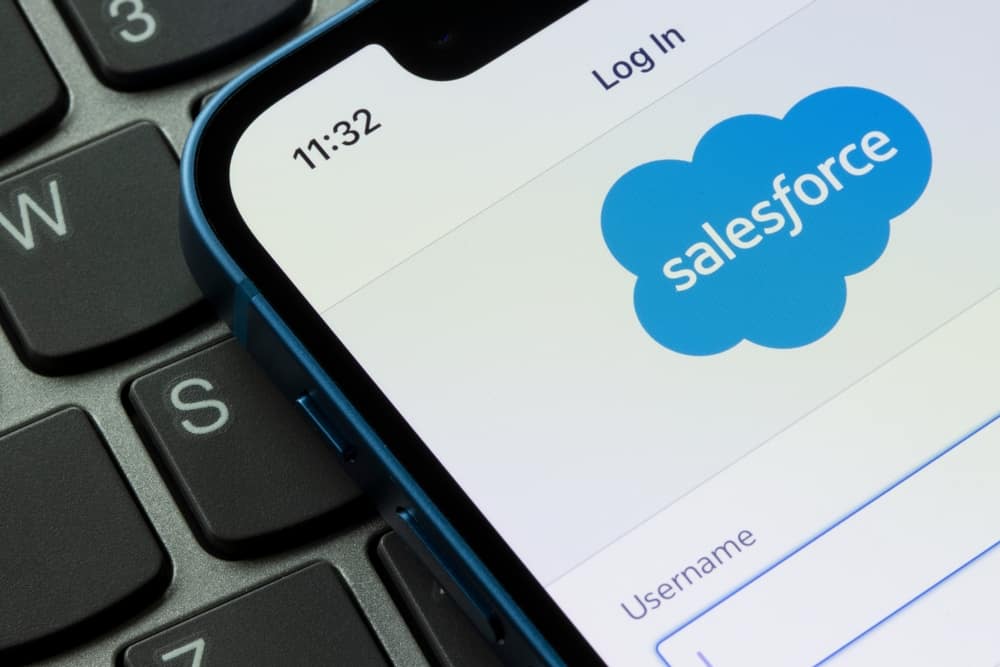 If your business doesn't have private servers and is unwilling to invest in them, the best alternative is a cloud-based CRM platform that uses virtual hosting. This is commonly known as Software as a Service or SaaS. Once again, there are advantages and disadvantages to using SaaS software for your CRM.
The Pros and Cons of Cloud-Based CRM Systems
The first thing to say about SaaS systems is that they can be implemented more quickly than on-premise models. A SaaS system can be signed up online and used in the business right away, but on-premise solutions require installation. SaaS software is also far cheaper to implement short term.
Despite the clear benefits of SaaS software, there are some drawbacks too; for one thing, your company data will be stored on third-party servers, which creates some efficiency and security issues. But SaaS CRMs are popular; many companies use CRM providers like Salesforce, HubSpot and Zendesk.
Open Source CRM
Finally, you might choose to go with an open-source CRM option to improve the performance and productivity of your sales and marketing teams. Unlike cloud CRM and on-premise CRM, open-source options have a freely available source code that reduces the price but increases the security risks.
The Pros and Cons of Open Source CRM Systems
If you're looking for an affordable CRM solution that you can implement right away, it's a good idea to consider open source CRM solutions. These cloud CRM options with open source code so are usually free of charge and have no commitments. They are also fully customisable and can be easily adapted.
But there's a downside to open source cloud CRM systems. Since they are stored on third-party servers, there are clear security concerns that need to be bolstered with further investment; they might also offer limited functionality – these providers are OroCRM, Bitrix24, SuiteCRM and SugarCRM.
Are There Industry Specific CRM Solutions?
Yes, there are specific CRM software solutions for all sorts of industries. We've created handy guides to several of them below:
The 3 Main Types Of CRM Applications
Operational CRM
An operational CRM is mostly used internally to improve the functionality of the business and streamline its operations. Most businesses have some issues between the sales and marketing departments that hinder the sales process.
Furthermore, operational CRMs allow businesses to automate many of the in-house processes to increase productivity and revenue streams.
How do Operational CRMs work?
Operational CRMs are concerned with streamlining processes that affect the quality of customer relationships.
First, they will store customer data efficiently; they can then improve the sales process by automating many mundane tasks and allowing the employees to provide better customer interactions. Many of the marketing and service operations can also be automated.
Analytical CRM
Analytical CRM platforms also improve the sales process by improving customer interactions; it does this by monitoring and contextualising data relating to interactions with customers at various touchpoints.
This information can then be used to provide better customer service and identify future trends. Nowadays, any business that wants to meet customer expectations needs an analytical CRM.
How do Analytical CRMs work?
Analytical CRMs use data-mining to map customer information and identify trends; these trends are then used to make future predictions that help the business anticipate customer interactions.
The data collected by the analytical CRM benefits customers because it makes interacting with the company simpler, but it also benefits the business as data can be used to optimise sales and marketing activity.
Collaborative CRM
Unless your company is integrated, you won't stand the best chance of meeting the demands of the modern marketplace. Even small inefficiencies between departments can have a profound knock-on effect which is why a collaborative CRM is a useful tool to help improve customer interactions.
The function of a collaborative CRM is to streamline the interactions between your in-house departments.
How do Collaborative CRMs work?
The main purpose of a collaborative CRM is to synchronise disparate departments in the company and allow customer service teams and sales managers to communicate more effectively. Again, the focus of this software is to improve customer service relations by improving marketing automation. When you install collaborative CRM software, you can expect the full integration of sales, marketing and mobile.
What Is Mobile CRM?
In recent years, the world has become increasingly mobile reliant because mobile devices are no longer for simply making calls. In some cases, businesses are operated using smartphones, and CRMs are needed to facilitate this. In addition, mobile services allow businesses to access data wherever they are.
When a CRM is not optimised for mobile, it can only be used in-house on the company network, but with more and more employees, customer service teams, sales managers and marketing teams working remotely, a conventional CRM is no longer a viable option; it's better to use a mobile service.
Mobile CRMs are highly beneficial for employees, they allow them to operate from anywhere and offer real-time functionality, but mobile CRMs are also beneficial for customers. The reason is that customers can receive real-time updates from the company and detailed information on interactions.
Why is Mobile CRM important?
The world has changed in recent years, and working methods have evolved significantly. Mobile technology, which was once a novelty, is now used as a core function of businesses offering many benefits such as better communication, remote workplaces and real-time data on vital information.
As mobile technology rises in popularity amongst business communities, CRM software providers must respond. The reason is that CRM solutions are operable for office-based businesses but ineffective when it comes to remote working scenarios – luckily, providers have responded quickly.
Mobile software also falls into categories; you can install CRM software for operations, analysis, or collaborations to help sales managers and improve marketing automation. In any case, you will find that mobile service solutions enhance the effectiveness of your business operations similarly.
How does Mobile CRM help employees?
The main purpose of CRM software is to improve the customer experience, but this is only possible if it supports employees to perform better and increase their productivity. As with conventional CRM software, mobile CRMs provide marketing automation solutions that support the work of employees.
If your employees don't have enough time to contact customers for quotes and queries because they are busy with tickets, mobile services can help. One of the core functions of mobile service is marketing automation which covers most of the mundane work and allows employees more freedom to operate.
If your employees operate on commission, then mobile data can also be a significant advantage. Mobile data allows employees to access real-time information about customer interactions that can inform their lead-generating processes – it also helps to make quotes more accurate and relevant.
The Benefits of Mobile CRM
CRM data solutions are an effective way to streamline the business and create accurate sales forecasting, but more is needed from CRM solutions in the era of remote working environments and mobile technology. That's why CRM providers offer Mobile solutions for remote environments.
So what exactly is the advantage of mobile service, except for the convenience of operating teams remotely? First of all, the sales forecasting team has instant access to real-time data that can enhance their sales processes. It also supports more accurate sales forecasting and lead generation practices.
Needless to say, more accurate processes and campaigns enhances customer experience and therefore help to retain customers. Even if you only operate remotely part of the time, a mobile service is still worth the investment. It might only be a subset at present, but that's likely to change in future years.
What Is CRM Integration?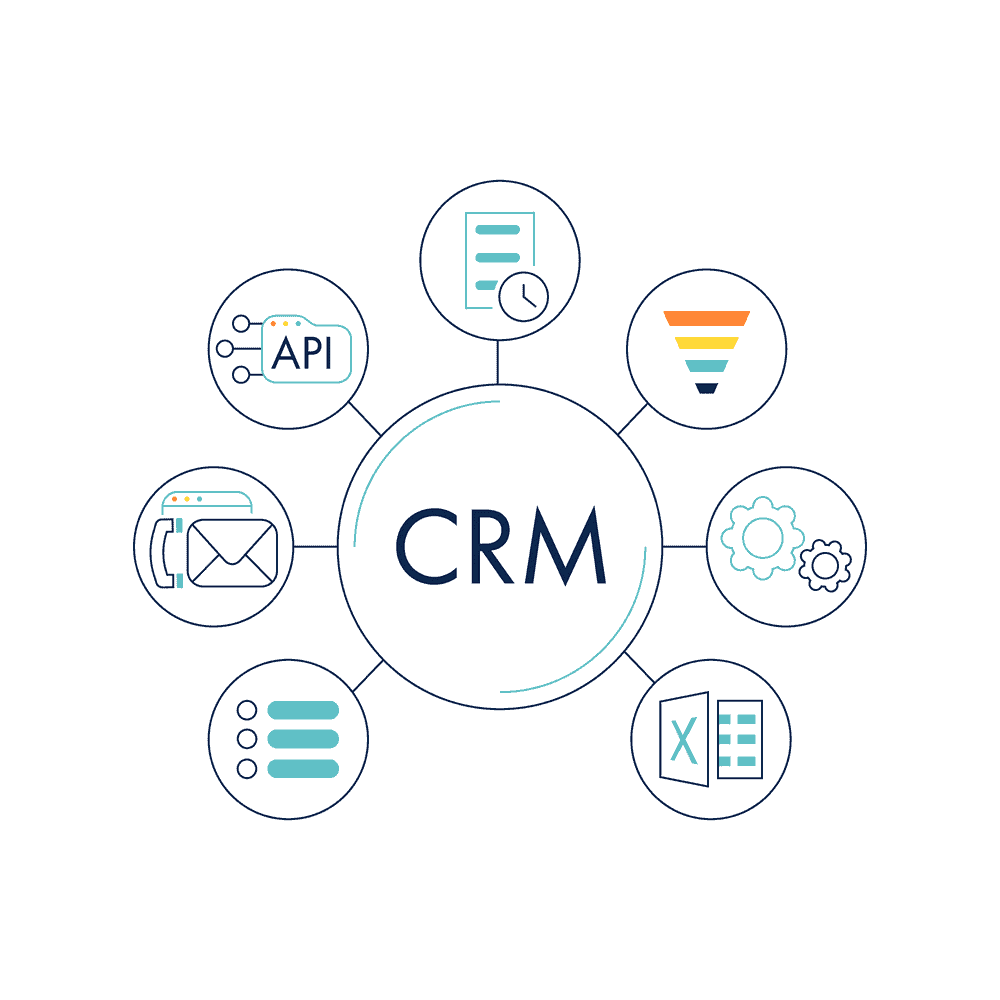 Businesses need applications to operate; they need productivity apps, accounting apps, communication apps, e-mail apps, marketing apps and many more. Although many excellent apps are readily available, the difficulty is integrating them so that they function cohesively and efficiently.
CRM integration is the process of bringing all these disparate apps together and synchronising them so that they operate in harmony. When individual apps are connected to the CRM platform, it creates a better workflow and allows apps to communicate with each other supporting sales force automation.
CRM integration aims to bring every part of your business together and interconnect them so that you get a complete picture of the business and your departments can communicate with each other without friction. This supports sales force automation and enhances the customer experience.
How does CRM Integration work?
When you centralise your data with a customer relationship management tool, it allows every department in your business to access the same data and respond appropriately. This is far more efficient than sending messages between departments; it also increases productivity and revenue.
Chances are your business already has some form of integration, even if it's an old-style communication platform, but implementing the right CRM can accelerate your business. Also, depending on the CRM system and the needs of your business, implementation can take days or weeks.
Choosing the right CRM system is almost as important as implementing a CRM in the first place. Furthermore, implementing the wrong type of CRM can stymie your business instead of making it more productive. Decide what data you need to store and what you expect to gain from CRM software.
The Benefits of CRM Integration
The benefits of CRM integration include better data processing, retention of customers, improved communication within the business, and optimised marketing capabilities. CRM integrating helps to improve marketing efforts which in turn creates better sales leads and marketing campaigns.
When it comes to communication between sales and marketing teams, there are always issues, especially if there is a lack of communication or company integration. Often the goals of sales and marketing teams are similar, and they step on each other's toes, or sales leads aren't passed on.
When you have CRM integration, you don't have these issues because every team has access to the same data at the same time. Additionally, questions can be answered in real-time and issues ironed out so that leads can be converted, so integration benefits both sales teams and marketing campaigns.
How Much Does CRM Software Cost?
With all of these services and advanced capabilities at your disposal, it's easy to assume that CRM systems are expensive, but that isn't the case. Most CRM systems have a sliding scale when it comes to costs so that businesses of all sizes can benefit from the unique feature sit provides.
On the lower end of the scale, you can expect to pay around £7 per month for a CRM system rising to about £9 per month for a mid-range solution. On the higher-end of the pricing scale, you can expect to pay around £300 for your CRM system, though naturally, this has more advanced features.
That said, there is a higher grade of CRM system that charges per user, so if you have a team and you want full CRM integration, you might have to pay between £9-14 per month for individual users. Most of the leading CRM providers, such as Salesforce, Hubspot, and SugarCRM, have this pricing option.
How Do I Get Started With A CRM System?
When it comes to setting up a CRM for your business, there are two stages to navigate. First, it's useful to think about setting up a CRM for your business a bit like building and furnishing a house. CRM implementation is the process of building the structure, and CRM setup is about furnishing it.
Start with CRM implementation. This is the strategy or plans you need to make sure your business sets up the correct CRM system so that you get the most from it. Map your customer journey and identify the key touchpoints, then define your sales and marketing processes and the data you want to share.
Once you have the building blocks in place, it's time to identify a CRM system for your business that ticks the boxes. Again, there are plenty to choose from, but if you do the groundwork, it narrows the options. CRM setup is the process of creating an account with a provider and integrating the features.
How To Measure The Success Of Your CRM System
Finally, you need to know that your CRM system is working and is worth the investment; for this, you need to track the performance of your departments, along with sales teams and marketing campaigns, to ensure that you can identify progress. It's also important to keep track of customer information.
This is done using CRM metrics; these are a set of metrics obtained through analytics that tells you whether the departments are working optimally and whether there is room for improvements. Using this data, it's possible to line up the performance of your company with initial business goals.
You can begin to measure the success of your CRM system right away using a combination of SMART goals and CRM metrics. SMART goals are Specific, Measurable, Achievable, Relevant, and Timely. Although you can start measuring things immediately, you might not get a true picture right away.
Final Thoughts
CRM stands for Customer Relationship Management, and it's fast becoming essential software for businesses of all sizes. CRM systems centralise customer data allowing it to be used by multiple departments simultaneously; it also creates a digital eco-system that is efficient and interconnected.
If you don't have a CRM system for your business, it's an excellent time to get started. Imagine all of your customer data stored in a single location that can be accessed by every department to create marketing campaigns and better customer experiences. They are also affordable and convenient.
FAQs
What is CRM in marketing?
When it comes to marketing and interaction with your customers, there are plenty of apps to choose from; the trouble is that you can end up using so many of them that they can be hard to organise and track.
CRM, or customer relationship management software, allows you to integrate all of these apps into one software solution making it easier for you to interact with customers across the lifecycle.
Do CRM Software providers offer free trials?
Yes! The vast majority of CRM systems offer some form of a free trial.
It makes sense; If you own a business and you're considering CRM instead of multiple apps, you need to make sure the system integrates properly; you also need to ensure that you are installing the best CRM from your business.
Most software solutions offer a 30-day free trial, but some also provide a free forever plan.
What is CRM in sales?
A CRM platform is not just a great way to interact with your customers and streamline their experience with your business; it's also an excellent tool for sales teams to increase revenue by targeting the right customers at the right times.
For one thing, CRM systems lets you store customer data such as buying behaviour and re-target them at the right times; it also tells you when their contracts are going to end.
What's the most popular form of CRM?
CRMs can be broadly placed into three categories: Operations CRMs, Analytical CRMs, and Collaborative CRMs.
Each form of CRM has a different core purpose; for instance, Operations CRMs are designed to organise and streamline processes, while an Analytical CRM is used for analysis and data gathering. In general, Operational CRMs are the most popular form of CRM for optimising businesses.
Do CRM systems integrate with social media?
Social media systems have their own analytical processes to gather customer data, but social media is a rich source of analytical information since it contains useful demographics, likes and dislikes, and customer behaviour.
The good news is, this information is also available through a CRM since the best platforms integrate with social media channels and allow you to leverage this social information.