HubSpot software developer that was founded in 2005 in Cambridge, USA and in 2013 they opened their first international office in Dublin. They offer CRM platforms that allow businesses to manage their marketing, sales and customer service in hubs that can act as standalone software or be combined as a powerful tool. They have 135,000 customers in over 120 countries.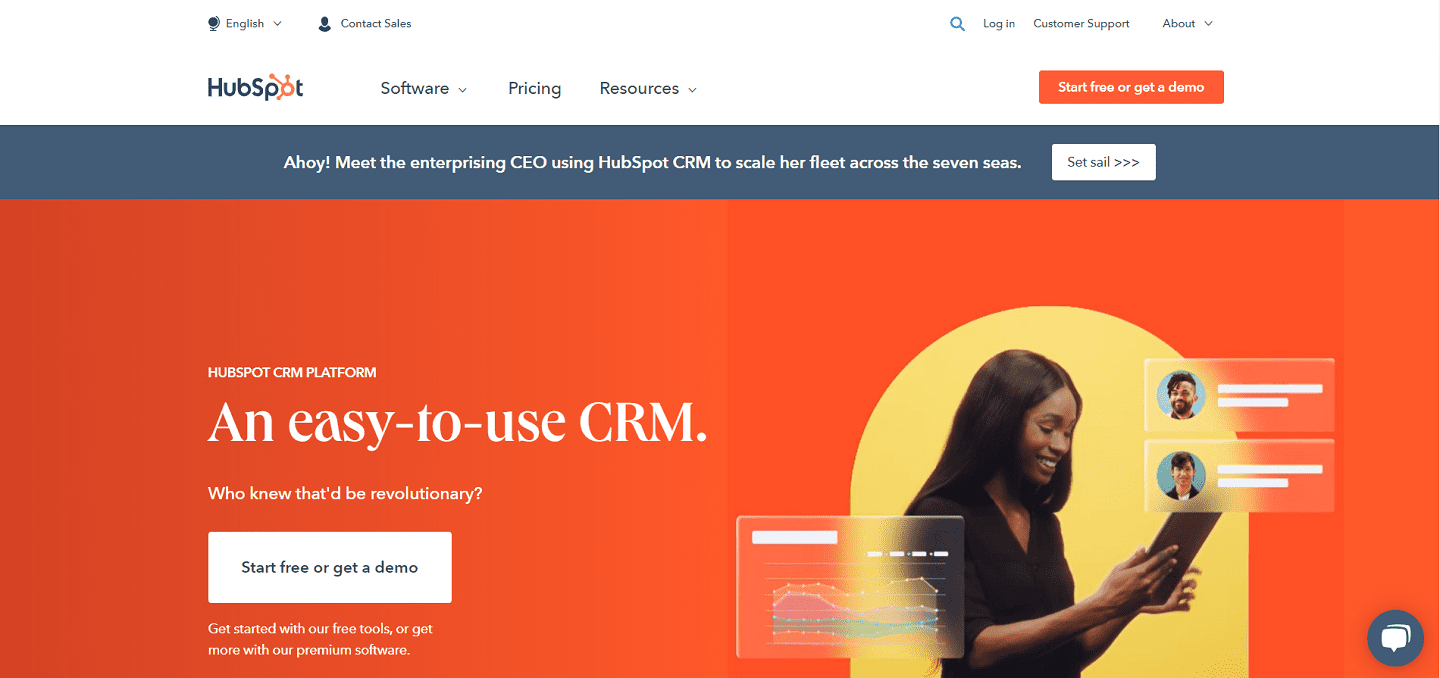 HubSpot CRM Software Options
HubSpot offers a range of hubs that provide individual functionality for marketing, sales, service, CMS and operations which can be used as standalone software or combined to build a comprehensive platform.
They also offer over 1,030 integrations and extensions to allow you to extend the capabilities of your CRM as well as create custom apps and customise your CRM to your business needs.
HubSpot offers a free CRM which includes:
Contact deal and task management
Email tracking and engagement notifications
Email templates and scheduling
Document sharing
Meeting scheduling
Live chat
Sales quotes
They offer five hubs which are:
Marketing Hub
Helps you to run inbound marketing campaigns
Easy to use platform
Convert more visitors
Incorporate landing pages, blogging, social media ads and more
Email marketing
Automate processes
Track ROI with revenue attribution reporting
Utilise customer data to power your decisions
Sales Hub
Help teams to work together to close deals and build relationships
Manage pipelines
Easy to use platform
Sales engagement tools
Quote and CPQ functionality
Reporting and analytics
Integrate with over 1,030 tools
Service Hub
Customer service software that helps seamless onboarding
Assist in providing flexible customer support to deepen customer relationships
End to end service with the ability to scale
Conversational tools
Help desk automation
Knowledge base functionality
Customer feedback surveys
Reporting
CMS Hub
Flexible software for marketers and developers
Allows you to create a personalised and secure experience
Premium hosting
Flexible themes and dynamic content
Drag and drop editing
Allows you to build seamless customer digital experiences
Operations Hub
Easily sync, clean and curate customer data
Automate business processes
Align teams with a single set of customer data
Programmable automation
Offers data sync, data curation and data quality tools
HubSpot CRM Software Card Rates
CRM Suite plans:
Free
Starter – £38 per month for Marketing Hub Starter with 1,000 contacts, Sales Hub Starter with 2 users, Service Hub Starter with 2 users, CMS Hub Starter and Operations Hub Starter
Professional – £1,314 per month for Marketing Hub Professional with 2,000 contacts, Sales Hub Professional with 5 users, Service Hub Professional with 5 users, CMS Hub Professional and Operations Hub Professional
Enterprise – £4,110 per month for Marketing Hub Enterprise with 10,000 contacts, Sales Hub Enterprise with 10 users, Service Hub Enterprise with 10 users, CMS Hub Enterprise and Operations Hub Enterprise
Sales Hub plans:
Free
Starter – £38 per month for 2 users, £19 per additional user
Professional – £369 per month for 5 users, £72 per additional user
Enterprise – £990 per month for 10 users, £98 per additional user
Marketing Hub plans:
Free
Starter – £38 per month for 1,000 contacts, additional contacts £37.80 per month per 1,000 contacts
Professional – £655 per month for 2,000 contacts, additional contacts £188.70 per month per 5,000 contacts
Enterprise – £2,624 per month for 10,000 contacts, additional contacts £82 per month per 10,000
HubSpot CRM Software Reviews
HubSpot features on most of the leading customer review sites, however, several only have a couple of positive reviews which skews the overall ratings. The only large number of reviews are on Trustpilot and these reviews are mixed with an overall average score. Reviewers' scores are mixed with 38% rating them as excellent, 17% as great and 35% as bad.
Positive comments include easier to set up and use than other leading CRM software, helps to create professional looking emails, integrates well with other apps, good training support and onboarding. Negative comments include basic software and too manual, not intuitive, lack of support available on the Starter plan, price increases at the end of the contract, and poor reporting functionality.
Trustpilot – 3.1/5 (based on 274 reviews)
Reviews.co.uk – 5.0/5 (based on 2 reviews)
Review Centre – 4.0/5 (based on 2 reviews)
Smart Money People – no reviews
How To Purchase For A HubSpot CRM Software?
You can sign up for a free 14-day trial on their website to sample their software before you commit to it or request a demo. If you want to purchase one of their plans you can select which one you want on their website and buy it.
Pros
Offers a module approach to their CRM so you only purchase what you want
Provides a range of elements to meet a variety of needs
Offers a free 14-day trial
Cons
Only received average review score with issues raised about support and functionality
Website: HubSpot CRM Software
Comparisons