Zendesk is a software company that builds CRM software that aims to improve customer relationships. They offer solutions for sales only and a complete service solution as well as Sunshine Platform (an open and flexible platform) and a marketplace with apps and integrations. They support over 160,000 paid customer accounts in 160 countries and territories. They have six offices across the world including offices in London and Dublin.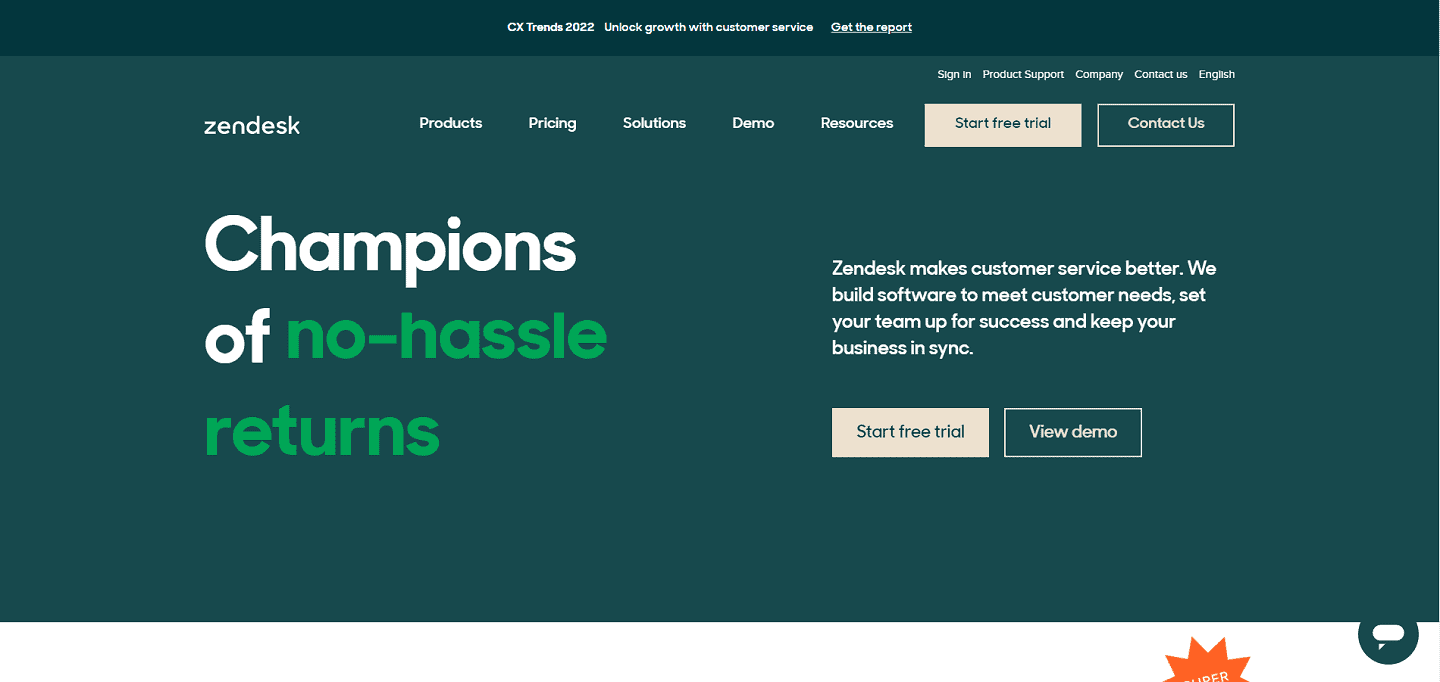 Zendesk CRM Software Options
Zendesk offers two plans – Zendesk Sell for sales and Zendesk Service for a complete customer service solution.
Zendesk Sell
Boost sales team productivity
Make data-driven decisions
Deliver better customer experiences
Integrated tools and open APIs
Overview and management of the sales pipeline
Make calls, send emails and schedule meetings
Review customer history
Streamline account management and automatically track activities
Access from anywhere with mobile app
Accurate forecasting and analyse sales
Prebuilt dashboards and customisable reports
Zendesk Service
Scalable and complete customer service solution
Access from anywhere with mobile app
Talk to customers over messaging, live chat, social, email and voice
Create an integrated help centre and community forum
Personalise each customers' experience
Utilise automation and AI-powered bots to get context
Robust out of the box tools
Track, prioritise and respond to customers
Over 1,000 prebuilt integrations
Collaboration tools
Built-in routing and intelligence to collect critical details and reduce data entry
Customise your software, scale, extend and optimise it as you need to
Integrate with your systems
Analyse and monitor customers using easy to use analytics and reporting
Calculate ROI
Zendesk CRM Software Card Rates
Zendesk for sales pricing:
Sell Team – £19 per user per month
Sell Professional – £45 per user per month
Sell Enterprise – £79 per user per month
Sell Elite – from £159 per user per month
Zendesk service pricing:
Suite Team – £39 per agent per month
Suite Growth – £65 per agent per month
Suite Professional – £79 per agent per month
If your business is just getting started you may be eligible for their six months free access.
Zendesk CRM Software Reviews
Zendesk features on two of the leading customer review sites, although there are only two reviews on Reviews.co.uk and these are both negative and skew the rating. Trustpilot has a significant number of reviews with an overall bad rating with 84% of reviewers scoring them as bad.
Comments from customers include poor support and unable to contact them, issues with their account, customer service is automated and hard to speak to a person, manuals don't provide sufficient support, and problems cancelling their subscription.
Trustpilot – 1.3/5 (based on 272 reviews)
Reviews.co.uk – 1.5/5 (based on 2 reviews)
Review Centre – no reviews
Smart Money People – no reviews
How To Purchase For A Zendesk CRM Software?
You can try Zendesk's CRM software for free on a trial basis by signing up on their website. You can also select the plan you want on their website and buy it. They offer a full comparison of their plans on their pricing page to help you to choose which plan is best for you. They also offer six months of free access to startups and you can apply for it here.
Pros
Choice of sales only CRM or complete customer service solution
Offers a wide choice of plans to meet a range of needs
Provides a free trial
Cons
Poorly rated on customer reviews
Concerns raised about customer support
Website: Zendesk CRM Software