Looking to protect your small business? Then have a look at the following 17 wireless CCTV security surveillance cameras and systems all rated as among the best based on online reviews.
The listings below are for systems that can be used either in your home or small business and only include the system price before installation.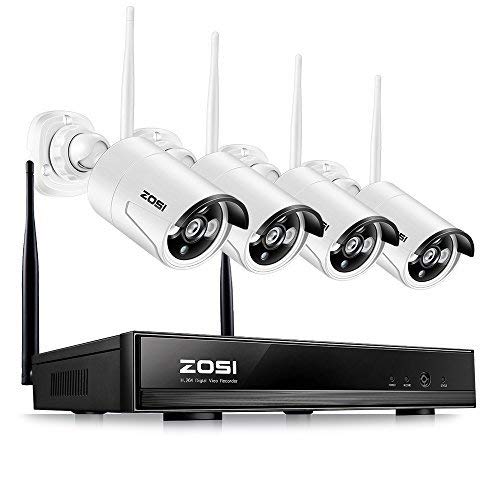 1. Tonton 1080P Full HD Wireless Security Camera System
2. ANNKE 4CH 1080P FHD WiFi NVR Video Surveillance System
3. ANNKE 8CH 960P WIFI NVR Wireless Security Camera System
4. ZOSI 4 Channel 1080P Wireless CCTV Camera System
5. SANSCO 4 Channel FHD CCTV Camera System
6. Swinway Wireless CCTV Security System
7. SANSCO S4D4C1T All-in-One Smart CCTV Camera System
8. ANNKE CCTV Camera System 8+2CH 1080P Lite HD
9. H.View 4CH Security 1080P CCTV Camera System
10. SANSCO Smart HD CCTV Camera System
11. SANSCO 1080P DVR Recorder with 4x Super HD 2.0MP Outdoor CCTV Cameras
12. SANNCE 8CH HD-TVI 1080N Security DVR
13. CORSEE 8CH NVR Wireless CCTV Camera System
14. SANNCE 4CH HD NVR Wireless Security Camera System
15. Arlo Pro VMS4530 Wireless Security Camera System
16. ANRAN Wireless Security Camera System
16. Arlo VMS3330 Wireless Security Camera System
CCTV Security Systems Prices: How Much Do They Cost?
Basic CCTV security camera systems generally cost between £150 and £750 excluding installation. The major factors affecting system costs are the number of cameras, camera resolution, size of hard drive and additional features and interrogations.
If you're only interested in a single CCTV camera then costs generally vary from as little as £20 to £100+. Resolution and battery life are two of the most important cost factors for individual cameras.
How to install CCTV Security & Surveillance Systems
You have two options when it comes to installing CCTV security systems. Either DIY or pay to have it professionally installed. The systems listed above are all wireless systems and include installation instructions so in theory can be done can be installed without a professional.
On the other hand, it can be worth paying to have it professional installed, especially if want to make sure it's done properly.
CCTV Installation Costs
CCTV system installation costs will depend on the system you choose and its complexity. In general, businesses should expect to pay between £200 and £1,500 to install a wireless camera system in most parts of the UK. However, we have seen quotes for £2,500+ to install 8 camera systems, so your mileage may vary.
In general, the more cameras you need to install the higher the price.
You may be able to pay slightly less if you buy your system through your installer, just be sure to check the overall price because they charge more for the system.
Last update on 2019-08-18 / Please note we are an Amazon affiliate. This means we earn a commission if you choose to buy via our links. However, this comes at no cost to you.