Less Annoying is a business software developer that was founded in 2009 by two brothers in San Francisco. They set up their business with the mission to help small businesses by providing them with software that they need to succeed on simple plans with straight pricing and no long-term contracts. They offer CRM software that caters for individuals, small teams and small businesses.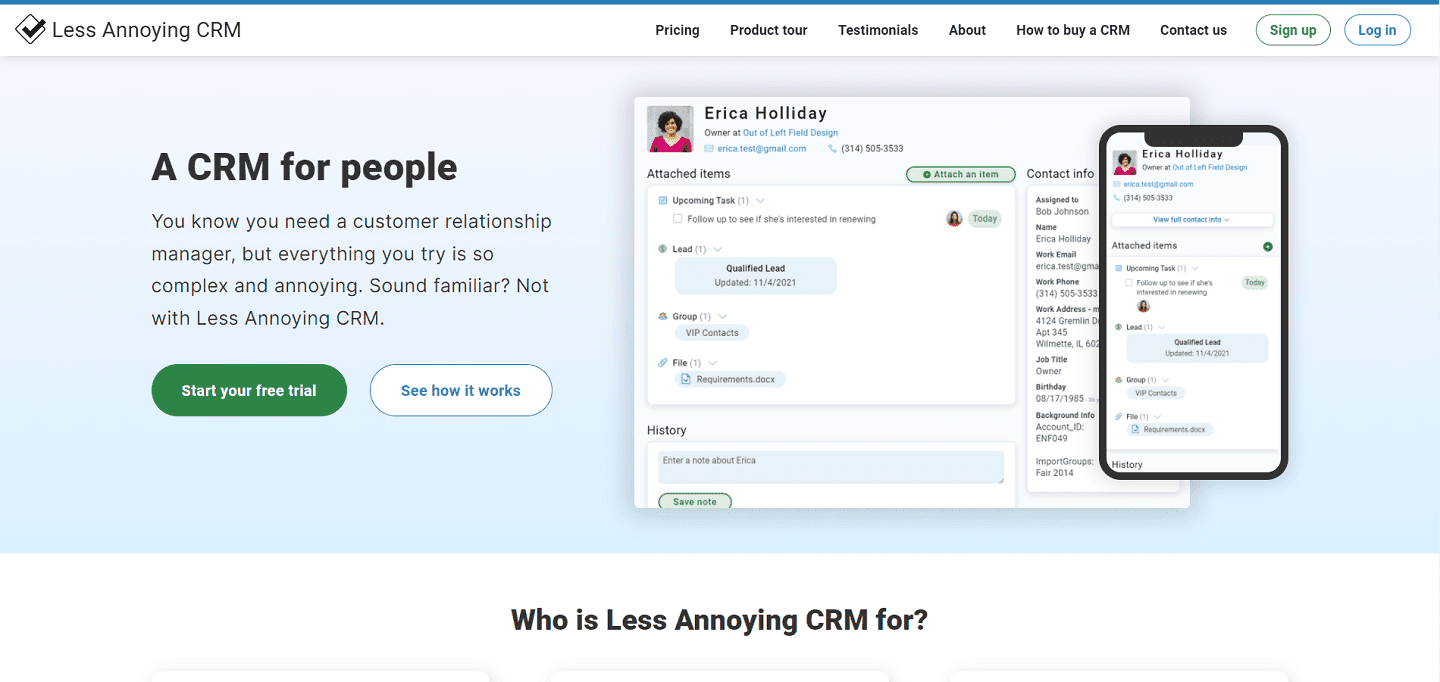 Less Annoying CRM Software Options
Less Annoying CRM offers a single CRM software solution for all users and a single price plan. Their software includes:
Designed to be simple and intuitive to use
Caters for individuals, small teams and small businesses
Aims to be an affordable alternative for a smaller number of users
No long-term contracts
Quick and easy to set up
Free phone and email support
Free trial for 30 days
Less Annoying CRM Software Card Rates
Less Annoying offers one single price fee for all customers which is $15 per user per month.
Less Annoying CRM Software Reviews
There are only a handful of customer reviews on two of the leading customer review sites. Trustpilot has 3 reviews and Reviews.co.uk has 1 review. These reviews are 100% positive with reviewers rating them as 5 stars or excellent. Comments about their CRM software included good value, easy to use and improved contact management.
Trustpilot – 4.0/5 (based on 3 reviews)
Reviews.co.uk – 5.0/5 (based on 1 review)
Review Centre – no reviews
Smart Money People – no reviews
How To Purchase For A Less Annoying CRM Software?
You can try Less Annoying's CRM software for free for 30 days by signing up on their website. If you want to discuss your needs further you can email them at enterprise@lessannoyingcrm.com and they will get in touch with you.
Pros
Software designed specifically for individuals and small teams/businesses
Simple and intuitive software
Free trial for 30 days which is longer than most
Cons
No detailed information on CRM functionality so may not offer comparable features
A very low number of customer reviews although these are excellent reviews
Website: Less Annoying CRM Software