Business software is any type of software adopted to improve the way your business works. Whether you are a small business owner or the director of a large-scale enterprise, success hinges on organisation. Business software can bring much-needed order to your operations, from logistics and accountancy to website building and marketing management.
In this article, we'll cover such topics as the most common types of software for business, how to choose the right software products for your business, and software maintenance options.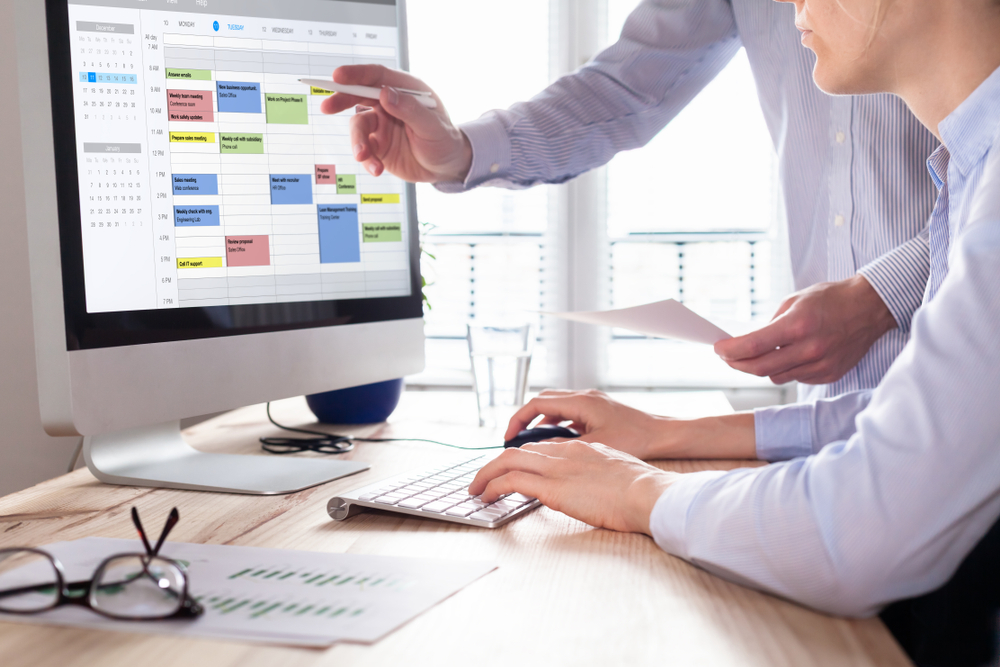 Why Is Business Software So Important?
The importance of business software comes down to time management. In the fast-paced world of today, it's simply impractical to rely on the time-consuming organisational methods of the past. Performing accountancy tasks manually isn't only a tedious task, but also error-prone and costly.
Business software is so important because it can process data instantaneously, accurately, and file it securely. Not only does it eliminate human error, but it also removes the need for additional manual employees. This allows companies to cut down on costs, and operate as a smaller, more efficient organisation. Generally, investing in business software will save you money in the long term.
How To Choose The Right Business Software
The business software you invest in should reflect the type of business you run. For example, you may not require advanced communication software if you only employ a few individuals, just as a company with a small clientele may not require time tracking software.
When deciding on what software solutions to invest in, you should identify all of the logistical issues you are currently facing, and see if any of the programs listed below could potentially resolve them. Many leading business software companies offer a free trial or demo period, which gives you a chance to gauge its value.
The Different Types Of Business Software
The most prominent types of business software include the following:
Word Processing Software
Word processing software is the most rudimentary of business tools and should be considered essential to all industries. On a basic level, word processing software, such as Microsoft (MS) Office, gives users a place to draft job ads, e-mails, and letters.
Users can also benefit from its built-in spelling, grammar, and formatting features. Microsoft Word also allows users to build graphs and charts. Excel is another invaluable Microsoft tool, where users can fill out spreadsheets, perform data calculations, manage projects, and store data long-term.
Accounting Software
Accounting software helps you keep on top of finance with automated services and functions. Basic accounting software should be able to perform features such as billing, invoicing, and tax filing. More advanced accountancy software will be able to produce informative finance reports, which can provide users with an insight into the financial performance of the company.
Check out our Top 11 Accounting & Bookkeeping Software Price Comparison article for more of the leading platforms.
Time Tracking Software
Time tracking software is a key employee management tool as it allows you to keep on top of remote workers. With such features as project management, productivity analysis, and employee monitoring, time tracking not only informs you of when employees are working but also how long it takes for projects to be completed.
Clocking in and out at the start and end of the working day will incentivise home workers to stay focused and resist giving in to distractions.
Project Management Software
Whether your team works remotely or on-site, it's valuable to have a unified business management suite to keep on top of projects. Project management software creates an online meeting place where managers can converse, plan, schedule, and mark projects either complete or incomplete.
Project management software allows you to split up the responsibilities of a project by dividing it into individual tasks and assigning each employee a specific role. Oversee the completion of each project and keep your clients up to date with progress – project management is invaluable to a business with a large and varied workload.
The leading project management software includes Trello, Asana, and ClickUp.
Customer Relationship Management Software
Customer relationship management (CRM) software is key to retaining customers, gaining new ones, and improving your company's customer interactions generally. CRM software effectively tracks how each employee interacts with both new and old clientele, and analyses how well specific products or sales approaches work.
Allow for greater customer growth with such software as Zoho, Zendesk, and Pipedrive, and master your customer management requirements.
Communication Software
Reliable communication software is essential to all businesses, regardless of scale. Communication software, with added features such as video and voice notes, is essential in keeping your entire team up-to-date.
You can message members of your business individually, discuss projects as a group, and allow your employees to exchange one-on-one messages. The likes of Slack is good for team-based conversing and planning, whereas video conference software, such as Zoom, allows you to communicate progress, ideas, and updates to clients and customers internationally.
Website Building Software
If you want to build a professional-looking website without hiring a web developer, check out such software as Squarespace and WordPress. No matter your website building experience, these sites can easily navigate you through the basics and allow you to add images, video, font, and colour to an otherwise drab homepage.
These sites take care of the hard work, with an extensive selection of web templates available. The free version of WordPress is a good place to start.
Payment Transaction Software
Payment transaction software is a worthwhile purchase if you make regular payments to and from suppliers, or if you receive regular online payments from customers. With your details securely stored, payments can be performed easily, and regular standing orders can be set up.
Transaction software such as PayPal makes sending and receiving money an instantaneous procedure and gives your company a more trustworthy appearance. Invoices and refunds can also be produced whenever necessary.
Sales, Marketing, and PR Software
Sales, marketing, and PR software is vital to business intelligence and provides insight into how to improve customer contact. Wondering how well your marketing team are at turning leads into sales? By cross-referencing data gained from sales and marketing software, companies can better their advertisement campaigns and manage leads by focusing on what works.
PR software is one of the most effective business management tools, as it helps companies connect with influencers, sponsors, and freelancers to advertise their service more widely. It also analyses the market and helps companies generate optimised content.
Inventory Control Software
Inventory control software acts as an advanced business management platform, where you can track your stock that is held in warehouses, with suppliers, or in transit. Inventory management is necessary for wide-scale operations, where logistics is made complicated by sales, returns, thefts, misplacements, and damages.
With inventory management software, you can gain a better insight into your stock level and foresee future stock issues, making it vital for resource management and supply chain management purposes.
Database Software
Database software acts as a handy storage program where you can securely save all vital files, records, and documents in one place. This business management software makes it easy to retrieve the files stored whenever edits, updates, or reports need to be completed.
With security guaranteed, database software such as Microsoft Access, Oracle Database, and MySQL can generate backups of your important files should they go amiss.
Billing Software
Billing and invoicing needs to be taken seriously, not only so that you can receive payment for the goods and services that you provide, but also so that you adhere to taxes. Billing software can generate accurate invoices and track your billing records.
For small business owners, good billing software can give your company a professional edge, and guarantee that regular invoices are respected and paid. Billing software, such as Zola Suite and NetSuite ERP, is a business management solution to missed payments and invoice errors.
HR Management Software
HR business management software is an online platform to record and store employee information, generate and save business reports, and keep other important tabs on the general running of the business. Payrolls can be generated, edited, and added to an HR business management platform.
Task management can be better organised on HR software, with clear indicators of employee training records and completed works and services.
What Features To Look For When Choosing Business Software
In today's world, business software is essential to the success of every commercial undertaking. But, with each business being vastly different from the next in terms of focus and scale, how do you decide what software features will best fit your business model? Here are some key features that are worth considering for every business owner:
Scalability – The last thing you want is for your business software to limit your company. Ensure that each business software you invest in can adapt and necessitate increased employee numbers, workload, and data. To gauge the scalability of the software, read the small print for user limit and storage capacity.
Software compatibility – Ensuring app compatibility is not essential, but is definitely worth considering if you are going to invest in several business applications at once. Business management software is beneficial as it keeps all relevant data in one place – this can be made more convenient with apps that integrate well together.
24/7 customer support – When it comes to business management software, a faulty system can severely limit your ability to trade. You should therefore only pick software with a 24-hour customer support service.
Regular updates – The world of e-commerce and online software moves fast – you don't want to fall behind. Make sure that the software providers promise regular updates and maintenance checks.
What Is A Software Licence?
A software licence is a requirement of all the software you invest in for your business. If you invest in business management software that doesn't carry a licence, you may not only find yourself embroiled in legal trouble, but also damaging your computer with this unchecked, illegal software.
A software licence is a badge of authenticity and proves that the software is original, safe, and registered.
Types Of Software Licences For Business
Three types of software licences can be found in the U.K., including:
Per-user licence – This licence applies to software that can be used by several devices, with a maximum number of users specified.
Per-device licence – This licence suggests that the software can only be used on one device.
Site license – Software that features a site license can be accessed by an unlimited amount of users.
What Is Bespoke Business Software?
Bespoke business management software is software that is tailored exactly to your business needs. Sometimes your business is so unique that it cannot fit the mould of a pre-existing online platform.
The solution to this for many is to hire a web developer to build software from scratch. Find out more on website development here.
The Pros And Cons of Bespoke Business Software
Opting to invest in bespoke business management software could be your key to success; it is also fraught with major risks.
Pros
You don't have to change your business model to fit the limits of pre-existing software. Bespoke software is built around your business, meaning minimum time is wasted on integration and staff training.
Bespoke business management software can set you apart from the competition, especially if you invest in tailored website building or communication software. Customers will be attracted to your display of uniqueness and the obvious amount of effort you've put into your online appearance.
It can be made compatible with the other systems and software you already have in place.
Cons
Although it may be a cheaper option in the long-run, bespoke business management software can have an expensive up-front cost.
Designing software from scratch can take time, so it may be a while before you even get to trial the platform.
With no 24 hour support, you will be responsible for server crashes or other platform issues.
What Is Off-The-Shelf Business Software?
Off-the-shelf software is any type of standardised software that is designed for more general use. This includes all software that can be bought or downloaded for free, from Squarespace to Xero.
They can be used broadly by a variety of different businesses, and are not designed to fit one specific business type.
The Pros And Cons of Off-The-Shelf Business Software
Although investing in off-the-shelf business software is necessary for some instances, some cons must also be considered.
Pros
Off-the-shelf is less risky than bespoke software. Free trials are often available and software can be returned if it does not suit.
Off-the-shelf software may boast features that you would never even consider to be worthwhile when devising a bespoke alternative.
You can benefit from 24/7 support and regular updates.
Cons
You have to compromise with off-the-shelf software. It's not tailored specifically to your needs, and, therefore, you may need to change how you run your business to get the most from it.
There may be functions on the software that you pay for but never use. It's unlikely that you'll find a use for all the features on the app.
What Is Open Source Business Software?
Open source business management software is an online platform that features open-source code. This means that users of such platforms can modify, adapt, and add to the basic structure of the software to better fit their needs. Examples of open source business software include SuiteCRM, HelpDeskZ, and Odoo.
The Pros And Cons of Open Source Business Software
Open source platforms may sound like an ideal business management solution, as it effectively acts as a middle ground between off-the-shelf and bespoke software. However, there are several pros and cons that must be considered.
Pros
Open source business management software is perfect for upscaling, given how easy it is to modify the website to cater to new features, employees, and clients.
It gives you the ability to easily create a bespoke website without paying fees to a web developer.
Generally, open-source business management software will feature around the clock customer support, with wide-ranging user communities to reach out to.
Cons
You may encounter hidden costs for certain features, including support and maintenance.
Security code misuse does occur on open source software, which could pose a threat to the security of your own website.
What is Software as a Service (SaaS)?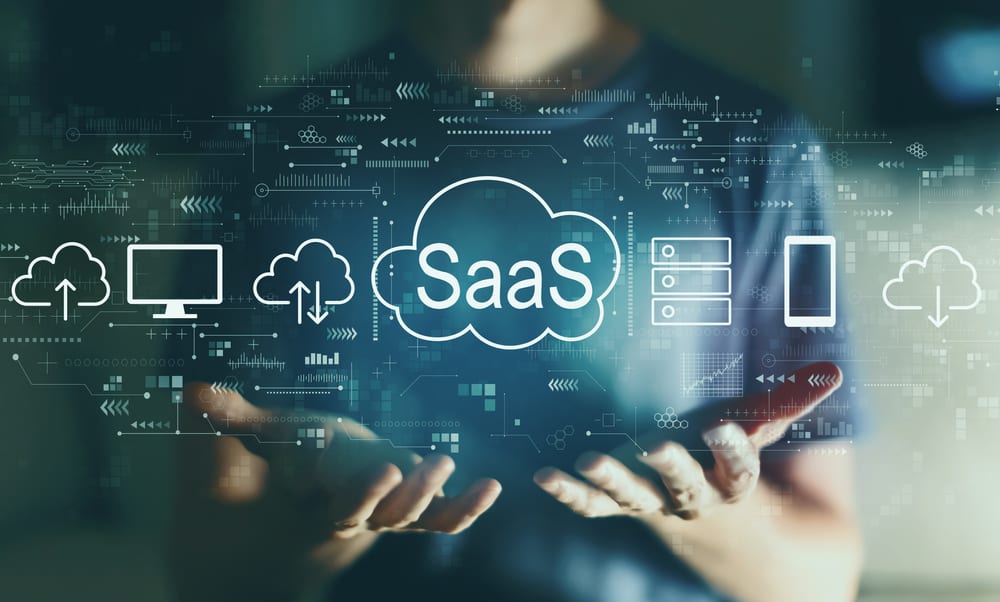 Software as a Service (SaaS) is essentially business software that you can rent out over a period of time. This software can be found on a remote cloud, and, once you have paid for a subscription to it, you can gain access by using an API or a login feature on the web.
The Pros and Cons Of SaaS
Software as a Service is a good idea if you don't want to commit to purchasing software outright and would rather try it out first on a rental basis. Although a straightforward concept, there are many pros and cons to it.
Pros
The software is ready to go as soon as you access it. Being located on a remote cloud, you don't have to worry about installations or configurations.
Renting SaaS is generally more affordable than buying over-the-counter software, and is cheaper than going bespoke.
Scalability is possible. You can purchase additional compatible software from the same SaaS provider should you need more space or features.
Cons
You don't own the software. You, therefore, can't modify or change much about the application.
Given that the software is stored on the cloud, there are several security issues with SaaS.
SaaS has been noted to lag in some instances.
The Benefits Of Using Business Software
The benefits of using business software include:
Organisation – With all your data stored in one place on database software, all of your employee hours logged on a time tracking software, and all of your stock recorded on an inventory control software, you can guarantee that business software creates better organisation.
Scalability – Business software can be adaptable, expandable, and compatible with other software, making it ideal for scalability and as a prop to help your business grow.
Money-saving – Business software is a money-saving investment in several ways. Lengthy tasks can be dramatically shortened, meaning fewer employees and less time is required to complete routine resource management and accountancy tasks, which ultimately saves you money.
How Much Does Business Software Cost?
As with any type of software, the price you pay for business software depends on numerous variables, including how much you intend to use the platform and what level of services you require the software to have. The likes of the bookkeeping app Pandle can cost as little as £5 per month, whereas a monthly subscription to Zoom costs £11.95.
Check out our list of the 21 best remote software options to get a better sense of how much or how little business management software can cost.
Final Thoughts
With greater order comes greater efficiency, and, in turn, increased customer satisfaction. Business software can keep you on top of your staff, customers, and inventory, allowing you to run your company far more smoothly.
Business software – including the likes of payment transactions, inventory control, document management, and communication software – can provide businesses with the organisation necessary to work more productively, manage clients better, and increase job success scores.
Possessing the latest in business software increases your compatibility with the rest of the world, and is a must for all modern enterprises.
FAQs
What is the most used business software?
The most used business software is Microsoft Office. This is due to the multi-faceted capabilities of the software, from word processing to spreadsheet creation.
What is the best free small business software?
The best free small business software depends on what your end goal is. Some of the leading small business software includes WordPress for website creation, Asana for project management, and Google Drive for word processing.
What is a business software suite?
A unified business management suite is an array of different and compatible software that a business uses for work purposes.
What is the best CRM for small businesses?
There is no single best CRM for small business. Instead take a look at our CRM software guide to find out more about various options.