Small businesses are susceptible to all kinds of unforeseen pitfalls and drawbacks, such as closures, equipment breakdown, or staff illness.
Although small businesses in the UK are only required to have employers' liability insurance (assuming they have employees), there is a wealth of other insurances that are worth investing in.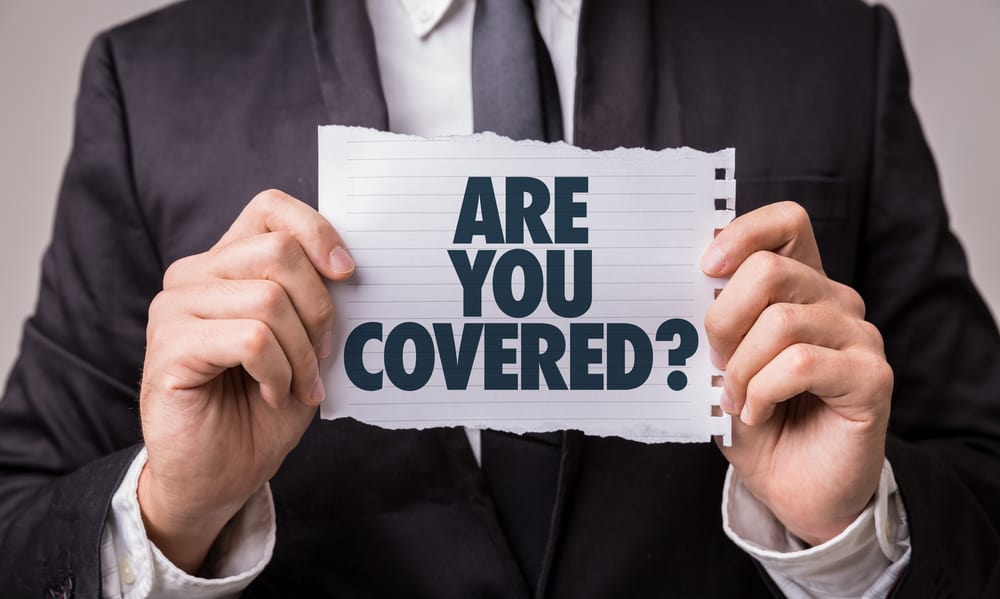 From employers liability cover to professional indemnity, this article will delve into all you need to know about small business insurance. It will detail how to get business insurance, top tips to consider before purchasing a quote, and the best providers of cover in the UK.
What Is Small Business Insurance?
When operating a small business, you want to avoid losses at all costs. Small business insurance is your most valuable tool in this instance and one you will likely have to rely on frequently. It can help tide you over as you deal with an unexpected closure, staff shortage, theft, stolen property, or any other short-term problem that hampers your profitability.
Small business insurance is basically any insurance policy that caters to small, independently run businesses in the UK. Employers liability is the main one, but there is also motor insurance, public liability, professional indemnity, and business interruption, amongst others.
The insurance providers provide the business owner with compensation or financial cover in the event of an accident or other financial loss. Every penny counts to a small business, and even the smallest of losses could cast a business into jeopardy. Small business insurance is therefore recommended for all who are about to embark on a start-up business endeavour.
Do I Need Business Insurance For My Small Business?
No matter the size of your enterprise, and regardless of the type of service you are providing, employers' liability insurance (EL) is a requirement for all businesses in the UK that consists of more than one individual. If you have taken on one or more employees, consider EL a top priority.
With employers' liability insurance you don't have to pay for compensation claims made by your employees out of your own pocket. Namely, if your employee asks for compensation as a result of an injury or illness they sustained while working for you, EL will help cover the cost of the claim.
The Health and Safety Executive (HSE) take employers' liability insurance very seriously and charge you up to £2,500 for every day that you operate without it. Additionally, you may find other business insurance types to be essential to your business, for example, motor insurance is essential if vehicles are used by yourself or a member of your staff.
What Insurance Should A Small Business Have?
Although employers' liability cover is the only required small business insurance, you may find other insurances offered to be essential to your line of work. This includes:
Motor insurance: Motor insurance is a requirement if part of your business takes place on the road, whether that be for delivery purposes or for driving to and from clients. Business vehicles must have registered motor insurance to a third party level. Like regular car insurance, if other employees use the business vehicles, you will also have to get motor insurance cover for them.
Public liability: Just like employers' liability insurance, public liability insurance protects your company from compensation claims made by members of the public. Public liability covers any injuries sustained by a member of the public while on your property or damages made to their belongings or equipment. This can apply to both customers in a shop as well as business clients.
Professional indemnity: Professional indemnity insurance is recommended for any business that provides professional advice for third parties. If you provide a client with financial advice that turns out to be detrimental, professional indemnity insurance can help cover the cost of the damages caused. Professional indemnity can also cover the legal costs of the claim made.
Product liability: Whether or not you manufacture the products you sell, product liability insurance is recommended for any business that provides a commodity to the public. Product liability insurance covers the legal expenses of any claims made against you by an individual injured or made sick by a product you sold them.
Business interruption: A good business interruption insurance policy will protect you against any incident that is out of your control and hampers your ability to trade. The majority of business interruption insurance policies will cover floods, storms, fires, and even civil unrest. The aim of this policy is to restore your business financially to the pre-incident trade level.
Equipment and stock insurance: Should your stock get stolen, lost, damaged, or destroyed equipment and stock insurance will cover the costs of the affected items. Equipment insurance is recommended for anyone who operates with expensive machinery or business equipment that will likely be targeted by thieves or will be expensive to fix should they break.
Buildings and contents insurance: Building and contents insurance will cover damage caused to your premises and the items found inside in the instance of a break-in, flood, or fire. Building insurance provides financial assistance in the repair of the flooring, windows and doors, whereas contents insures the items found within.
What Do I Need To Get A Small Business Insurance Quote?
There are several credentials that you must disclose to insurance providers in order to get a small business insurance quote. Regardless of the insurance type you are applying for, you will likely be required to provide said information so that your insurance claim is fair, accurate, and best suited to the type of cover you are looking for. The main credentials include:
The nature of your business: This includes details of the trade that your small business provides. What commerce does it supply? What kind of service does it provide? Is it a customer-facing business?
The type of business you run: You must state whether you are a limited company, sole traders, or a partnership.
The amount of time you've been trading: Insurance providers need to know whether you are an already established business or are an upstart company.
Expected turnover: The value of revenue the small business is predicted to generate by the end of the financial year.
Do I Need To Get Specific Insurance For My Small Business?
While shopping for insurance you'll likely come across insurance packages that are designed for specific businesses. This can normally be categorised by shops, cafes and restaurants, home businesses, hotels, and offices.
All of these categories require employers' liability insurance at a minimum, but there are a number of other insurance policy essentials unique to each category.
Types of small business insurance include:
Shops
Shops generally need plenty of insurance cover, given the amount of stock a shop tends to hold and the thievery that it may inspire. Shops will also likely see a high number of employees and customers in the store daily that the shop owner is responsible for.
Being a customer-facing line of work, public liability insurance is strongly recommended for all shop owners. Shops attract a lot of footfall, and no matter how well you safeguard your premises from slips, trips, and falls, the risk of a customer or employee sustaining an illness or injury is still present.
Product liability is also recommended, even if you are merely a purveyor of products produced by another company. For selling the product alone, you may still be held legally responsible for any damage to the customer caused by the product.
Lastly, you should consider equipment, stock, contents, and building insurance, to help you overcome losses from thievery, floods, fires, or other issues that stymie your ability to trade.
Online Shops
It is also recommended to take out insurance policies for online shops, as, just as with in-person shops, you are liable for the products you sell. On top of product liability, you should also consider business equipment and stock insurance. This will safeguard your assets from damages.
Business interruption insurance is another one that online retailers invest in, normally due to the amount of stock that goes missing or is intercepted while in transit. Certain business interruption insurances can protect against this.
Cyber insurance packages are available which covers product liability, cyber security, and public relations.
Cafes and restaurants
As a cafe or restaurant, your success hinges on your ability to maintain a good reputation. This applies to both staff and customers – you don't want to be known for the ill-treatment of staff or clientele. You should therefore take out sufficient insurance to cover both parties.
Product liability insurance is a must, as your customers may suffer from food poisoning or other forms of contamination. It's the responsibility of food preppers to ensure that all food going out is risk-free, however, food contamination may still occur. You can lessen the extent of the consequences by investing in product liability insurance.
Public liability is as important as employers' liability in the instance of cafes and restaurants. With sharp objects, hot food and refreshments, and cleaning chemicals present throughout all dining and drinking establishments, public liability insurance can save you from paying for medical expenses and legal costs.
It's also worth investing in equipment and stock insurance, should your expensive kitchen or cafe equipment get damaged or stolen.
Home businesses
There are a number of financial pitfalls that a home business owner can incur if they do not invest in appropriate home business insurance. The main policy you should consider taking out is equipment and stock insurance, as you'll have to safeguard your computers, equipment, and goods from the home environment.
Your home may not be as well equipped as an office space for using equipment or storing stock and may get damaged by lively children. Invest in equipment insurance for greater peace of mind, so that a broken computer won't have a long-term impact on your ability to trade.
Depending on the setup of your home business, you may also need to invest in professional indemnity, employers' liability insurance, and public liability insurance.
Hotels
Getting personalised insurance for your hotel can protect your business from the capricious tourist industry.
Individual insurance claims that hotel owners invest in doesn't stray too far from the hospitality standard. Besides the legally required employers' liability, the next claim hotel owners tend to invest in is business interruption insurance. This means that should the tourist season be interrupted by weather warnings or flooding, the hotel does not completely suffer from vacancies.
Just like in most other hospitality venues, hotel insurance packages tend to also include public liability and building and contents insurance.
Offices
Offices are full of expensive equipment that can easily be damaged or stolen, hence why it's important for office owners to take out equipment, stock, building, and content insurance. If you are renting office space for your small business, equipment building insurance may already be put in place, but it's advisable to run this by the landlord to make sure.
Public liability insurance is recommended if you deal with a high number of clients and your office sees a high level of public footfall. Professional indemnity insurance is also worth considering if you provide financial advice for clients or deal directly with personal data or intellectual property.
Will I Need Small Business Insurance If I Work From Home?
Regardless of the type of business you conduct from home, your regular home insurance cover is not going to cover all of your additional equipment and business assets. However, it's definitely worth checking your home insurer to see how much they cover prior to investing in additional insurances. As always, if you hire additional team members, you will definitely need employers' liability insurance.
No matter how small your business is, it is recommendable to take out some form of insurance cover to curb unexpected expenditures along the way. Even if you're only just starting out, it would be a good idea to inform your insurance provider that you are planning on starting a home business.
Detailing all of your equipment to an insurance provider, from the fax machine to scanner, could save you plenty of time and money should any piece of equipment unexpectantly break.
As always, if you've got clients or workers regularly visiting your workspace, it would be prudent to take out public liability.
How Much Will Small Business Insurance Cost?
A number of variables determine how much your small business insurance will cost. These factors include the size and type of your business.
Things to consider
Size of your business: An obvious point, but one that is worth considering. A small startup business normally means few assets, which, from a legal standing, means less risk. If an incident were to occur where the insurance provider had to pay out, the legal expenses would likely be significantly smaller relative to the company of a bigger scale.
Type of business: This not only entails the line of work of your business but also includes factors such as location and clientele. If the insurance provider determines the production or operations of the business to be of high risk, more will be charged for the premium. Additionally, if you are located in a flood-prone area, the price of building insurance will also increase.
Number of employees: A higher number of employees means a more expensive premium for employers' liability, as the risk of a compensation claim being made is much higher. The number of employees can also increase the price of other insurance premiums, namely motor insurance and equipment insurance.
Level of cover: As with any insurance premium, the higher the level of cover you take out, the more expensive the premium will be. Although insurance packages are available for small businesses, featuring several different insurances in one, generally, more insurance cover means more expensive premiums.
Some Of The Leading Small Business Insurers In The UK Include:
Direct Line: Direct Line's small business insurance offers wide-ranging business insurance policies and can cater to the likes of accountants, dog walkers, freelancers, market traders, and estate agents. A business insurance policy from Direct Line can provide you with public liability insurance as well as 0% APR and changeable business insurance policies.
Aviva: Business insurance provided by Aviva is one of the leading small business insurers due to the wide range of insurance premiums offered. Aviva customers can get public liability cover, professional indemnity insurance, business equipment cover, and employers' liability cover.

Visit our more extensive list of the top business insurance providers to compare business insurance premiums.

Factors To Consider Before Buying Small Business Insurance

Make employers' liability a priority: When buying several insurance premiums from one provider, make sure employers' liability insurance is included. Regardless of the type of business you are starting, this is an across-the-board legally required premium.

Consider the risks of your business: The risk factor of your business can determine whether your premium is affordable or out of your budget. You should familiarize yourself with all possible risks of your enterprise, including location and production risk, and only consider insurance premiums that directly apply to your business setup.

Consider both expensive and cheap premium rates: Don't go for the first insurance deal you see because it matches your budget; make sure that each premium justifies its price, either by being rightfully affordable or justifiably expensive because it covers all of your insurance needs.

FAQs

Is small business insurance a legal requirement?

Employers' liability is a legal requirement for all small businesses if one or more additional employee is taken on board. Business vehicle insurance is also a requirement at a third-party level.

Can I get business insurance before registering my business?

You can get business insurance prior to registering your business. Upon applying for business insurance, you will unlikely be asked to provide a business registration.

Can I get business insurance without a trade license?

You can get business insurance without owning a trade licence. However, if you attempt to trade without owning a trade licence, you may encounter problems with your insurance provider. Namely, you may not be able to make an insurance claim for accidents or damages that occur on your premises.

How long is a small business insurance quote valid for?

The validity length of a small business insurance quote depends on the insurance provider. For example, an insurance quote from Direct Line is valid for 30 days.