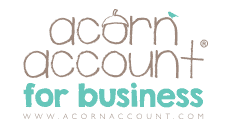 Acorn Account offers a business current account for small businesses in the UK that operates as an online account. Below we look at reviews for the company along with the accounts they offer, how much they cost and other key things you need to know to help you decide which business bank account provider is right for your business.
Acorn Account Reviews
There are currently no reviews available for Acorn Account.
Acorn Account Business Current Account Plans, Packages & Prices
Acorn Account offers a single business current account that includes:
24/7 online account management
Own account manager
Access to a UK call centre
Access through smartphone
Pay in cheques and withdraw cash at Barclays branches
There is a wide range of charges on their business bank account which includes:
£60 account application fee
Minimum monthly account charge of £12.50
Electronic credits and payments of £0.30
Cheque credits of 0.75% with a minimum £0.50 charge
ATM card fee of £1.50
Note plans, packages and prices were all accurate at the time of publication but may have changed since then. Please check Acorn Account' website for the latest information.
Acorn Account Background
Acorn Account is one of Spectrum Payment Services Limited trading names which was set up in 2012. They also trade under the name of CardOneMoney. Spectrum Payment Services Limited was acquired by Equals Group PLC to expand its financial products range to cover individuals and small businesses.
They offer business bank accounts to small businesses and they claim to not turn anyone down due to bad credit. They operate online with no branches and provide a speedy account set up.
Acorn Account offers a business bank account that allows you to access it online, through smartphone, and pay in cheques and cash withdrawals from Barclays. They also provide a UK based customer service team.
Switching To Acorn Account
To set up an account with Acorn Account you will need to complete an online questionnaire which should take no more than 10 minutes and the account may be opened the same day. An account application fee of £60 applies. You will not need to visit a branch or sign documentation in order to open an account.
Additional Business Services From Acorn Account
Acorn Account doesn't currently offer any other services to businesses.
Acorn Account Business Service Availability
Acorn Account doesn't require businesses to complete a credit check and they won't turn you away because of bad credit. No other account availability or eligibility criteria is provided.
Acorn Account Business Customer Service and Complaints
You can contact the Acorn Account customer service team on 0844 846 5154 on Monday-Friday 8.30am-5pm.
Acorn Account Business Contact
You can get in contact with Acorn Account by:
Completing their contact form
Call 0844 846 5154 (Monday-Friday 8.30am-5pm)
Automated telephone service available 24/7
Live chat (Monday-Friday 8.30am-5pm and Saturday 9.30am-1pm)
Post – PO Box 3634, Chester CH1 9NL
Website: https://www.acornaccount.com/business/
Acorn Account Business Services Pros/Cons
Pros
24/7 online account management
UK based call centre
Includes a business debit card
Own account manager
Cons
No branches
Contact centre only operates during office hours
No customer reviews
Account application fee applies
Complicated charging structure