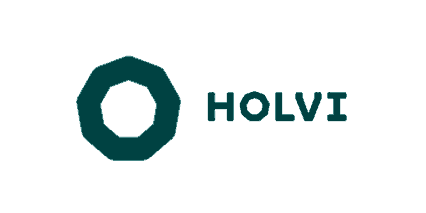 Holvi offers a business current account for self-employed businesses in Ireland and other parts of Europe which also provides finance and bookkeeping administration tools through their app. Below we look at reviews for the company along with the accounts they offer, how much they cost and other key things you need to know to help you decide which business bank account provider is right for your business.
Holvi Reviews
Below we look at reviews for Holvi from a variety of websites. Please keep in mind that these reviews are for all of Holvi's services and so may not fully reflect their business offerings.
Holvi Business Services Plans, Packages & Prices
Holvi offers two business current accounts called Holvi Lite and Holvi Pro
Holvi Lite plan offers:
Unlimited transfer
Business Mastercard
Scan and store
Online account management
Mobile app
Real-time cash flow view
Holvi Pro plan in addition offers:
Tools to support invoicing, expenses and bookkeeping
Payment matching
Prepare and export transactions for tax filing
The costs of Holvi's plans are:
Holvi Lite €6
Holvi Pro €12
ATM cash withdrawals 2.5% (Lite) or 2% (Pro)
Use of card abroad 2%
Note plans, packages and prices were all accurate at the time of publication but may have changed since then. Please check Holvi's website for the latest information.
Holvi Background
Holvi was founded in Helsinki in 2011 with the aim of helping self-employed people to better manage their business finances and administration. Its founders felt that the mainstream banks did not support the self-employed well enough and wanted to create a bank that would fill this gap.
They built a business bank account with a business card that was supported by an app that provides a range of business support tools that assist with managing finances. The app features scanning of receipts, invoice management, expenses tracking, payment matching, bookkeeping aids, preparing and exporting data for tax filing.
Holvi has offices in Helsinki, Berlin and Madrid and they operate in Finland, Germany, Austria, Belgium, Ireland and the Netherlands.
Switching To Holvi
To set up an account with Holvi you will need to click on open account on their website and go through their three-step verification process. This process includes providing personal and company information for identity verification and company verification. Once verified you will receive an email notifying you that your account has been opened.
Additional Business Services From Holvi
Holvi doesn't currently offer any other services to businesses other than the business account with supporting finance and bookkeeping tools.
Holvi Business Service Availability
Holvi offers business bank account services in Finland, Germany, Austria, Belgium, Ireland and the Netherlands.
Holvi Business Customer Service and Complaints
You can contact the Holvi customer service team through their app on live chat which is available 10am-4pm or by their contact form on their website.
Holvi Business Contact
You can get in contact with Holvi by:
Completing their contact form
Live chat through the app (10am-4pm)
Website: https://www.holvi.com/business-account-and-mastercard/
Holvi Business Services Pros/Cons
Pros
Positively rated on customer reviews
Includes a business Mastercard
Provides a range of business finance support tools
Cons
Only operates in Ireland
No branches
Communication by live chat and contact form only
Not well known in the UK