What is a Company Voluntary Arrangement?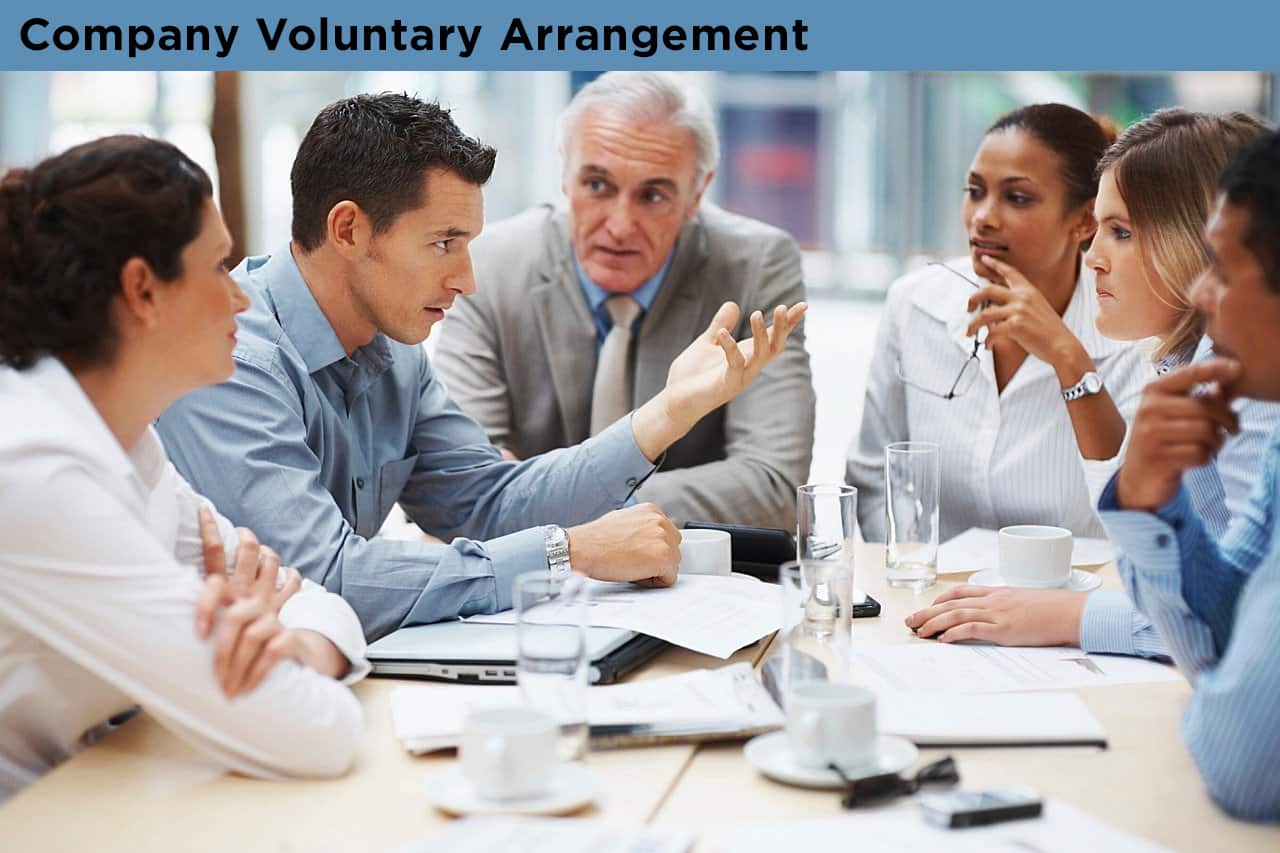 A Company Voluntary Arrangement is where a company makes a legally binding agreement with its creditors to pay a proportion of its debts off over an agreed period of time which typically could be from to five years. For a company to be able to put a Company Voluntary Arrangement place they have to obtain an agreement from over 75% of the company's creditors by value to support the proposal for the arrangement.
It is an arrangement that is designed to save the company and in the long-term, it can be of benefit to the company's creditors as they will get more of their money than they would from other insolvency processes, and they can retain the business as a customer.
Company Voluntary Arrangements are typically used by insolvent businesses that are struggling with historical debt but are still a viable business that just needs short-term assistance to get through their financial difficulties. It is one of the governments preferred rescue plans for businesses that are facing difficulties. However, it is one of the few insolvency processes that can only be proposed by the directors of the company, whereas in administration and liquidation it could be proposed by an insolvency practitioner or the creditors.
When you take out a Company Voluntary Arrangement it also provides the business with a form of protection to help guard them through the period of poor cash flow and become viable again. It enables the business to pay its debts using future profits and continue trading.
Whilst under a Company Voluntary Arrangement it also provides the business with the ability to reassess their structure, premises and contracts and make changes without all the penalties and charges that can occur.
It is worth knowing that you can take out a Company Voluntary Arrangement at any point as long as your company hasn't been issued a winding up order by the courts. If a winding up petition has been served or is being threatened, you could still have time to do a Company Voluntary Arrangement and have a chance of saving your company, but you must act very quickly in these circumstances.
If you go into administration, one of the options the insolvency practitioner might propose is a Company Voluntary Arrangement. Similarly, your insolvency practitioner may suggest doing a Company Voluntary Arrangement when you go to them to start Creditors' Voluntary Liquidation as it could be a better option for your business.
How does a Company Voluntary Arrangement work?
You can take out a Company Voluntary Arrangement if your company is a limited company that is insolvent but is still a viable business. In order to take out a Company Voluntary Arrangement, you will need to engage an insolvency practitioner. It is their role to prove that the business is still viable and will be able to pay their debts in the future.
Through the Company Voluntary Arrangement, you can ring-fence your historic debts and protect yourself from legal action from these creditors. The Company Voluntary Arrangement in effect places a legal safeguard around the company which is called a moratorium. This moratorium prevents these creditors from taking legal action against the company as they are bound by the arrangement and they will receive their outstanding money in line with the agreement over a period of time.
The process of getting a Company Voluntary Arrangement works by:
Firstly, by selecting an insolvency practitioner to act on your behalf.
Conducting an initial assessment – this will be done by the insolvency practitioner to see whether your business is viable and therefore eligible for a Company Voluntary Arrangement.
Creating a proposal – your insolvency practitioner will create a draft proposal for you using the information you provide them, and you will need to agree to it. Once agreed it is sent to the creditors asking them to participate in a vote. The proposal will detail how the company proposes to pay the debt over an agreed period of time.
Applying for a moratorium – you can then apply for a moratorium which will help protect your business from legal action whilst the proposal is being agreed.
Creditors vote – the creditors' vote will normally take place at a creditors meeting where the proposal can be discussed openly. Creditors can attend or vote by proxy. You will need to achieve a vote of over 75% based on the value of creditors for it to be approved. Creditors are only likely to vote for this if they are confident that the company can make the payments throughout the Company Voluntary Arrangement and not fall into further financial difficulties. In order to give the creditors confidence, you should have a compelling proposal that not only factors in your future income but ways that you will streamline your business to make savings.
Connected creditors will be handled separately and this includes employees and directors, and a minimum 50% agreement is required from them.
Submission of an insolvency practitioner report – upon approval a report will be written and submitted to the court and creditors. This will include details of the meetings and the voting outcomes.
Company Voluntary Arrangement starts – once approved the company will follow the agreement made and make the scheduled payments to their creditors through their insolvency practitioner. If the company fails to make the payment in time, a compulsory liquidation may be sought.
It can take between six and eight weeks to complete a Company Voluntary Arrangement from the point of appointing the insolvency practitioner until filing the report with the court. However, the role of the insolvency practitioner doesn't end there as they have to supervise the payment of the debt and the completion of the Company Voluntary Arrangement.
Who oversees a Company Voluntary Arrangement?
It is a requirement that an insolvency practitioner is appointed to enable a Company Voluntary Arrangement to go ahead. There are three keys reasons for having an insolvency practitioner involved. The first is that they are required to make an independent assessment of the company's viability and therefore their eligibility to apply for a Company Voluntary Arrangement.
The second reason is to help you to put a case together and negotiate with your creditors to maximise your potential agreement. The third reason is to have an independent person to supervise the payments from the company to their creditors and to monitor the company's progress in paying the debt and ensuring no breaches to the agreement occur.
What is the role of the directors in a Company Voluntary Arrangement?
The directors' role during a Company Voluntary Arrangement doesn't really alter as they remain in control of the business throughout the process. The creditors meeting could highlight that the creditors do not have confidence in director/s and in rare cases, this could result in a change of directors to get approval, but this is highly unlikely.
Unlike other insolvency processes, a Company Voluntary Arrangement doesn't lead to any investigations into the conduct or management of the business. It is purely a mechanism to support the business through a difficult period.
What is the cost of Company Voluntary Arrangement?
The cost of a Company Voluntary Arrangement varies depending on your company circumstances and the complexity of your finances, the level of negotiation required and the outcome. The fees are generally split into the initial costs of setting up the Company Voluntary Arrangement, and the second part for the supervision of the arrangement and overseeing the payments to the creditors.
The initial set up costs will need to be covered by the company and these could range from £5,000 to £10,000. This includes drafting the proposal, negotiating the Company Voluntary Arrangement and running the creditors meeting. This could be payable through the first few month's payments of the Company Voluntary Arrangement.
The supervision and payment costs will be taken from the payments to the creditors and therefore it will be agreed by the company's creditors.
What are the benefits of Company Voluntary Arrangement?
There are many advantages of making a Company Voluntary Arrangement which include:
It is a good way of quickly turning around a poor cash flow position.
It allows you to continue trading throughout and retain control of your business.
It creates a positive dialogue with your creditors.
It can stop pressure from government agencies with the agreement being put in place with HMRC for tax, VAT and PAYE.
It can prevent creditors from filing a winding up petition.
It allows all debt to bundled up into one monthly payment that could be lower than your current monthly outgoings so it can more manageable.
The payments will be made to the Company Voluntary Arrangement supervisor who is your insolvency practitioner, so can also ease financial administration and communication with creditors.
It enables businesses greater freedom to make decisions without financial penalties as assistance or allowances are made. This means that costs can quickly be cut to help the business improve its financial position.
Employees can be made redundant without the company paying redundancy costs as these will be paid through the government's National Insurance scheme.
It is possible to terminate property leases and leave premises without penalties.
You can also end other leases or supply contracts without penalties.
The process is discrete and not publicly announced like administration would be, although your creditors would be aware as they have to agree to it. You will not have to tell your customers about the Company Voluntary Arrangement.
The cost of a Company Voluntary Arrangement can be much lower than alternatives.
For creditors, they will eventually receive all of their money and they can retain you as a customer.
What are the disadvantages of Company Voluntary Arrangement?
There are some disadvantages that you may want to factor in before going ahead with a Company Voluntary Arrangement, which are:
It will impact your company's credit rating for the next six years.
Creditors may not agree to the proposal and prevent it from going ahead.
Banks often don't like these arrangements so obtaining agreement from them may be difficult.
Although unsecured creditors are bound by the terms, secured creditors such as banks or HMRC are not and it will not prevent them from pursuing a winding up petition that will force you into compulsory liquidation.
By bringing the creditors together to discuss the Company Voluntary Arrangement it highlights the difficulties the company is in and if the proposal fails it could force the company into either Creditors' Voluntary Liquidation or compulsory liquidation.
What other options are available?
There are other options available to businesses which an insolvency practitioner can advise you on. An insolvency practitioner provides a variety of services that can help support businesses that are facing financial difficulties and they can help you to weigh up the options and select the best solution for your circumstances.
The other options that you could consider instead of a Company Voluntary Arrangement are administration and liquidation. Company administration is where the insolvency practitioner will act as the administrator and take control of the business whilst they assess the business' viability and examine what options are available to the company. This offers a breathing period where the company is protected from legal action from its creditors. Administration aims to rescue the company wherever possible, but the outcome could be that the company is restructured, sold or liquidated.
Liquidation is where the company is insolvent and has no other option but to dissolve, this could be a voluntary arrangement (Creditors' Voluntary Liquidation) or they can be forced into compulsory liquidation as a result of a creditor filing a winding up petition. In these scenarios, an insolvency practitioner will be appointed by the company or the court and they will formally close the company and sell its assets to pay the creditors.
In both administration and liquidation, the insolvency practitioner will act in the best interest of the creditors and ensure that they get the best outcomes possible.