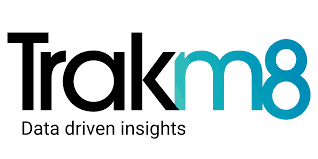 Trackm8 offers fleet management services which include a fleet management system, route optimisation and planning, vehicle cameras, automotive and insurance telematics. Below we look at reviews for the company along with the services they offer, how much they cost and other key things you need to know to help you decide which vehicle and fleet services provider is right for your business.
Trackm8 Vehicle and Fleet Service Reviews
There are currently no reviews available for Trackm8.
Trackm8 Vehicle and Fleet Services Plans, Packages & Prices
Trackm8 offers fleet management and vehicle tracking service that includes:
Provides 360 views of your fleet
Single platform to store vehicle information and data
Live vehicle tracking
Driver behaviour solutions
Vehicle health including alerts
Live streaming video
Video and photo evidence of road traffic incidents
Remotely download driver and vehicle tachograph information
Customisable dashboard
Create your own reports
Alerts and reminders
Driver ID
Trailer tracking
Web portal and app
Multi-camera systems
Route optimisation and planning
Vehicle cameras
Vehicle tracking for a variety of vehicles and assets
There is no pricing information available.
Note plans, packages and prices were all accurate at the time of publication but may have changed since then. Please check Trackm8's website for the latest information.
Trackm8 Background
Trackm8 formally Box Telematics, is a UK-based technology business that specialises in fleet management systems as well as insurance and automotive telematics. They provide cutting edge technology that caters for fleets of all sizes giving them insights that can improve fleet efficiency and reduce risk.
They offer fleet management systems that deliver 360 views of your fleet on a single platform that stores all your data and information. The system can combine live vehicle tracking, driver behaviour solutions, vehicle health and live streaming video.
Trackm8 also offers route optimisation and planning facilities, vehicles cameras and insurance telematics. Their solutions can also offer video and photo evidence of road traffic incidents, remote driver and tachograph downloads, and multi-camera systems. They provide a customisable dashboard and you can create your own reports using their web portal or app.
Switching To Trackm8
If you want to take up one or more of Track8 products you can call their sales team on 0330 311 5157 or complete their get in touch form on their website to find out more information and to get a callback.
Additional Business Services From Trackm8
Trackm8 offers a range of services which include:
Route optimisation and planning
Vehicle cameras
Insurance telematics
Trackm8 Customer Service and Complaints
You can contact the Trackm8 customer service team on 0330 333 4124 for support or 0330 333 4120 for enquiries.
Trackm8 Contact
You can get in contact with Trackm8 by:
Completing their contact form
Sales call 0330 311 5157
Support call 0330 333 4124
Enquiries call 0330 333 4120
Email info@trakm8.com
Post – 4 Roman Park, Roman Way, Coleshill, Birmingham, West Midlands B46 1HG
Website: https://www.trakm8.com/
Trackm8 Vehicle and Fleet Services Pros/Cons
Pros
Provides a range of fleet services products
Vehicle tracking and routing
Driver behaviour improvement solutions
Alerts and reminders
Customisable dashboard and reports
Cons
No pricing information available
No details about their support provision
No customer reviews