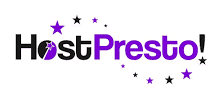 HostPresto is a web services provider that offers a broad range of hosting services which includes web hosting, WordPress, Magento, Drupal, Joomla and reseller hosting, as well as cloud servers, email hosting, domains, website builders and web design. Below we look at reviews for the company along with the services they offer, how much they cost and other key things you need to know to help you decide which WordPress Hosting provider is right for your business.
HostPresto WordPress Hosting Reviews
Below we look at reviews for HostPresto from a variety of websites. Please keep in mind that these reviews are for all of HostPresto's services and so may not fully reflect their business offerings.
HostPresto WordPress Hosting Plans, Packages & Prices
HostPresto WordPress hosting services include:
Bespoke platform
Highly optimised WordPress hosting
Near instant page loads
Expert migration same day
Daily off-site backups with 7 daily and 4 weekly restore points
Full email suite
Huge traffic handling
No limits or restrictions
Staging environments
Secure and reliable with DDoS protection
Secure access by SSH and SFTP access
Git and SVN
WP-CLI tool
Node, NPM and Yarn development tools
Free SSL from Lets Encrypt
Global CDN
60-day free trial
Personalised technical management
Dedicated account manager
UK data centre
No setup fees or contracts
24/7/365 support
99.9% uptime guarantee
Powered by 100% renewable energy
They offer a range of WordPress hosting plans, these are:
Personal WP1 – £7 per month includes one site, 5GB SSD storage and 10 email accounts.
Managed WP1 – £15 per month includes one site, 25GB SSD storage and 10 email accounts.
Managed WP2 – £30 per month includes two sites, 50GB SSD storage and 10 email accounts per site.
Managed WP5 – £50 per month includes five sites, 100GB SSD storage and 10 email accounts per site.
Managed WP10 – £100 per month includes ten sites, 200GB SSD storage and 10 email accounts per site.
Note plans, packages and prices were all accurate at the time of publication but may have changed since then. Please check HostPresto's website for the latest information.
HostPresto Background
HostPresto was founded in 2001 as Dream Hosting in Hampshire and has grown to become a leading UK web hosting provider. In 2006, they were incorporated under Enix Ltd and later re-branded as HostPresto! in 2014 and consolidated all brands under this name. They originally hosted their business in the US until 2007 when they migrated it to the UK.
They are committed to continual research and development in hosting hardware and software technology in delivering hosting services. They offer a variety of hosting services including web hosting, WordPress hosting, Magento hosting, Joomla hosting, Drupal hosting and other hosting services. They also offer cloud servers for Linux, Windows and other providers that are either unmanaged or managed. They also offer domains, email hosting, website builder and web design.
HostPresto offers bespoke WordPress hosting that is highly optimised with near instant page uploads and can handle huge traffic numbers. Their plans come with 24/7/365 support, dedicated account manager, 99.9% uptime guarantee, no setup fees or contracts.
Switching With HostPresto
If you want to switch hosting providers to HostPresto, you can start a free 60-day trial by signing up on their website by selecting the plan you are interested in. They provide expert migration that can be completed on the same day.
Additional Business Services From HostPresto
HostPresto offers a range of other business services which include:
UK web hosting
Reseller hosting
ASP hosting
js hosting
FileMaker hosting
SSL certificates
Magento hosting
Drupal hosting
Joomla hosting
cPanel/Windows SSD cloud servers (VPS)
Plesk SSD Linux/Windows Cloud Servers (VPS)
DirectAdmin Cloud Servers
FilmMaker Cloud Servers
Managed/Unmanaged SSD Cloud Servers
Website builder
Web design
Email hosting
Domains
HostPresto Customer Service and Complaints
You can contact HostPresto's customer services by logging into your account and you can submit a support request.
HostPresto Contact
You can get in contact with HostPresto by:
Live chat on their website
Complete their contact form
Post – 16-18 Barnes Wallis Road, Fareham, Hampshire PO15 5TT
Website: https://hostpresto.com/
HostPresto WordPress Hosting Pros/Cons
Pros
Provides highly optimised and bespoke WordPress hosting
Offers expert migration
99.9% uptime guarantee
60-day free trial
Powered by 100% renewable energy
Positively rated in large proportion in customer reviews
Cons
No phone support option
Can't contact sales by phone