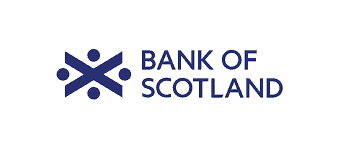 Bank of Scotland offers a business current account to businesses of all sizes as well as a range of other business finance products. Below we look at reviews for the company along with the accounts they offer, how much they cost and other key things you need to know to help you decide which business bank account provider is right for your business.
Bank of Scotland Reviews
Below we look at reviews for Bank of Scotland from a variety of websites. Please keep in mind that these reviews are for all of Bank of Scotland's services and so may not fully reflect their business offerings.
Bank of Scotland Business Current Account Plans, Packages & Prices
Bank of Scotland offers a range of business current accounts that are tailored to the size of the business. The small business and business start-up account include:
12 months free day-to-day banking to eligible businesses
Simple pricing plan including free electronic payments
24/7 online account management through the website and mobile app
Telephone banking access
Personalised account alerts
A designated business management team
Access to a range of borrowing and savings products
International team to support you with operating or dealing with overseas
Enables you to accept payments in person, online and over the phone with Cardnet
Access to a range of guides and reports
There are a wide range of charges on their business bank account which includes:
£7 per month account fee after the free period
Electronic payments – free
Cheques – £0.85
Credit in – £0.85
Cash payments – £1 per £100 for the first £1,500 then £0.90 per £100
Note plans, packages and prices were all accurate at the time of publication but may have changed since then. Please check the Bank of Scotland's website for the latest information.
Bank of Scotland Background
Bank of Scotland is a retail and commercial bank that was first established in Edinburgh in 1695. During its long history, the bank has been through a few ownership changes which include its merger with Halifax bank to form HBOS in 2001 and then the acquisition of HBOS by the Lloyds Banking Group plc to create one of the largest retail banks in the UK.
Under Lloyds Banking Group each of the banks continued to operate under their existing trading names and not under the group name. The Bank of Scotland still maintains its registered office and headquarters in Edinburgh and stays true to its Scottish roots.
The Bank of Scotland continues to operate throughout Scotland serving both personal and business banking customers with a wide range of finance products including bank accounts, credit cards, loans, mortgages and business finance products.
Switching To Bank of Scotland
To set up an account with the Bank of Scotland you will need to contact them to complete an application form. If you are setting up your first business bank account you will receive 12 months of free day-to-day banking and free electronic payments.
If you are switching your business current account to the Bank of Scotland, you will be covered by the switching service which means that they will take care of moving all your payments, direct debits, account balance and close your existing bank account for you.
Additional Business Services From Bank of Scotland
Bank of Scotland offers a broad range of business finance products including:
Business credit card and debit cards
Vehicle contract hire
Business payment services
International business finance products
Bank of Scotland Business Service Availability
Bank of Scotland offers business bank accounts to businesses of all sizes including small and start-up businesses, those with up to £3 million turnover, those with £3 million to £25 million turnover, and those with over £25 million turnover.
Each of these categories of business groupings has its own eligibility criteria which include being over 18. If you are a small business you will need to be a sole trader, partner or director to be able to open the account.
Bank of Scotland Business Customer Service and Complaints
You can contact the Bank of Scotland customer service team on 0345 300 2924 on Monday-Friday 7am-10pm, weekends 8am-6pm.
Bank of Scotland Business Contact
You can get in contact with the Bank of Scotland by:
Call 0345 300 2924 (Monday-Friday 7am-10pm, weekends 8am-6pm)
Post – The Mound, Edinburgh EH1 1YZ
Website: https://business.bankofscotland.co.uk/business-accounts.html?WT.ac=bos-bb-bca-nav-tier2-page-hub
Bank of Scotland Business Services Pros/Cons
Pros
24/7 online and mobile banking access
Has a large network of branches in Scotland
Can access your account through Post Offices across the UK
Customer services operate evenings and weekends
Caters for businesses of all sizes
Cons
Poorly rated in customer reviews which reflects the whole business
No branches in England or Wales