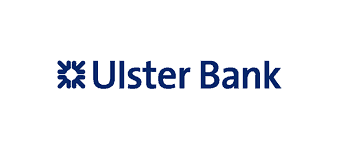 Ulster Bank offers a range of business bank accounts that cater for start-up businesses, established businesses, not for profit businesses and those trading international. Below we look at reviews for the company along with the accounts they offer, how much they cost and other key things you need to know to help you decide which business bank account provider is right for your business.
Ulster Bank Reviews
Below we look at reviews for Ulster Bank from a variety of websites. Please keep in mind that these reviews are for all of Ulster Bank's services and so may not fully reflect their business offerings.
Ulster Bank Business Services Plans, Packages & Prices
Ulster Bank offers a range of business bank accounts which includes Startup Bank Account, Business Bank Account, Not for Profit Bank Account and Foreign Currency Account.
Startup Bank Account and Business Bank Account include:
18 months transaction fee-free banking (Startup Bank Account only)
Mobile app and online banking
Business Visa debit card
Cheque book
International payments
Free FreeAgent accounting software
Not for Profit Account includes:
Fee-free transactions for 24 months if turnover under £250k
Fee-free transactions for 12 months then 50% discount for 12 months if turnover between £250k-£1 million
50% discount on transactions for 24 months if turnover is over £1 million
Foreign Currency Account includes:
Available in all major currencies
Manage finances using online service
International payment facilities available in all major currencies
Overdraft facilities available in all major currencies
Euro cheque book
Note plans, packages and prices were all accurate at the time of publication but may have changed since then. Please check Ulster Bank's website for the latest information.
Ulster Bank Background
Ulster Bank was founded in 1836 and was an independent Irish bank until it became a wholly-owned subsidiary of another bank in 1917 which is now known as NatWest. In 2000, the Royal Bank of Scotland Group took over NatWest and Ulster Bank becomes part of RBS. In 2004, Ulster Bank Group acquires First Active who is a leading mortgage provider and in 2009 they merged together.
Ulster Bank operates across the Republic of Ireland and Northern Ireland where they serve the needs of around 1.9 million personal and business customers. They have 174 bank outlets which cover every county.
Ulster Bank offers a variety of personal and business banking services which includes current accounts, savings accounts, overdrafts, loans and financing products.
Switching To Ulster Bank
You can apply online for an Ulster Bank business bank account, you will need to have details of all business owners and the business details. Credit searches will be carried out on all business owners and evidence of their and the business identity may be needed.
Our switching service is carried out through the Current Account Switch Service and will be completed within seven working days which includes moving all your direct debits and standing orders. The switch is backed by the Current Account Switch Guarantee.
Additional Business Services From Ulster Bank
Ulster Bank offers a range of business services which includes:
Business debit cards
OneCard programme
Business services including receipt management, ClearSpend and FreeAgent accounting software
Ulster Bank Business Service Availability
The Startup Bank Account is open to businesses that have been trading for less than 12 months and have an annual turnover below £1 million.
The Business Bank Account is open to businesses with an annual turnover under or over £2 million and where the business owners reside in the UK or Ireland and are over 18 years old.
The Not for Profit account is split into small/medium and large with an annual turnover under or above £2 million.
The Foreign Currency Current Account is available to existing business current account customers.
Ulster Bank Business Customer Service and Complaints
You can contact the Ulster Bank customer service team on 0345 366 5592 on Monday-Friday 8.30am-5.30pm.
Ulster Bank Business Contact
You can get in contact with Ulster Bank by:
Visiting a branch
Calling 0345 366 5592 (Monday-Friday 8.30am-5.30pm)
Website: https://digital.ulsterbank.co.uk/business/bank-accounts.html
Ulster Bank Business Services Pros/Cons
Pros
24/7 online account management
18 months free banking for business start-ups
Offers free accounting software
Provides an international currency account
Offers a not for profit account
Cons
No fee information available
Contact centre operates only during working hours
A low number of customer reviews with average ratings