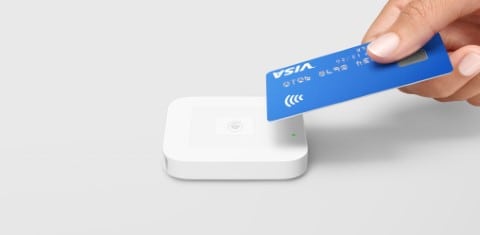 £19 Square Card Reader Offer
You can get a new Square Card Reader for just £19 (+VAT).
Get your money next business day
Accept all major credit cards including Apple Pay and American Express
Just 1.75% per chip + PIN and contactless payments

Square is an online store builder and payments processing provider which includes online and offline sales as well as point of sale equipment. Below we look at reviews for the company along with the services they offer, how much they cost and other key things you need to know to help you decide which payment services provider is right for your business.
Square Payment Service Reviews
Below we look at reviews for Square from a variety of websites. Please keep in mind that these reviews are for all of Square's services and so may not fully reflect their individual offerings.
Square Payment Services Plans, Packages & Prices
Square offers merchant accounts and online payments that include:
APIs and customisable payment form
Next day settlement
Real-time updates and analytics about sales and inventory
Safe and secure payments
Phone support during office hours and 24/7 email support
Clear and transparent pricing
No setup or start-up fees
Can integrate online and offline payments
PCI DSS compliant
Fraud prevention and end-to-end encryption
There several price plans available as part of their online store which include:
Free – £0 per month, 1.9% for European cards transactions, 2.9% for non-European cards transactions.
Professional – £9 per month, 1.9% for European cards transactions, 2.9% for non-European cards transactions.
Performance – £19 per month, 1.9% for European cards transactions, 2.9% for non-European cards transactions.
Premium – £54 per month, 1.75% for European cards transactions, 2.9% for non-European cards transactions.
Custom pricing – is available for businesses processing over £250,000 per year.
Square also offers a range of point of sale equipment which offers:
Bespoke systems
Fast checkout
Customisable checkout
Accept contactless payments
Connect with your online store
Real-time reporting
Flexible and scalable
Integrates with favourite apps like Xero
No setup fees or monthly fees
Point of sale pricing:
Processing rate – 1.75% card fee, 2.5% for virtual terminal and invoices
POS hardware starting at £19
Note plans, packages and prices were all accurate at the time of publication but may have changed since then. Please check Square's website for the latest information.
Square Background
Square was founded in San Francisco in 2009 in its humble beginning as a little white card reader to accept card payments but has since grown into a global payment processing business. They have offices across the world including in the USA, Canada, Japan, Australia, the UK and Ireland.
Square aims to empower small businesses to grow and develop through being able to accept payments and build an online presence to sell their products and services. Square offers a website building tool that allows you to create an online presence and sell your products. They offer APIs and customisable payment forms that provide end-to-end encryption and fraud prevention to keep your transactions safe and secure.
They also continue to offer their traditional range of point of sale equipment to assist you in accepting payments in-store which includes readers, terminals, stands and registers. They have integrated their online and offline systems to allow businesses to better track their inventory and sales.
Switching To Square
If you want to join Square for their online payment processing you can sign up online using their online form, or if you already have an account with Square from building a website with them you can sign in to your account to set up payments. Alternatively, you can contact the sales team by completing the contact form.
Additional Business Services From Square
Square offers a range of payment services which includes:
Square Customer Service and Complaints
You can contact the Square customer service team on 0800 098 8008 on Monday-Friday 9am-5pm or you can email them through their contact form.
Square Contact
You can get in contact with Square by:
Completing their contact form
Call 0800 098 8008 (Monday-Friday 9am-5pm)
Post – 39 Sloane Square, Knightsbridge, London SW1X 9LP
Website: https://squareup.com/gb/en/payments
Square Payment Services Pros/Cons
Pros
Integrate online and offline sales
Safe and secure platform
Clear pricing and no setup fees
Highly rated in customer reviews
Cons
Requires a Square website
Customer support only available during office hours