Whether you are a small business looking for the best way to accept card payments or you are an established service looking to expand, finding the best way to take card payments is extremely important.
But with so many options out there, from card-not-present transactions to traditional card machines, how do you pick the right one?
Check out our guide below for the best way to take credit card payments in the UK and find out which method is most suitable for your business!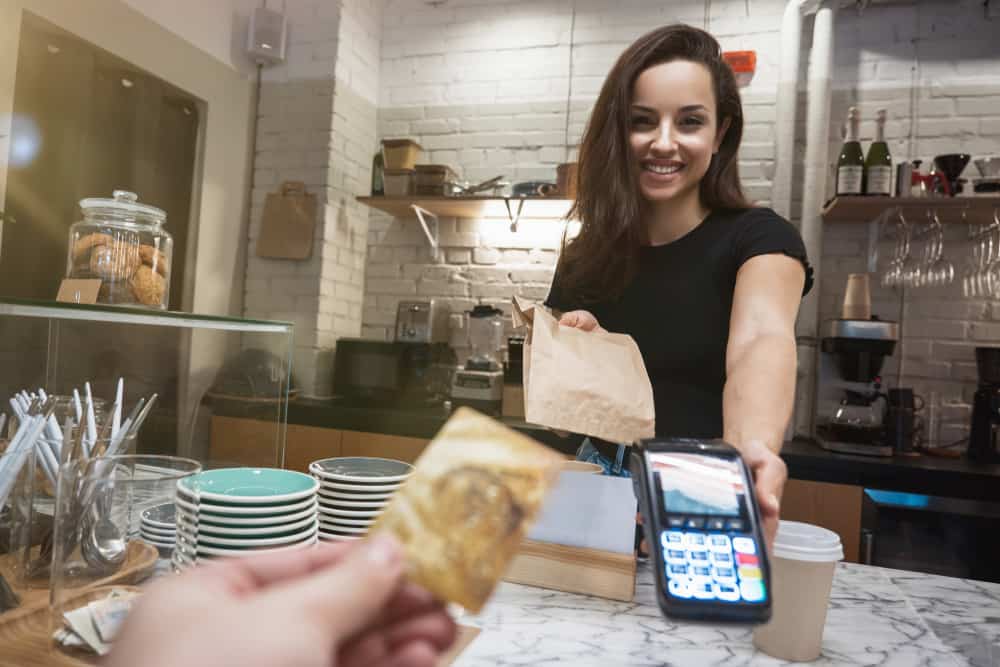 Simple 5 Steps To Taking Card Payments
1. Understand your business needs
Before you settle on the best method for taking card payments, you need to figure out exactly what your needs are. Do you plan on taking payments on the go, or are you just looking to add a card machine besides your till?
As there are so many different card machine types out there, figuring out which is the best choice for your business is incredibly important. Ideally, you want to offer your customers the right choice for the service you provide.
For example, a portable machine is perhaps the best choice for a taxi-style service, whereas a static countertop machine is perfect for cafes and other retail shops.
2. Apply and set up a merchant account
An extremely important part of taking card payments is the chosen payment gateway and processor you use when it comes to payments. Once you have selected the best gateway for your needs, you will need to set up a business or merchant account.
Although not all gateways require this, most of the top options out there such as PayPal will require a business to create a separate account. Setting up a merchant account is pretty simple, but the process will differ slightly depending on the gateway you choose.
Most gateway options will provide a brief walkthrough or guide to setting up a merchant account with them. Be sure to keep your eyes peeled for this if you have never used a gateway before.
3. Link up with your POS system and website hosting platform
To accept card payments, whether through a machine or via a virtual terminal, you will need to link up your system to a hosting platform. As most payment gateways are designed for website use, you must ensure your system is correctly linked otherwise you may not get paid!
You will also need to link your hosting platform to your POS system so that payments are registered. A POS system is used to manage and track sales, which is why your chosen payment option must be linked with your POS.
4. Set up your card reader, payment gateway, or virtual terminal
Now that you have linked your POS and hosting platform, it's time to set up your chosen payment option. The exact steps required for this section are completely dependant on your chosen device for taking card payments, but all 3 should be fairly straightforward.
For a card reader, you will have to choose a physical location for it to be placed. Countertop options are best suited for beside the till or in an easily accessible space where you take payments. Mobile and portable options can be placed in a holder in your car or a similar location.
Both payment gateways and virtual terminals are completely online, so you don't need to worry about an exact physical location. But you will need to set up online payment services to redirect to your chosen gateway or virtual terminal.
Once this has been set up though, accepting card payments is extremely easy and your business will be taken to a whole new level!
5. Receive your money
Now that you have chosen the right services or devices for taking card payments, you are ready to start accepting card payments. The time it takes to receive your money will depend entirely on the process that is being used.
For most online payments, you can expect the money to be processed within 1 to 3 business days. In terms of card machine payments, these transactions can take anywhere from a couple of hours to up to 3 business days.
Always double-check that the payment has successfully gone through, this way you can be certain that there wasn't an error processing the money!
The Three Ways You Can Take Card Payments
Card Machine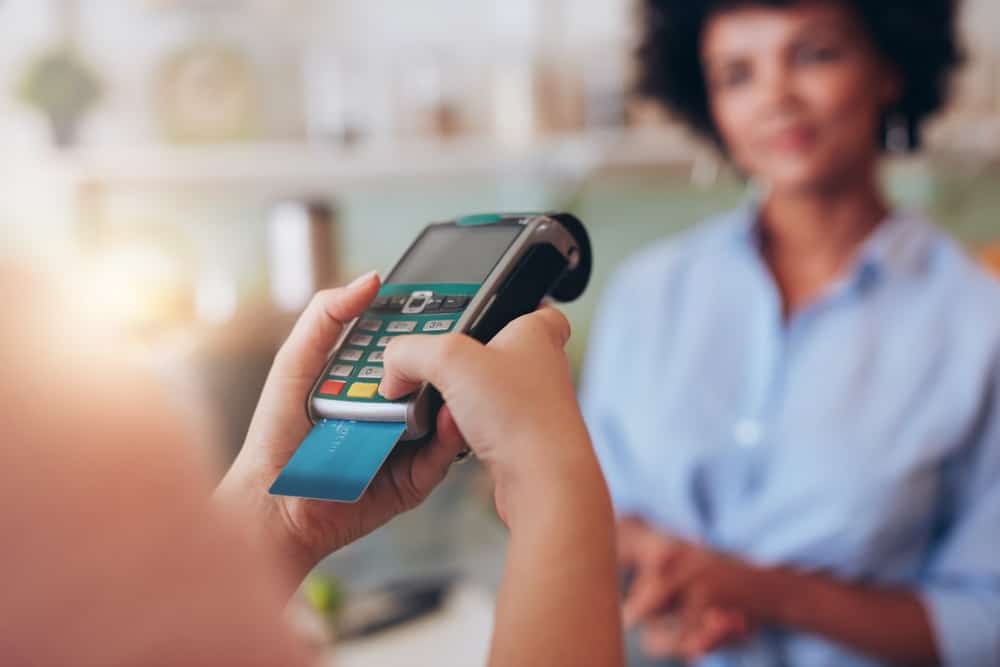 Perhaps the most common way to take card payments in-store is through the use of a card machine. These extremely useful devices scan the details of a card that is either passed by them or inserted into them, allowing you to accept card payments.
There are a wide variety of different card machines currently out there. Take a look below to see which is best suited to your businesses' needs.
Types of card machines
Countertop card machine
The quintessential card machine that you will find in most modern stores and cafes is the countertop card machine. This handy gadget is exactly what you would expect from its name, a card reading machine that sits on top of a counter.
They are most often found beside the tills and have been used for over 40 years to accept card payments for goods. Perhaps the most recent innovation in terms of countertop card machines is that they accept contactless payments.
Mobile card reader
Ideal for taxi drivers and other mobile good services, mobile card readers are great ways to accept card payments on the go. They are extremely similar to portable card machines (see below) with the main difference being that they rely on your mobile phone.
This does mean that if you have no internet access taking a payment can be tricky, but thankfully recent improvements have made this an extremely uncommon problem.
Portable card machine
An alternative to mobile card readers, a portable card machine is designed for accepting card payments on the go. This makes these the perfect choice for any takeaway services or utilities that aren't stuck in a single place.
The main reason why you may choose this system over a mobile-card reader is that they aren't reliant on a mobile device. This can be extremely useful if you don't want to mess around with phones and just want to offer your customers a way to make credit card payments on the go.
Virtual Terminal
A virtual terminal is essentially where you set up your computer to process payments either through the phone or in person. There is a range of different software options out there that allow you to turn your PC into a card payment terminal.
When using a virtual terminal, your staff will be required to input the customer's payment data, which will then be sent to a card payment processor. This is an excellent option for services that take payments over the phone – however, it is not ideal for in-person payments.
Online using a payment gateway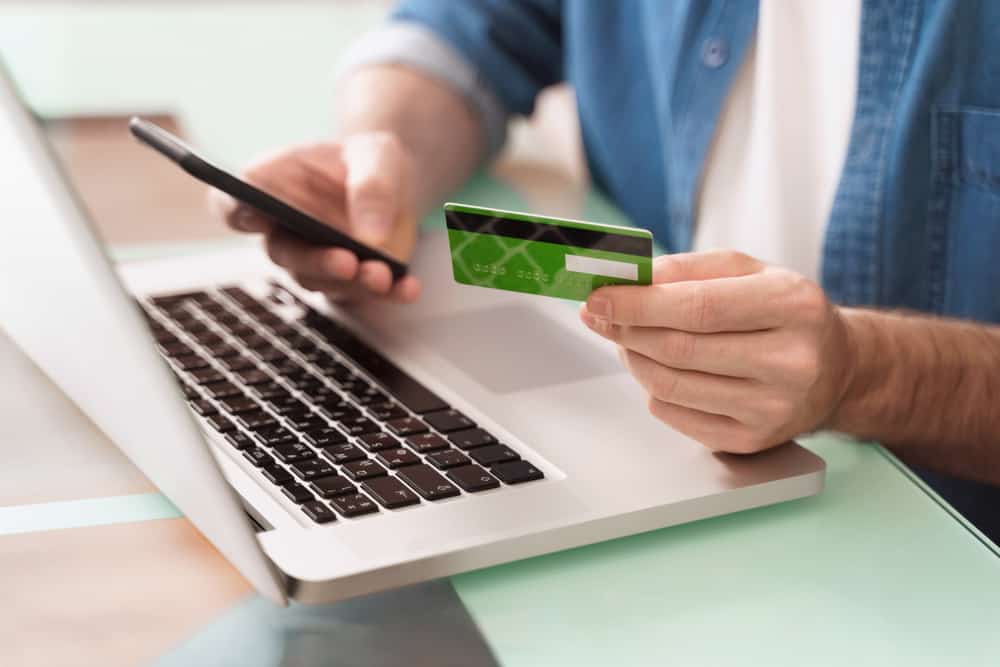 A method that most businesses will come across if they offer an online store is online payments. Whether through gateways such as WorldPay or PayPal, online payment gateways can be extremely vital to a companies success.
Accepting card payments only can be tricky, which is why online payment methods exist. To get the most out of an online payment gateway you will need to set up a merchant account before you offer your customers an online payment method.
Most online payment gateways require your customer to simply input their card details and send over the money – but a few will require them to make accounts. Be sure to keep this in mind when deciding which method is the best for online payments in terms of your business transactions.
How To Take Card Payments With A Card Reader
Traditional card payment machine
Using a traditional card payment machine is incredibly straightforward once you have gotten used to your specific model. This is especially true if your chosen card machine allows your customers to pay through the use of contactless.
For non-contactless charges, the customer will need to enter their card into the card machine. They will then be prompted to enter their pin. Once the pin has been inputted, the payment will be made and, in most cases, the card machine will print out a receipt for both you and the customer.
In terms of contactless payments, the process is even easier. The customer just needs to swipe or tap their contactless card near the top of the card machine and the payment will be automatically processed.
Keep in mind that with some card payments you will need to input the transaction amount manually!
Mobile card payment machine
Choosing the right mobile card payment machine is just as important as choosing the ideal payment processor or gateway. There is a range of popular card payment machines out there, so researching the many types can truly make a difference.
Some of the most popular card payment machines currently on the market are:
Most card machines thankfully work in similar ways so even if you are changing to a new brand, you should be able to get to terms with how it works pretty quickly.
You should also be sure to check out different mobile payment apps if you are seeking a mobile payment option. Accepting card payments on the go can truly enhance your business, especially if the service you provide has some form of mobile aspect.
How To Take Card Payments With A Virtual Terminal
Taking card payments using a virtual terminal works a lot like accepting card payments through a card machine. The main difference is that you or a member of staff will have to manually input the customer's payment details into the system.
Most virtual terminals are designed to accept credit card payments through a mobile phone, however, some can be used for taking card payments online.
When you first set up your virtual terminal, you will be given login details that you will need to use when accepting credit or debit card payments. When the customer is ready to pay, you will be prompted to sign in to the system and input the customer's card or bank account details.
Once the card details have been inputted, you simply click the 'take payment' button and the system should begin processing payments the customer has made!
How To Take Card Payments Using A Payment Gateway
Using a payment gateway to accept online debit credit card payments is one of the simplest ways to offer your customers an online service. The first, and perhaps most important step, is to set up a merchant account on your chosen gateway service provider (find out more below!).
A payment gateway will provide you with the means to connect a merchant account to your online store, allowing you to accept card payments online. However, do remember that with a merchant account you may be required to pay a small fee per transaction.
Once your payment gateway is set up and linked to your online shop, taking credit and debit card payments is as simple as a click of a button.
When it comes to paying for goods online, your customers will be prompted to select a payment method depending on what you provide. We would recommend using a couple of payment gateways to truly offer your customers flexibility and choice (They will appreciate it in the long run!)
Take a look below for a brief look at some of the top payment gateway service providers currently used worldwide.
Choosing the right payment gateway service provider
There are hundreds of payment gateway service providers across the globe, but only some are worth your business' time. Below are some of the most popular payment gateway service providers in the UK, and around the world:
You should consider signing your business up for multiple payment gateway service providers. This way you can provide your customers with a wide selection, as not everyone will be with a single payment provider.
Some of the most popular ones out there are PayPal, Worldpay and Shopify – although Amazon is quickly becoming a popular option for many people.
Can I use one platform to host all payment processing?
Most payment gateways will allow you to host all payment processing methods on one account. However, there are advantages to using multiple platforms to process any card payments your business receives.
For a start, multiple platforms will give you the means to offer your customers the most choice when making payments. It also provides everything you need to help your business scale as it increases in size.
As your business grows larger you will find your services reaching many different people, this means they may not use the payment provider you originally set up. By ensuring your company has the flexibility of multiple platforms, you can be sure that you will be seen in a far more favourable light.
Set Up A Merchant Account
Setting up a merchant account is almost always required when it comes to setting up an online payment system. This will of course depend on the gateway and payment processor you choose, but more often than not you will need a merchant account.
Signing up for a merchant account is usually as simple as any other form of online account. However, you will need to keep your businesses details handy as these will be required for setting up a merchant account.
How do I choose a merchant service provider?
When choosing the right merchant service provider for your business, there are two main factors you will want to consider: price and accessibility. The more accessible your chosen provider, the lower the chances your customers will run into issues.
Price is also incredibly important as most merchant service providers will charge a fee, either monthly or on top of each transaction you make.
Ideally, you should check some of the more popular options out there as there is a reason they are chosen by so many businesses across the globe.
How Does The Card Payment Process Work?
Taking card payments is far more linear than you might expect. Once a card or online payment has been authorised, the payment will be sent to a payment processor. This is where the money associated with a transaction is processed and enters your account.
In the payment processor's network, card associations will communicate debits to the issuing banks to carry out the transaction and ensure the right amount is processed. The cardholder's account is then charged for the amount of the transaction by the issuing bank.
Conclusion
As technology improves, more and more people are slowly adapting from using cash to relying solely on card payments. The importance of offering card payments, regardless of whether you accept them online or through a mobile card machine, cannot be overstated.
Our hope is that we have provided you with everything you need to know about taking card payments in the UK. So, whether you're starting a small business or looking to improve your current one, be sure to keep our guide in mind!
FAQs
How Much Does it Cost To Take Card Payments?
Most card payments come with an additional charge but this will depend entirely on a range of different factors including the card type and the transaction method. The 3 main types of charge are a Transaction fee, a montly Merchant Service Charge and an authorisation charge.
There are also a few other types of fees that may be charged depending on the service you are using. This may be a monthly fee if you are renting a payment terminal or card machine or an online service charge from your chosen payment processor.
The actual charge can vary by a decent amount, however, there are a few typical charges you can expect. Your typical transaction fee shouldn't set you back more than 1% to 3% of the overall cost of the goods.
For example, Stripe charges 1.4% + 20p for payments made by UK cards and Zettle charges a flat 1.75% fee.
Authorisation fees are usually the lowest and aren't included in every type of transaction.
Do I need a business account to take card payments?
It is possible to take card payments without a business account, however, most payment gateways will require a business or merchant account.
Always check the terms and conditions of your chosen payment services gateway, as it may be against their terms to accept card payments without using the correct account type. You should also be sure to check electronic money regulations to find out more!
What is the difference between a payment processor and a payment gateway?
The largest difference between a payment processor and a payment gateway is what part of the process they are used for.
A payment processor will execute the transaction and process it into your account. On the other hand, a payment gateway will give you the means to accept or decline online payments.
Can I use my phone as a card reader?
 
Thanks to recent innovations in smartphone capabilities it is now possible to accept credit card payments through your mobile phone.
You may require an additional card reader depending on your mobile phone type, however.
It's always recommended to double-check the capabilities of your phone before using it for business purposes.
This way you can avoid any potential issues further down the road