Looking for a cheap way to start accepting credit card payments in person? Then have a look at the following 6 cheap mobile credit card payment machines.
Here's a brief comparison of the costs of each:
Keep reading for more on each machine.
1. Zettle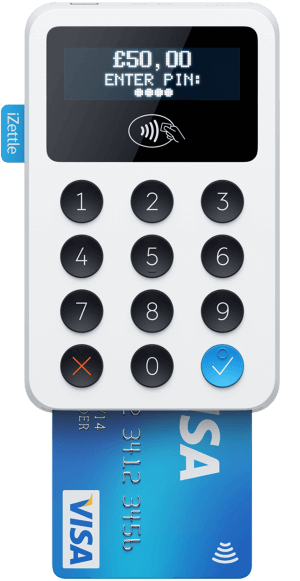 Zettle Reader Cost: £19 + VAT via this link (Normally £59 + VAT)
Transaction Fees: 1.75% per transaction for credit and debit cards.
Features:
8 hours active use
Accept contactless payments in just 5 seconds
Accept: MasterCard, Visa, American Express, Maestro, V pay, Visa Electron, JCB, Diners Club, China Union Pay, Discover, Apple Pay and Andriod Pay
12-month warranty
Money deposited within 1-2 business days
Works via Bluetooth with your smartphone or tablet
Free POS App
Send receipt via SMS or Email
No setup fees, beyond buying the card reader
Works with their Zettle EPOS system
Visit the Zettle Site to learn more
2. Square Reader

Reader Cost: £19 + VAT via this link
Transaction Fees: 1.75% per transaction for Visa, Mastercard and American Express credit or debit cards and 2.5% for other types of transaction
Features:
Accept chip and PIN cards, contactless cards and devices with Apple Pay and Android Pay.
Connects wirelessly to iOS or Android devices.
Works with the free Square app
Track payments, invoices, inventory with their reports
Get your money in your bank account as soon as the next business day.
Call, email or tweet for support
Send invoices from your mobile device or laptop (2.5% fee)
Sell with Square on your own site via their API (2.5% fee)
Optional Dock (£19 + VAT)
Also have a full POS system
Visit the Square site to learn more
3. SumUp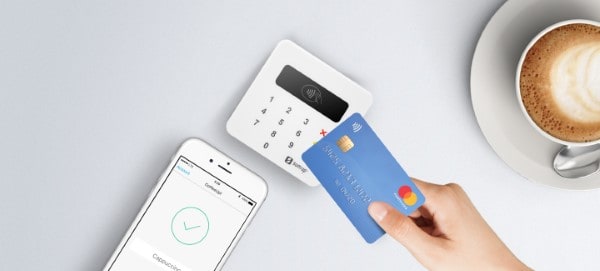 Reader Cost: £29 + VAT
Transaction Fees: 1.69% per transaction for credit and debit cards.
Features:
Compatible with iOS / Android smartphones and tablets
Signup in 5 minutes with no contract
No monthly costs
Free iOS / Android app
Free Dashboard and reporting
Free Telephone & email support
Payouts to your bank account every 2-3 days
Accept Contactless, Chip & Pin, Apple Pay and Android Pay Payments
Can also be upgraded to a full POS solution
30 day money back guarantee
Visit the SumUp site to learn more
4. PayPal Here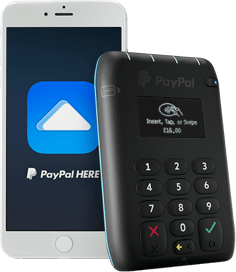 Reader Cost: £45 + VAT
Transaction Fees: 2.75% – 1.00% depending on transaction volume for both credit and debit cards.
Features:
Accept all types of payments, cards or contactless, including Apple Pay and Android Pay.
Payments reach your PayPal account in seconds
No fixed term and no monthly fees
Worldclass fraud management systems
UK-based customer support team you can contact by email, phone or within the PayPal Here app
Free PayPal Here app
Add up to 200 users to one account
Run customised sales reports by date, salesperson, items, and more
Use the app or log in to PayPal on your desktop to manage and categorise your inventory list and upload photos
Also offer a range of point-of-sale solutions that are fully integrated with PayPal Here
Visit the PayPal Here site to learn more
5. Shopify POS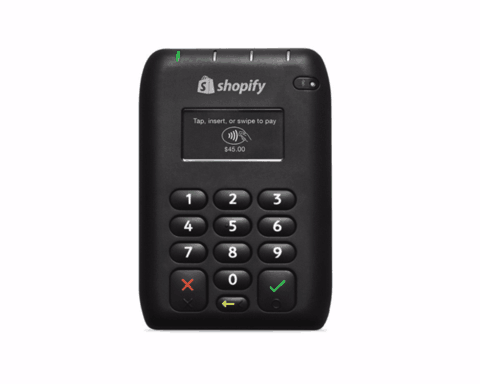 Reader Cost: $89 USD via this link
Transaction Fees: Varies between 1.7% and 1.5% + 0p (requires a Shopify account with monthly fees between $29 and $299 per month).
Features:
Accepts chip, contactless, and magnetic stripe cards
Supports Visa, Mastercard, and Apple Pay
Comes with a USB cable
You can accept two or more payment types in a single transaction, for example, credit card and cash, or multiple credit cards
Create custom payment options such as cheques, IOUs, or gold coins
Offer store credit instead of refunding the payment method used
Offer discounts by percentage or specific pound amount
Taxes are automatically calculated based on your store's location
Custom email or printed receipts
View all past orders made in store and online, search by customer, product, or date
Visit the Shopify POS site to learn more
6. Barclaycard Anywhere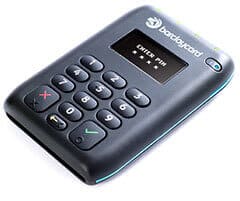 Reader Cost: £29.00 + VAT
Transaction Fees: 1.60% for debit and credit cards (75p per refund).
Features:
No monthly fees
Application normally only takes 15 minutes
Accept Visa and MasterCard (not Amex)
Contactless cards accepted
Android and iPhone app
Helps protect you against fraud with proactive security and advanced card verification services
App lets you track payments on the move and in real-time
Visit the Barclaycard Anywhere site to learn more
What is the cheapest credit card machine for small businesses in the UK?
Currently the cheapest credit card machines in the UK, in terms of upfront cost, is the iZettle reader which costs just £19 + VAT. It also offers extremely competitive card transaction fees (1.75% flat fee), but not the absolute lowest. To to get that you either have to go SumUp (1.69% flat fee) or PyaPal Here (as low as 1.00%).
However, please keep in mind that while the upfront cost for all the machines here is far lower than traditional Credit Card/PDQ Machines, the transaction fees are far higher. This is due to the fact they charge credit card and debit cards the same fee. You can compare these fees by clicking here.
What is the best card reader for small businesses in the UK?
While all of the 6 machines listed above are great and allow your small business to accept card payments, the iZettle card reader is probably the best choice. Not only is it the best known, but at only £19 + VAT it's very cheap to try out. Plus they offer very transparent pricing and among the lowest fees.
However, if you're processing more than £2,000 worth of card payments a month, you should probably also consider looking at more traditional machines which offer lower fees. You can get started by clicking here.
Please note: We have affiliate agreements with iZettle, Sqaure, Shopify and Amazon. This means if you purchase anything from those sites via our links we will earn a commission, at no cost to you. In a few cases we have even negotiated special lower prices. We may also be paid a fee if you get a quote via the Expert Market form at the top of this page.