Looking for a cheap way to start accepting credit card payments in person? Then have a look at the following 6 cheap mobile credit card payment machines.
Black Friday Special: Click Here To Get a myPOS Go 2 for only £13 + VAT (until 8/12/2023)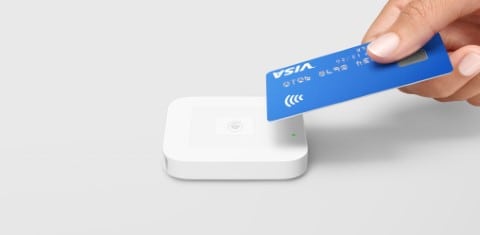 £19 Square Card Reader Offer
You can get a new Square Card Reader for just £19 (+VAT).
Get your money next business day
Accept all major credit cards including Apple Pay and American Express
Just 1.75% per chip + PIN and contactless payments
Here's a brief comparison of the costs of each:
Keep reading for more on each machine.
1. Square Reader

Reader Cost: £19 + VAT via this link
Transaction Fees: 1.75% per transaction for Visa, Mastercard and American Express credit or debit cards and 2.5% for other types of transaction
Features:
Accept chip and PIN cards, contactless cards and devices with Apple Pay and Android Pay.
Connects wirelessly to iOS or Android devices.
Works with the free Square app
Track payments, invoices, inventory with their reports
Get your money in your bank account as soon as the next business day.
Call, email or tweet for support
Send invoices from your mobile device or laptop (2.5% fee)
Sell with Square on your own site via their API (2.5% fee)
Optional Dock (£19 + VAT)
Also have a full POS system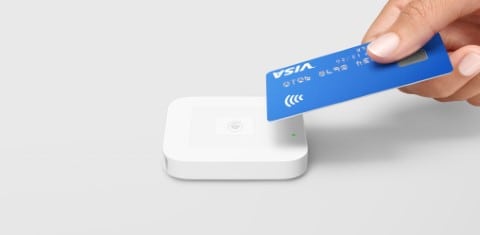 £19 Square Card Reader Offer
You can get a new Square Card Reader for just £19 (+VAT).
You can get a new Square Card Reader for just £19 (+VAT).
Get your money next business day
Accept all major credit cards including Apple Pay and American Express
Just 1.75% per chip + PIN and contactless payments
Show Less
Visit the Square site to learn more
2. SumUp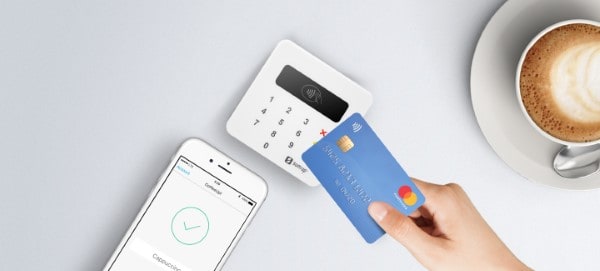 Reader Cost: £39 + VAT
Transaction Fees: 1.69% per transaction for credit and debit cards.
Features:
Compatible with iOS / Android smartphones and tablets
Signup in 5 minutes with no contract
No monthly costs
Free iOS / Android app
Free Dashboard and reporting
Free Telephone & email support
Payouts to your bank account every 2-3 days
Accept Contactless, Chip & Pin, Apple Pay and Android Pay Payments
Can also be upgraded to a full POS solution
30 day money back guarantee
Visit the SumUp site to learn more
3. Dojo Go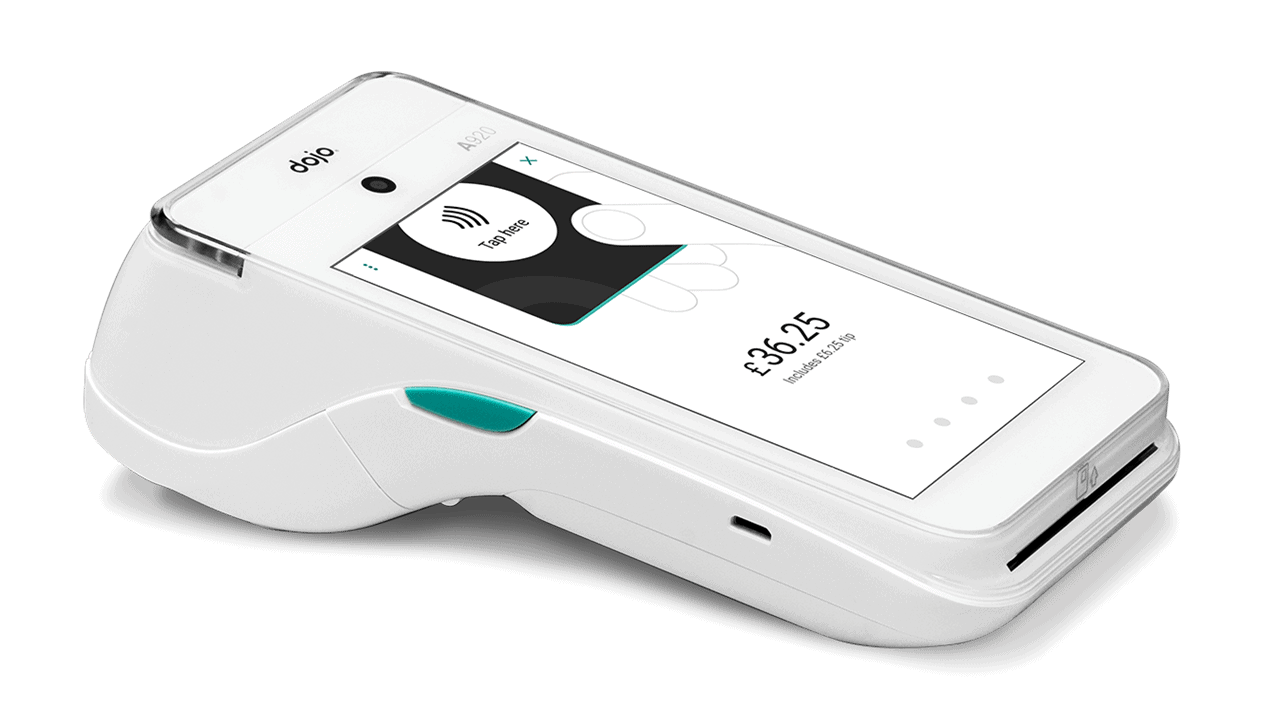 Reader Cost:
£20/month (under £150k per year turnover); £15/month (over £150k per year turnover)
Transaction Fees:
1.4% (under £150k per year turnover); Bespoke (over £150k per year turnover)
Features:
Next day money transfers (7 days a week, including bank holidays, by midday)
The latest terminal and rapid transaction speeds
Dojo app to track live transaction data and reports
30 day rolling agreements
EPOS and accounting integration
2 tick box PCI compliance (Free)
Cancellation protection (They cover 100% of exit fees from an existing provider)
Built-in thermal printer
3G/4G connectivity
Wi-Fi connectivity
5-inch HD touchscreen
10-hour battery life
Integrated payments enabled
Point-to-point encryption
7-day tech support, 8am – 11pm
UK-based support team
24-hour replacement
Visit the Dojo Go website to learn more
(and be sure to ask for Stefan)
myPOS Go 2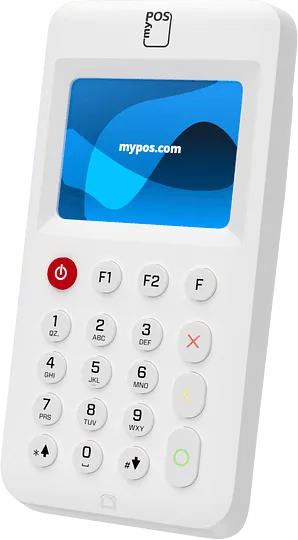 Reader Cost:
£29 + VAT (other models available)
Transaction Fees:
1.10% + £0.07 (for domestic cards); 2.45% + £0.07 (for Amex); 2.85% + £0.07 for all others
Features:
Instant settlement
free business VISA card
Free 3G/4G data SIM card
Send digital receipts
Accept Contactless, Chip&PIN and Magstripe payments
Optional tipping fucntion
Multi-operator mode
Dedicated IBAN in 14 currencies.
Free merchant account
Visit the myPOS Go website to learn more
5. Zettle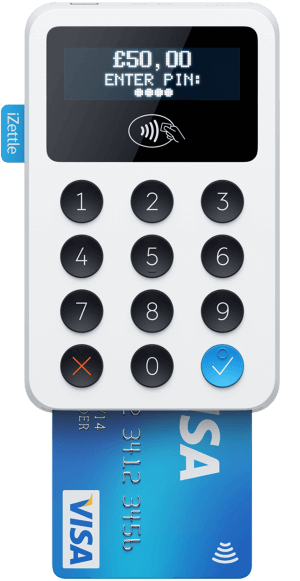 Zettle Reader Cost: £29 + VAT
Transaction Fees: 1.75% per transaction for credit and debit cards.
Features:
8 hours active use
Accept contactless payments in just 5 seconds
Accept: MasterCard, Visa, American Express, Maestro, V pay, Visa Electron, JCB, Diners Club, China Union Pay, Discover, Apple Pay and Andriod Pay
12-month warranty
Money deposited within 1-2 business days
Works via Bluetooth with your smartphone or tablet
Free POS App
Send receipt via SMS or Email
No setup fees, beyond buying the card reader
Works with their Zettle EPOS system
Visit the Zettle Site to learn more
6. Barclaycard Anywhere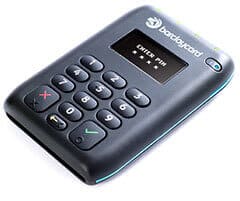 Reader Cost: £29.00 + VAT
Transaction Fees: 1.60% for debit and credit cards (75p per refund).
Features:
No monthly fees
Application normally only takes 15 minutes
Accept Visa and MasterCard (not Amex)
Contactless cards accepted
Android and iPhone app
Helps protect you against fraud with proactive security and advanced card verification services
App lets you track payments on the move and in real-time
Visit the Barclaycard Anywhere site to learn more
What is the cheapest credit card machine for small businesses in the UK?
Currently the cheapest credit card machines in the UK, in terms of upfront cost, is the Square reader which costs just £19 + VAT. It also offers extremely competitive card transaction fees (1.75% flat fee), but not the absolute lowest. To to get that your best bet is going with the Dojo Go.
However, please keep in mind that while the upfront cost for all the machines here is far lower than traditional Credit Card/PDQ Machines, the transaction fees are far higher. This is due to the fact they charge credit card and debit cards the same fee. You can compare these fees by clicking here.
What is the best card reader for small businesses in the UK?
While all of the 6 machines listed above are great and allow your small business to accept card payments, the Square card reader is probably the best choice. Not only is it the best known, but at only £19 + VAT it's very cheap to try out. Plus they offer very transparent pricing and among the lowest fees.
However, if you're processing more than £2,000 worth of card payments a month, you should probably also consider looking at more traditional machines which offer lower fees. You can get started by clicking here.
Other Common Questions
How much is a card payment machine?
The monthly fees and transaction fees of card payment machines vary greatly by model. Today, there is a far broader selection of machines for small businesses to choose from.
Previously, card machines for small businesses had to make do with a bulky Chip and PIN machine, but today they can take advantage of mobile card readers with lower transaction fees and monthly fees.
Card readers are getting more inexpensive, and today, a card reader may be purchased for as low as £19.
As a small business owner, when weighing up alternatives, don't only look at the price of the machine. Despite there being more expensive card machines, those machines may provide lower transaction fees.
The primary distinction between inexpensive card machines and more typical payment processing businesses is that the latter will charge a monthly rental fee, a terminal hire fee of roughly £20 per month and will require a contract.
However, they typically charge far lower transaction fees, as low as 0.3%, on various payment methods such as debit cards.
Comparing competitive transaction fees will decide a big percentage of the cost of card transactions for small businesses. As a result, you'll need to think about your payment volume to decide which card reader is best for you and can offer you the lowest transaction fees.
Can I buy a card machine without a business account?
Yes, you can. Several card machines for small firms deal with sole proprietors as well as limited organizations. As a result, you'll need a bank account that either matches the name on the card reader account or matches the name of your firm.
You don't even need a merchant bank account to buy a card machine. Card reader firms can handle all of your payment processing and PCI compliance needs.
Although a merchant account comes with numerous more features, it's worth noting that they also have additional expenses.
What is the cheapest way to take card payments?
When it comes to payments, the card machine cost varies depending on the number of payments made. When you start processing more than 2,000 transactions per month, it becomes more difficult to determine which card machine supplier offers the cheapest prices.
This is because it will be determined by the sorts of cards you handle, the average order value, and the business type, among other factors.
Comparing the firms that provide card machines is your best bet.
Do card payment machines need WiFi?
Some portable card machines only work over WiFi, while others can only take payments using a direct Internet connection via a SIM Card.
WiFi-only payment machines are usually more affordable to purchase and maintain, but they may also have limited features. Direct connection card machines via a SIM can be pricier upfront but offer a greater range of functions.
The decision depends on the type of card machine you want your business to use as well as what other options will work for it in terms of both usability and budgeting costs.
How can I take credit card payments over the phone?
Some provides offer a payment option via a one-time link that you can send to your consumer by text message, Whatsapp, social media, or email using the card machine company's app.
The customer then clicks the link and enters their card information.
Others provide a Virtual Terminal that allows you to manually enter in payment and instantly accept payment.
Card readers may now accept payments from Apple Pay and Google Pay, which allow customers to make phone purchases directly to your account. Apple Pay and Google Pay are incredibly convenient since they eliminate the need to carry actual cards.
How long does it take to get a card payment machine?
When you order a payment machine, you can expect to wait anywhere from one day to two weeks for it to arrive. During this time, you should expect to receive an e-mail saying that your machine has shipped.
Can I charge for card payments?
In the UK, credit and debit card surcharges were prohibited in January 2018. Customers cannot be charged extra if they pay with a credit card, according to the law.
This means that instead of being charged an extra fee when they make a purchase with their credit card, customers can use it just as they normally would and do not have to worry about this additional charge.
The law is designed to protect consumers who are paying for goods or services online by eliminating any possibility of unfair practices at checkout where some items might cost more than others depending on the transaction method used by the consumer.
Can I use my phone as a card reader?
Sort of. Many card machine companies offer an app that you can load onto your phone. This is then combined with a small card reader to take payments.
Please note: We have affiliate agreements with Square, SumUp, Shopify and Amazon. This means if you purchase anything from those sites via our links we will earn a commission, at no cost to you. In a few cases we have even negotiated special lower prices. We may also be paid a fee if you get a quote via the Expert Market form at the top of this page.