Looking for great phone headset for your office or call centre? Then compare these 11 models with reviews and prices for 2019. Plus, you can buy online.
Just be aware that not all phone headsets below will work with all phone systems. So if you're unsure just be sure and check with your phone or VoIP provider.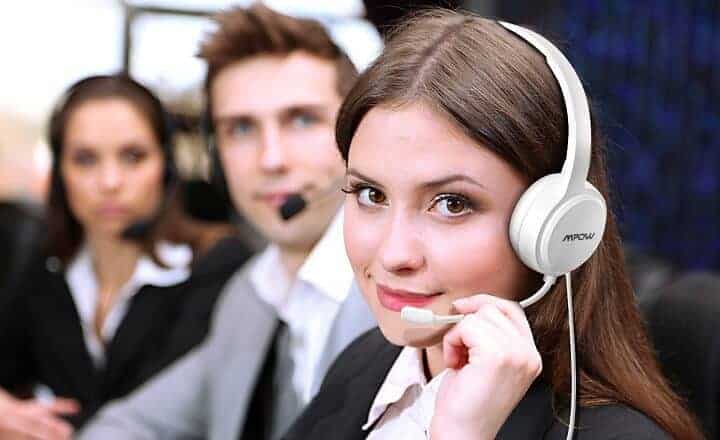 1. Jabra Evolve 75
Jabra Evolve 75 MS Bluetooth Office Headset with ANC - Wireless -...
Outstanding sound for calls and music - World-class speakers and HD voice for crystal-clear calls and music
Reduce noise and interruptions - Superior ANC and integrated busy light acts as a 'do not disturb' sign to enhance productivity
More freedom - Dual Bluetooth connectivity to two devices at the same time, for calls and music. Flexibility to move up to 30m away from your connected device
All-day comfort -Leather - feel ear cushions and on-the-ear design for all-day use. Battery time (with ANC activated): Up to 30 hours
Works with all leading UC platforms - Certified for Skype for Business, Cisco and more
2. Mpow PC Headset
Mpow PC Headset, Multi-Use USB Headset & 3.5mm Skype Headset Chat...
【Crystal Clear Chat Headset 】Built-in unidirectional microphone which can be twisted flexibly picks-up your voice loud & Clear for a clearer conversation. Great ideal for Sky PE chat, call centre, conference calls, webinar presentations and more. Note: Please point the mic to your mouth for optimum conversation effect
【3.5mm/USB Plug Connection 】The 3.5mm audio Cable of Mpow Computer Headset 071 can be detached from the in-line control which gives you an additional connection option for phones and tablet. Or you can use the USB plug with in-line control to work with PC
【Upgraded Wearing Experience 】Mpow PC headset's earmuffs are made from breathable soft protein memory foam and wrapped by Skin-friendly protein leather. The adjustable headband helps you find the comfortable fit and makes it easy to suit all head shape
【Accessible in-line Control & Noise Reduction Sound Card 】Features an in-line control design with mute button for quick control over calls. You can adjust volume level, The microphone and speaker on/Off buttons lets you mute yourself just as easily. The noise-reduction technology applied in the sound card improves voice clarity. The headset sound card can transmit clear and no delay sound
【Wide Compatibility 】Enjoy the convenience brought by Mpow usb headset that works with common chat applications like Skype and other operating systems such as windows, Mac OS X, tablets, iOS, and Android
3. Plantronics Audio 648
Plantronics Audio 648 PC USB Stereo Headset
Discreet, low profile design is perfect for video calling
Skype Certified for a better chatting experience
Answer and end Skype calls right from the headset (via Plantronics software)
Digital Signal Processing provides wideband audio and achoustic echo cancellation
Noise-cancelling microphone reduces background noise, not your voice for clearer conversations
4. Mpow 224
Mpow PC Headset 224, Foldable Over-Ear Headset USB Headset/3.5mm...
【HD Stereo Audio For Clear Conversation】Built-in unidirectional microphone picks your voice loud and clear; noise reduction sound card lower noise output from devices. Enjoy high-definition sound with HD Voice and get crystal clear, intelligible communication.
【Retractable & Flexible Microphone For Optimal Positioning】Mpow 224 PC headset has a rotatable mic to ensure the ideal microphone placement. You can retract the mic for better experience when you don't need it, such as when listening to the music.
【Upgraded Wearing Experience & Convenient Storage】Mpow 224 USB headset adopts widened oval earpads with 3.39in (8.6cm) maximum diameter, which is bigger than Mpow 071 PC headset, giving you more comfortable experience. You can easy to store the headset with foldable headband.
【3.5mm/USB 2-IN-1 Detachable Plug For Maximum Flexibility】Convenient inline Volume Switch & Mic/Speaker Mute for easy access. Connects to multiple devices using USB or 3.5mm audio jack. The 3.5mm jack audio cable can be detached from the control box which gives you an additional connection option for Phones and Tablet. Or you can use the USB plug with control box to work with PC.
【Multi-Purpose & Broad Compatibility】Mpow 224 PC headset can be used mainly for chatting, secondarily for music, and if needed, as a backup to a priority gamer headset. Wide compatible with Windows 2000/7/8/10/XP/Vista, Mac OS X, iOS, Android, Tablet PC. Perfect for Skype chat, conference calls, call center, webinar presentations, etc.
5. Plantronics Blackwire C320
Plantronics Blackwire C320 USB Headset
Lightweight metal headband offers durability and a customisable, comfortable fit
Intuitive inline controls to answer/end calls, control volume and mute
Dynamic EQ feature automatically adjusts audio for voice or multimedia use
6. Wantek Corded Telephone Headset
Wantek Corded Telephone Headset Mono w/Noise Canceling Mic for...
NOT for Mobile Phone or Computer. See Compatible Phone List in Description. Direct connect over the head landline telephone headsets work for Some Specific Phone Models from AVAYA Aastra Allworx Adtran Alcatel Lucent AltiGen Comdial Digium Gigaset InterTel Mitel MiVoice Plantronics: A100 S10 S11 S12 S50 T10 T20 T50 T100 T110 SP-02 SP-04 SP-05 A100 T50 T100 PLX-400 PLX-500.
High Sound Quality for Clear Communication: Wideband Sound RJ9 telephone headset enables natural listening experience, features Noise Canceling Microphone to reduce background noise, Acoustic Shock Protection Circuit to protect your hearing.
Most Comfortable Headset: Super lightweight office telephone RJ headset with adjustable headband to fit all head sizes, high quality and soft leatherette ear cushion enhance all-day wearing comfort.
Super Durable: Precision design, quality plastics, unibody headband construction, superior quality microphone makes this call center headset sturdier and more durable. Compete with Plantronics or Jabra heavy duty Phone Headsets for Call Center, Telemarketing & Office.
ONLY COMPATIBLE WITH SOME SPECIFIC PHONE MODELS LISTED IN DESCRIPTION. Buy the item today if you have one of phone models in list. For other phones, pls contact us for Compatibility Guide or Advice. 30-DAYS MONEY BACK GUARANTEE AND 1 YEAR WARRANTY BY WANTEK.
7. Sennheiser PC 8
Sale
Sennheiser PC 8 USB Internet Telephony On-Ear Headset - Black
Noise cancelling clarity, due to a noise cancelling microphone, your voice is easily understood without you having to shout
USB plug and play, simply plug into your PC or Mac USB port and start phoning over the net
Stereo sound, Sennheiser quality that is ideal for a range of applications such as music and gaming
Light and comfortable with the lightweight headband, it's easy to forget you are even wearing a headset
Easy volume control, the in-line volume/mute control lets you make quick adjustments without fiddling with your computer settings
8. Sennheiser PC 3
Sennheiser PC 3 CHAT Lightweight Telephony On-Ear Headset
Value for money - excellent sound clarity and durability at an affordable price
Noise canceling clarity – thanks to the noise canceling microphone, your voice is easily understood without you having to shout
Stereo sound – perfect for a range of applications such as music and gaming, too
Light and comfortable – with the lightweight headband, it's easy to forget you are even wearing a headset. Cable length 2 meters
Easy to use – plug-and-play simplicity means it is easy to connect to your computer
This headset is compatible with any PC – whether a laptop or desktop – that has two 3.5 mm jacks
9. Logitech H390
Logitech H390 Wired Headset, Stereo Headphones with...
Optimum Comfort: PC headphones with plush, padded headband and earcups
Enhanced Audio: Experience premium sound quality; system requirements: Windows Vista, Windows 7, Windows 8, Windows 10 or later, Chrome OS USB port, MAC OS X (10.2.8 or later) USB port
Noise-Cancelling Qualities: A rotating microphone that minimizes background noise for clear calls
In-Line Controls: Adjust the volume and mute your mic via the headset cable
USB Connectivity: Plug-and-play when you are ready with a simple USB connection
Upgrade to Logitech H540 headset for high-definition sound and on-ear controls
10. Binaural Crystal
M.Way headest (Single era)
★Important Note: Our product comes with an adapter. When your voice cannot be heard from the other party, or there is noise when talking, please connect the adapter and debug to the appropriate line.(Refer to the instruction manual for specific operation mode)
Comfortable wear, compact appearance, human engineering design, Can be uninterruptible using. The headset clip can be stretched freely and comfortable wear. Bendable mic arm 330 degrees rotatable to be positioned for optimal comfort and voice transmission.
Keep Your Hands Off Your Phone while using this Headset, You can increase Productivity by Working on Your Telephones, Taking Notes, or Handling other Tasks. A Real Experience of Hands-free while talking to your Friends, Families, Colleagues or custom
This headset is Compatible with Most Regular Telephones, but it will be not compatible with some telephones not known by us. If it do not work with your telephone, please email us for further help by telling us your phone brand and model number.
Plug directly into your headset-ready telephone! You just simply plug this modular plug into the headset jack on your phone and it's ready to be used.
11. Jabra Evolve 65
Sale
Jabra Evolve 65 Wireless Stereo On-Ear Headset – Microsoft...
Hands-free connectivity: Leave your desk while on a call with up to 30 metres wireless connection range to your PC, smartphone and tablet
Long battery life and busy light: Keep interruptions to a minimum with up to 14 hours of battery life - the integrated red LED light shows ongoing conversations
Passive noise cancellation for ideal concentration: Keeps high-frequency noise such as human voices out for better work collaboration and listening experience in any environment
Dual connectivity enables you to connect to your computer and one other Bluetooth device at the same time
Scope of delivery: Jabra Evolve 65 wireless stereo on-ear headset, USB Bluetooth adapter, USB charging cable, neoprene pouch – Headset weight: 111g – Colour: black
Product comes with 2-year warranty
How Much do phone headsets cost?
Prices for phone headsets range from £20 to over £200. However, most models featured above cost well under £50. Models above that price point are generally high-end and come with premium noise cancelling functionality.
What is the best phone headset?
There is no best phone headset, with all the models listed above having at least a 4-star rating. The bets option for you will depend on your budget. If you're budget conscious you can find many headsets around £20. However, if you need premium noise cancelling you're more likely looking to spend £100+.
Financial Disclosure: We may be paid a fee if you get a quote via the form at the top of this page.
Last update on 2021-04-29 / Please note we are an Amazon affiliate. This means we earn a commission if you choose to buy via our links. However, this comes at no cost to you.