Looking for a cheap cash register or till? Then have a look and compare the 6 models below with prices starting from just £81!
However, before you buy, you should be aware that the models listed below are just basic cash registers. That means they don't integrate with card machines and don't track inventory in real time or work with many additional peripherals such as barcode scanners.
For more advanced features you may want to look a fully functional EPOS systems including iPad POS systems, which offer vastly more features for as little as £29/month.
1. Casio SE-G1SB Cash Register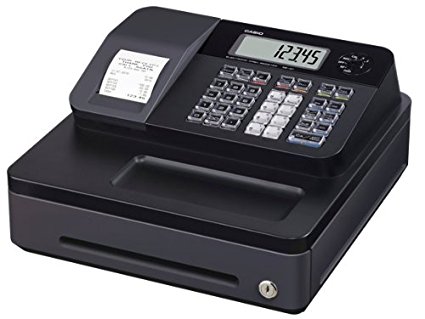 Features:
Smart, compact design with small cash drawer
Mode key provides secure registration control
One key for effortless tax programming (up to four rates)
Four types of reports with calculator mode
Easy 'drop in' paper loading
Amazon bestseller!
Learn more about the Casio SE-G1SB here.
2. Sharp Cash Register – XE-A217B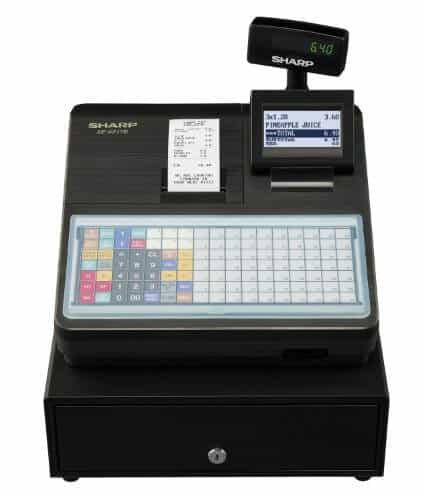 Features:
Large Multi-line operator display
Spill-proof full size keyboard with 119 flat keys
SD Card slot for data back up
Data export to PC via SD card
Easy programming
119 keys
Free PC Link software programme
High Speed quiet thermal printer
Full Audit Trail
Easy to install and use
Learn more about the Sharp XE-A217B here.
3. Casio Cash Register – White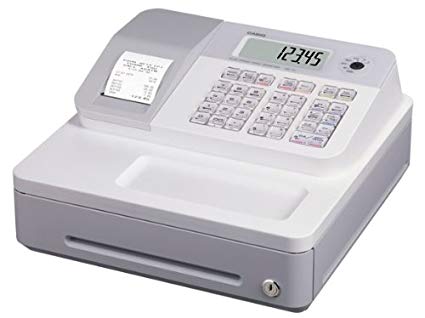 Features:
Large 8 digit Operator display
Quiet, fast thermal printer
Anti-microbial keyboard
24 departments (8 department keys x 3 shifts)
Battery required for memory backup
Comes with starter roll receipt
Customer rear mounted display
Simple and user friendly
Learn more about the White Casio Cash Register here.
4. Sharp XE-A137 Cash Register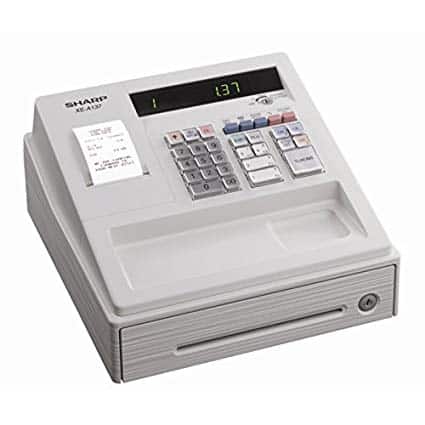 Features:
Bright LED display
Lockable cash drawer with 3 note & 6 coin compartments
200 price look ups
4 department buttons
4 tax options
Fast and quiet thermal printer
SD card back up
Learn more about the Sharp XE-A137 Cash Register here.
5. Casio SE-G1SB-BU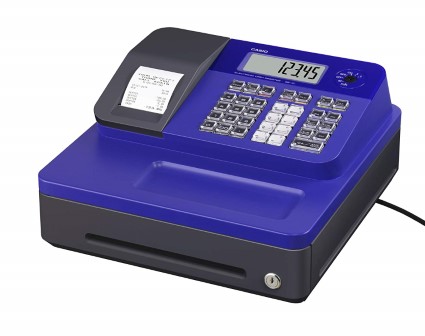 Features:
Customer display
Small cash drawer with 3 note and 5 coin compartments
24 product groups
999 PLUs
8 operators with 24 product groups
Antibacterial stroke keyboard
Receipt logo
Thermal printing: 3.5 lines per second
Programming instructions
Large LCD display
Learn more about the Casio SE-G1SB-BU here.
6. Casio SE-S3000MB-SR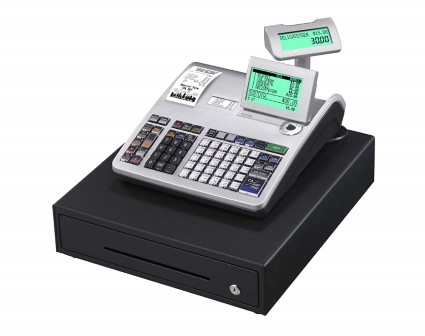 Features:
Large, functional 10-line LCD display
Display has a swivel mechanism to adjust the angle
Up to 7000 Item/PLUs
2-station printer quiet and quick thermal printer
Drop-In paper loading system
Create your own till receipt with a graphic logo
Set up with a PC and save onto the SD card
Adjustable customer display
Large cash drawer:8 coin and 4 note compartments
Stylish and modern design
Learn more about the Casio SE-S3000MB-SR here.
Financial Disclosure: We may be paid a fee if you get a quote using the form at the top of this page.
Last update on 2022-05-18 / Please note we are an Amazon affiliate. This means we earn a commission if you choose to buy via our links. However, this comes at no cost to you.