Looking for a cheap cash register or till? Then have a look and compare the 6 models below with prices starting from just £81!
However, before you buy, you should be aware that the models listed below are just basic cash registers. That means they don't integrate with card machines and don't track inventory in real time or work with many additional peripherals such as barcode scanners.
For more advanced features you may want to look a fully functional EPOS systems including iPad POS systems, which offer vastly more features for as little as £29/month.
Table could not be displayed.
1. Casio SE-G1SB Cash Register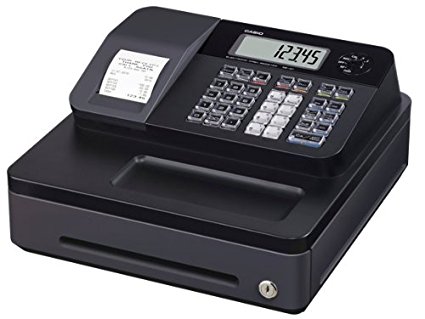 Features:
Smart, compact design with small cash drawer
Mode key provides secure registration control
One key for effortless tax programming (up to four rates)
Four types of reports with calculator mode
Easy 'drop in' paper loading
Amazon bestseller!
Learn more about the Casio SE-G1SB here.
2. Sharp Cash Register – XE-A217B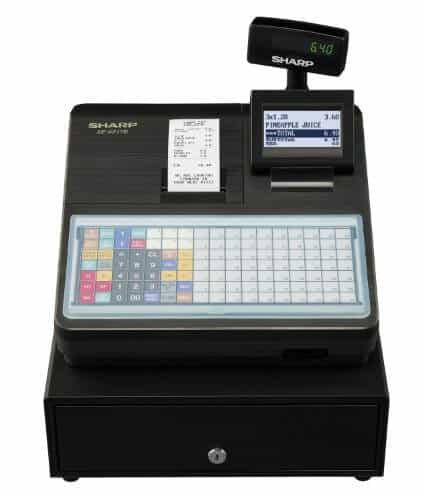 Features:
Large Multi-line operator display
Spill-proof full size keyboard with 119 flat keys
SD Card slot for data back up
Data export to PC via SD card
Easy programming
119 keys
Free PC Link software programme
High Speed quiet thermal printer
Full Audit Trail
Easy to install and use
Learn more about the Sharp XE-A217B here.
3. Casio Cash Register – White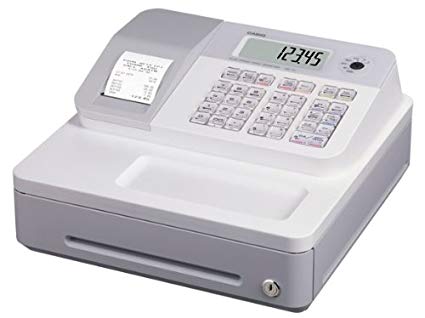 Features:
Large 8 digit Operator display
Quiet, fast thermal printer
Anti-microbial keyboard
24 departments (8 department keys x 3 shifts)
Battery required for memory backup
Comes with starter roll receipt
Customer rear mounted display
Simple and user friendly
Learn more about the White Casio Cash Register here.
4. Sharp XE-A137 Cash Register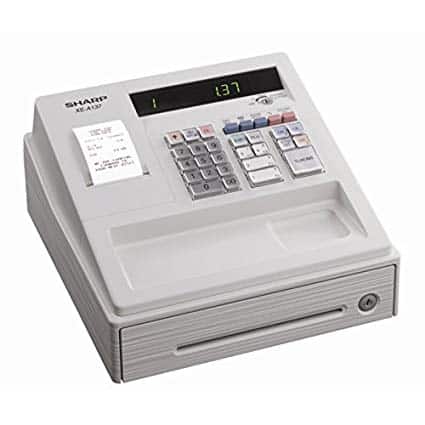 Features:
Bright LED display
Lockable cash drawer with 3 note & 6 coin compartments
200 price look ups
4 department buttons
4 tax options
Fast and quiet thermal printer
SD card back up
Learn more about the Sharp XE-A137 Cash Register here.
5. Casio SE-G1SB-BU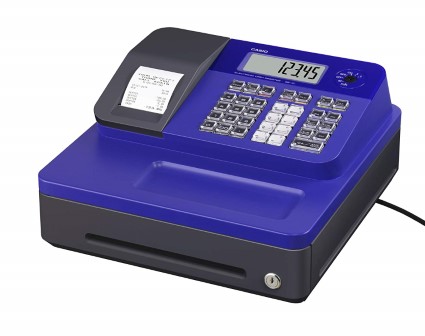 Features:
Customer display
Small cash drawer with 3 note and 5 coin compartments
24 product groups
999 PLUs
8 operators with 24 product groups
Antibacterial stroke keyboard
Receipt logo
Thermal printing: 3.5 lines per second
Programming instructions
Large LCD display
Learn more about the Casio SE-G1SB-BU here.
6. Casio SE-S3000MB-SR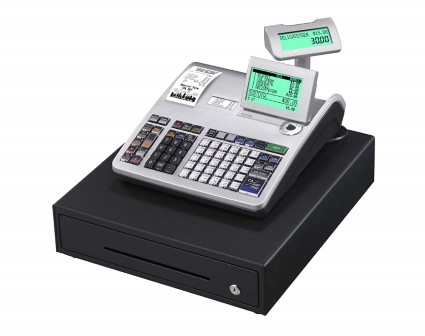 Features:
Large, functional 10-line LCD display
Display has a swivel mechanism to adjust the angle
Up to 7000 Item/PLUs
2-station printer quiet and quick thermal printer
Drop-In paper loading system
Create your own till receipt with a graphic logo
Set up with a PC and save onto the SD card
Adjustable customer display
Large cash drawer:8 coin and 4 note compartments
Stylish and modern design
Learn more about the Casio SE-S3000MB-SR here.
Financial Disclosure: We may be paid a fee if you get a quote using the form at the top of this page.
FAQs
What Are Electronic Cash Registers?
An electronic cash register is a business's point of sale system, whether that's a company within retail to hospitality. It often provides many functions, from receipt printers to a touch screen interface.
There are a variety of modern electronic cash registers in existence with various levels of features and functions. A traditional cash register would typically record sales made and hold the cash taken.
It was Charles F. Kettering who designed the cash register with an electric motor back at the National Cash Register Company in 1906. Electronic cash registers have since thrived over the years.
What's A Till Drawer?
A till drawer is a compartment that sits underneath the cash register itself and is where the cash from transactions is kept. Other synonyms for a till drawer are a cash box, cash drawer, or considered a part of the cash register itself.
Whilst cash is rarely used in this modern age of card readers and contactless payments, a cash drawer is still required for some customers.
How Much Is A Cash Register For A Small Business?
The cost of a cash register varies depending on its features. You can expect to pay anything around the £100-£350 price point for a basic mechanical cash register.
This will be one of the most basic models compared to the modern cash register options that start from £400 and go up.
It's important to ask yourself what you require from a cash register for your business. An electronic cash register is an important part of the day to day running of a business taking sales.
What Is The Difference Between A Cash Register And A POS?
Cash registers and a POS system are fairly similar in their functionality. However, the difference between the two is that cash registers manage sales, whereas POS systems are a central system for business operations as a whole.
Whilst a POS system records sales, it also integrates the sales to help provide more data for the business. Inventory management, for example, can offer insight into which products are performing well and which aren't.
Many small businesses find a POS system to be a great way of managing efficiency in business operations whilst providing the best experience for customers.
The newest point of sale computer systems can provide credit card readers, establish stock levels, and manage controls that employees have over what they can access.
How Much Is A POS Cash Register?
A POS cash register is going to be more expensive due to the fact that it features a lot more than just recording cash transactions and holding the cash within the cash drawer.
Whilst modern cash registers offer more functionality, POS systems are next-level for helping track sales and manage inventory.
Here are a few examples of POS cash registers for your business:
– Lightspeed
– Eposnow
– Square
Again, prices for the POS systems will vary depending on the brand and the volume of features available.
For example, Lightspeed offers systems from £69 to £199 per month. Square Up offers the software as a separate service that's free to use, but the hardware's cost does add up depending on how much is needed.
It's worth doing your research to determine which one offers the best value for money.
Is A Cash Register Called A Till?
An electronic cash register is often referred to as a till, but it's not the same thing. A cash register is a separate compartment from the till, and the till is another word for the cash drawer or compartment that holds the money.
You can have a register without the till and a till without the register.
It overcomplicates things when there are so many different words or variations of the word, despite two elements that make up an electronic cash register.
The word till was originally referred to as a drawer under the counter to store cash. It's derived from the Anglo-Normal word 'tylle', meaning 'compartment'.
Many people will often refer to the cash drawer as the till even despite it being a fairly old word to use in this day and age.
What's a Till Drawer?
A till drawer is a cash drawer that's a separate compartment from the cash registers. It's not to be confused with the cash register as these are two separate products.
Most cash registers will come with a till drawer, but you may find that you want a separate till drawer with a different style or layout.
This may be relevant to companies that have to fit the cash registers and drawers in a specific way within the business premises.
Last update on 2022-10-13 / Please note we are an Amazon affiliate. This means we earn a commission if you choose to buy via our links. However, this comes at no cost to you.